Canadian Prime Minister Justin Trudeau rolled up to the White House on Monday for talks with United States President Donald Trump.
Justin was early, so his limousine was made to wait on the driveway for five minutes.
When he got out, he avoided Donald Trump's needlessly territorial handshake by grabbing his shoulder, meaning Trump pulled himself towards the stronger Justin Trudeau. 
Then Justin snared the loving gaze of, well, everyone.
In the joint press conference following, the Prime Minister Justin Trudeau said:
Today's conversations have served to reinforce how important it is for both Canadians and Americans. As we know, 35 U.S. states list Canada as their largest export market and our economies benefit from the over $2 billion in two-way trade that takes place every single day.

Millions of good, middle-class jobs on both sides of the border depend on this crucial partnership. Maintaining strong, economic ties is vital to our mutual success and we're going to continue to work closely together over the coming years so that Canadian and American families can get ahead.
On Tuesday, White House Press Secretary Sean Spicer told the press corps: 
Yesterday the President had an incredibly productive set of meetings and discussions with Prime Minister Joe Trudeau of Canada focusing on our shared commitment to close co-operation in addressing both the challenges facing our two countries and the problems throughout the world.
Joe. Joe Trudeau?
The Prime Minister of Canada is called Justin Trudeau.
Maybe it's a nickname?
Then again, maybe it isn't.
This isn't Spicer's first gaffe about a foreign leader. He referred to Australian Prime Minister Malcolm Turnbull in early February as:
Malcolm Trumble.
In addition, in January the White House spelled UK Prime Minister Theresa May's name incorrectly three consecutive times in an official schedule.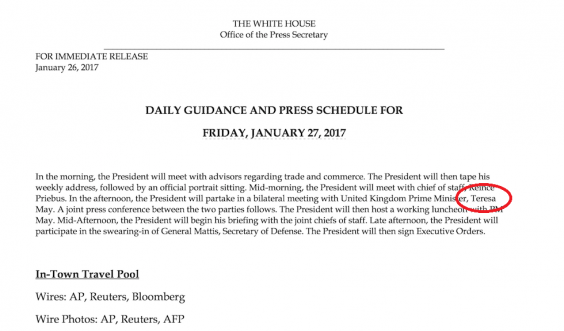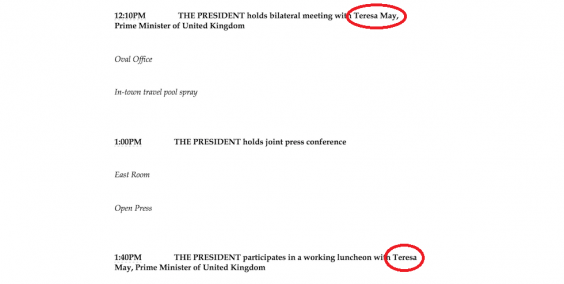 Teresa?
You'd think someone would take care of these things.
---
More: Donald Trump struck a pose among the Mar-a-Lago missile test chaos and became a meme