A United Nations representative has claimed the Islamic State has ordered all girls and women in and around Mosul to undergo female genital mutilation (FGM), but i100 understands the story to be false.
Jacqueline Badcock, the UN resident and humanitarian coordinator in Iraq, told reporters in Geneva via videolink from Erbil that the "fatwa" issued by the militant group, formerly known as Isis, would affect 4million females aged between 11 and 49.
i100 earlier reported on a supposed edict from the Islamic State that had been circulating on social media, and was told by an expert in the region that it was most likely a hoax.
A UN spokesman in Geneva told Reuters said that they were seeking clarity and trying to establish the facts.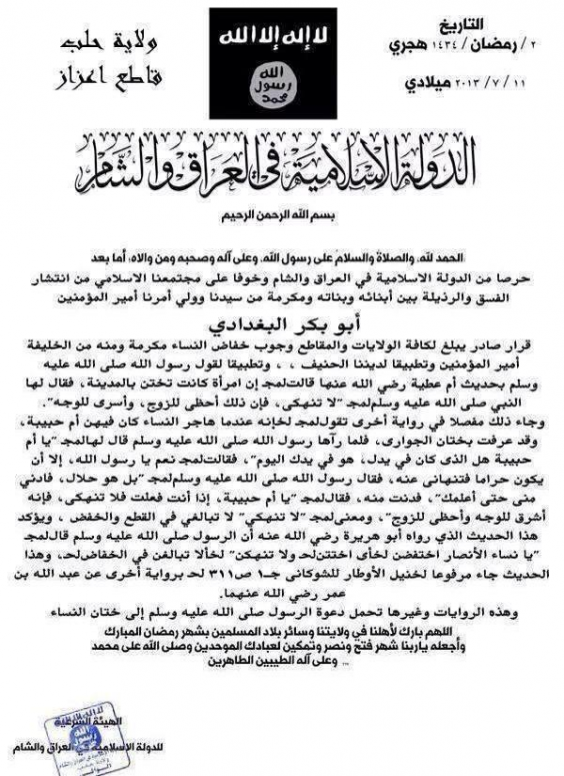 Translation of above text:
"Out of fear for the Islamic State in Iraq and Syria and our Islamic society, as a result of the spread of immorality and vice between sons and daughters of Allah. For the honour of our lord and for the faithful...
"A resolution is issued to all states that female circumcision is honourable in itself and for the Caliphate, emir of the believers..."
---
Shiraz Maher, a Senior Fellow at King's College London specialising in the Middle East, had looked at the image for i100 - before the UN's claims - and concluded it was a fake, likely spread by one of the many, many groups opposed to Isis.
Mr Maher told us FGM was more "cultural" rather than having a specific association with Islamism, adding that it is "not something jihadists have ever really taken up" or "spoken about".
Ms Badcock herself acknowledged that the order would represent a departure for the jihadists in her initial statement.
"This is something very new for Iraq, particularly in this area, and is of grave concern and does need to be addressed," she told journalists.
"This is not the will of Iraqi people, or the women of Iraq in these vulnerable areas covered by the terrorists."
It is unclear whether the UN representative's comments were a reaction to the above image, or reflect other information.
However, Mr Maher later told us: "Locals in Mosul, including doctors, say this is just a hoax. That's also my gut feeling."
---
Other experts have also expressed scepticism at the supposed fatwa.
---
Nevertheless, it didn't stop UK development secretary Justine Greening from tweeting:
---
Nimco Ali, co-founder of anti-FGM organisation Daughters of Eve, told i100 FGM was about controlling women rather than "controlling women." "It is similar to Islamic courts taking over in Somalia in 2008. This has got nothing to do with religion, it's got nothing to do with culture, it's about men flexing their misogynist bullshit. They're scared women will get their God-given rights.
"If you speak to people who say that they want to create an Islamic state, they are really saying they want to create a state controlled by men.
"It's shocking. None of these things are sanctioned by Islam. The first teaching of Islam is to read, have any of them read the Koran themselves?
"I'm quite scared people are going to start thinking that FGM is about Islam. But it's about violence against women and girls. I'm more scared for the women in these countries and what their lives are going to be like now.
"This is has got nothing to do with faith, this is about people using religion to hide their hate and contempt for women."
More as we get it.
More: As the world focuses on Gaza, Isis continues its deadly advance