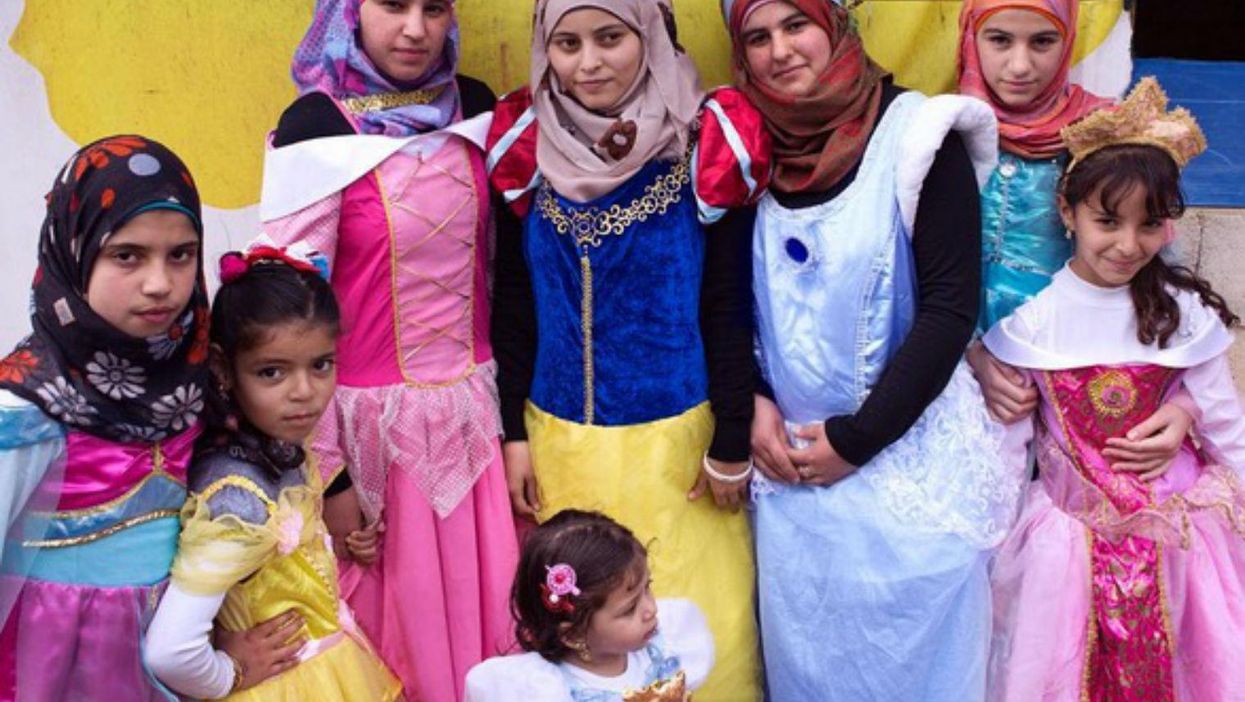 Since the outbreak of the Syrian civil war in 2011, 4.6million people have fled their homes to become refugees reliant on the mercy of other countries.
Syrian Saint Hoax, an anonymous Beirut-based artist, has gained a large following for his subversive work in the last few years, taking Banksy-esque shots at world politicians and cultural fads to give us darkly funny insights into modern life.
The war has not always been a topic at the centre of his art and activism, though. Speaking to indy100, Hoax said he feels the need to help very strongly - but before embarking on his latest project, he said he knew very little about the experiences of Syrian refugees.
Hoax recently teamed up with Beirut's Plastik Studios to visit a refugee camp for those displaced by war in Akkar, in northern Lebanon.
I didn't know exactly what to expect.

[The children] really reminded me of myself as a child and that was the first time that it hit me... This could've happened to me. In fact this could happen to anyone! I saw myself in each and every one of them.
Working with Malaak, a Lebanese charity which aims to give Syrian children living in the country happy childhoods, Hoax met with a group of little girls whom he called "real life heroines" and threw them a costume party where they got to talk about what makes them happy and their aspirations when they grow up.
Pictures and video from the party have been collected as a series called 'Once Upon A War':
We had the most delightful experience with Aya (age 6). After we took her pictures, she sneaked into her house and changed into another dress. Ten minutes later, she came back to get her picture taken again. She told us "no one took pictures of me yet". Of course we recognised her, but we took more pictures of her anyway.

She loves being in front of the camera, and her dream is to become an actress. Beauty and the Beast is Aya's favourite fairytale. She styled her hair to look exactly like Belle in this shot.
Cinderella is a dreamer and so is Maram (age 16). She believes in a brighter tomorrow. When we talked about the war, she managed to remember only the good parts out of this tragic experience. Maram loves kids and she takes care of most of the children at the camp. Her dream is to become a children's nurse.

Hiba (age two) was born in Lebanon. She has never been to Syria and this is the only life she has ever known. She never watched any Cinderella film but her parents told her the story. When we showed her the Cinderella dress, she chose it out of all the other dresses. This was the first time that Hiba got to put on a costume and play pretend.
Bayan (age 12) chose the Sleeping Beauty dress because it reminded her of a similar dress that she once had. When Bayan and her family left their home three years ago, they had to leave everything behind. That was the last time she ever saw her pink dress.

Raghad (age 12) loves Frozen because it highlights the relationship between two sisters. She's extremely attached to her sister and would do anything to protect her, just like Elsa.

Mona (age 11) has two favourite princesses, Jasmine and Belle. She chose Jasmine because she's an Arabian princess, and Belle because of her intelligence. Both princesses are strong and adventurous and Mona relates to that.

Bayan, Raghad and Mona all met in the camp three years ago. They became close friends ever since. Their dream is to become teachers.
Sleeping Beauty was the first fairytale that Manar ever read. It became her favourite ever since. Her dream is to become a doctor.

Wouroud loves Snow White's calmness and kindness. These are qualities that she really appreciates. She's fascinated with other cultures and her dream is to become a sociologist.

Manar and Wouroud are both 20 years old. They met in the camp two years ago and have been inseparable ever since. They consider their friendship to be the best thing that came out of this war. They work together as teachers at the camp and they helped us organise this project.
Hoax told indy100 that he was honoured by the chance to meet and collaborate with the girls who live in the camp, and they all really enjoyed it, but it was a bittersweet experience.
It breaks my heart knowing that many of these girls could face sexual and gender-based violence, exploitation, trafficking, early marriage...

What also upsets me is that most of these girls won't get the proper education they need. Like every child their age, they have so many dreams. It's upsetting to think that most of their dreams might not come true.
The artist has stayed in touch with the kids he met, and to mark International Women's Day on Tuesday 8th, has given the girls control of his Snapchat account for a week, the results of which you can see under the username SaintHoax.
Learn more and make a donation to Malaak here, and check out Saint Hoax's other work here.