It looks like Dakota Johnson is ready to laugh about that excruciating Oscars red carpet interview with her famous mother, actress Melanie Griffith.
The pair clashed after Griffith said she would not be watching Fifty Shades of Grey as it would be "strange" - in front of her daughter. Dakota then snapped at her mother saying "all right, you don't have to see it", in a moment mothers and daughters everywhere will recognise.
In this video, released ahead of Johnson hosting US show Saturday Night Live this weekend, Johnson tells show regular Taran Killam her mother still hasn't watched it, with him replying: "Ugh, that's so not fair!"
Johnson then mockingly begs her mother to watch it - and also finds time to joke about Fifty Shades itself.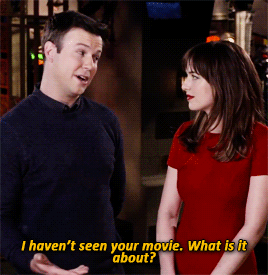 You can watch the video of Johnson's original awkward moment with her mother below: