Accused war criminals have been forced to disassociate themselves with him, tombstones engraved with his name and the epitaph 'Make America hate again' have appeared in Central Park, his Twitter feed is littered with crass and by-and-large false claims...
...but now, could-be president of the United States, Donald J Trump, is being trolled from beyond the grave by the incredibly influential author of To Kill A Mockingbird - Harper Lee.
A letter dated 25 August 1990 and signed by Lee is currently up for auction at Nate D Sanders Auctions. And while the letter itself is beautifully written and a simply lovely object to own, it also comes with the added bonus of completely slating Donald Trump.
Dear My Friend:

'At last I am able to say a few words...' (and I wish they were coming from Windsor Castle).

The last set of Visitors departed today: the worst punishment God can devise for this sinner is to make her spirit reside eternally at the Trump Taj Mahal in Atlantic City.
The letter was written just a few months after the grand opening of the Trump-owned casino - which was forced to file for bankruptcy the following year.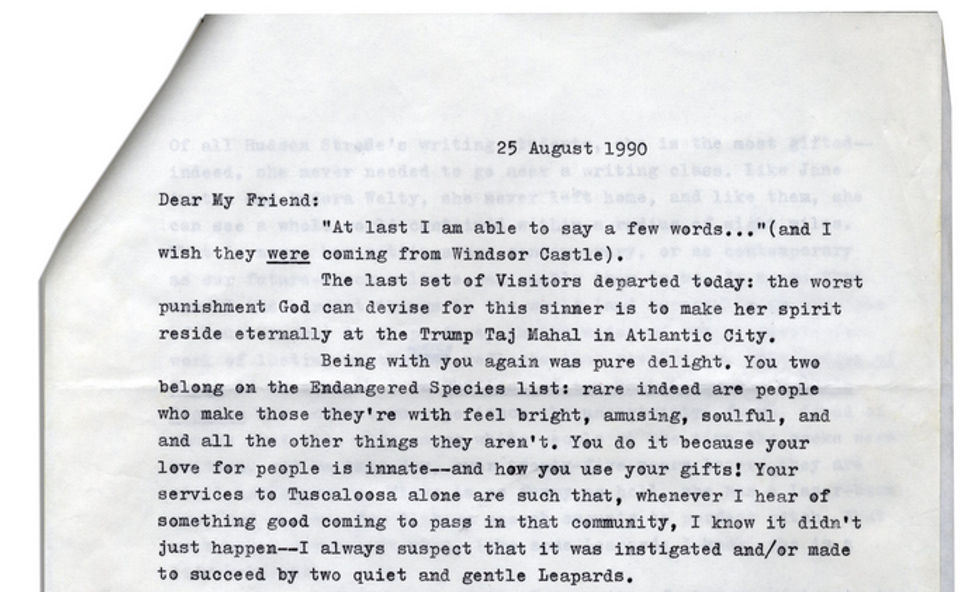 Picture: Nate D Sanders Auctions
The highest bid for this particular missive stands at $1,330 with the auction set to close on Thursday 31 March.