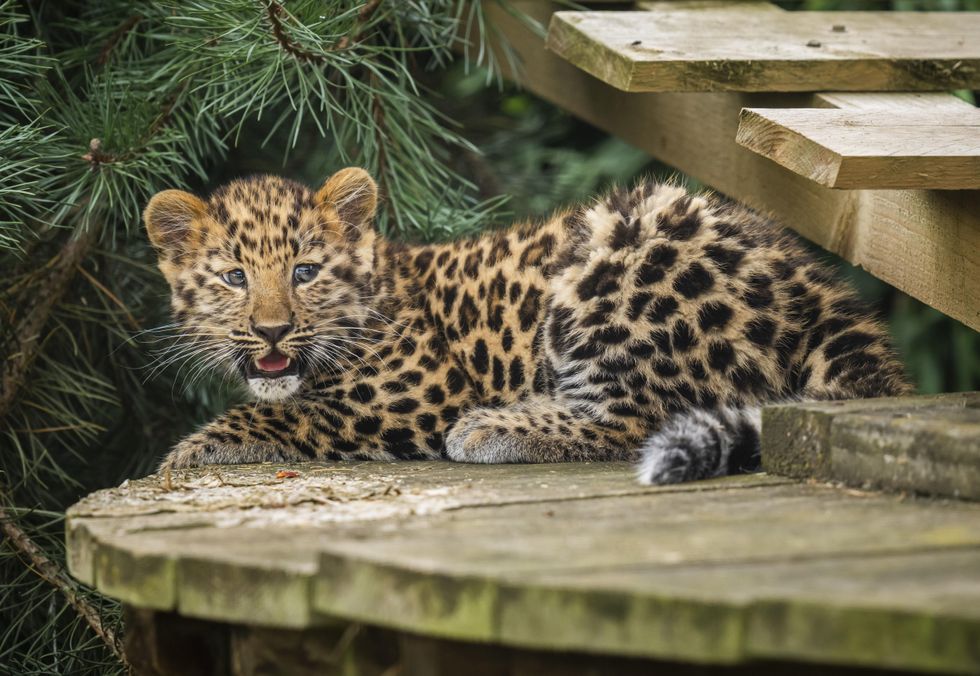 PA Wire/PA Images - Danny Lawson
A critically endangered leopard cub has taken its first steps at a wildlife park in the UK.
The 12-week-old Amur leopard, said to be one of the rarest cats in the world, was born in Europe and took its first steps at the Yorkshire Wildlife Park in Doncaster.
The cub, which weighs around two to three kilograms, is vulnerable due to being born blind, and has been spending time with its mother, Kristen, in the safety of their den.
The birth was filmed on CCTV in June and forms part of an international breeding programme to increase the number of Amur leopards where Kristen met the cub's father, Drake.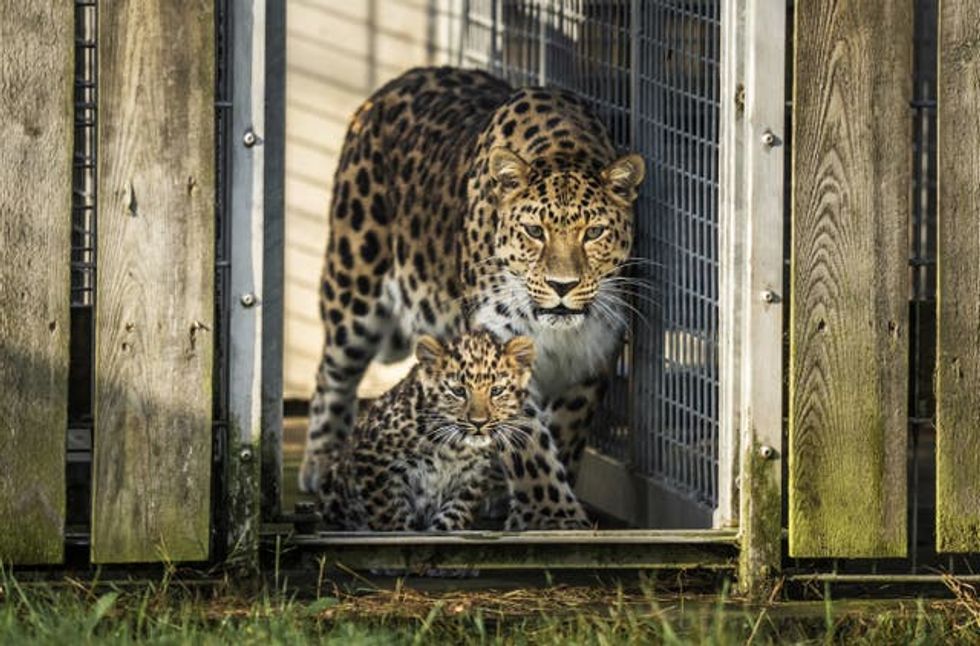 The newborn cub is staying close to mother Kristen in the safety of their den (Danny Lawson/PA)PA Wire/PA Images - Danny Lawson
Dr Charlotte McDonald, animal director at Yorkshire Wildlife Park, said the cub's birth is a "big step forward" in increasing Amur leopard numbers.
She said: "We're thrilled the cub is taking its first steps properly outside the den. It is another big step forward for this very important baby.
"There are approximately 120 Amur leopards left in the wild, making this cub's survival a significant development, but even more so as it's the only surviving cub born in Europe this year.
"We are incredibly proud to be fulfilling our important role in the global battle to ensure the survival of this rare and beautiful species.
"Amur leopards are one of the rarest species on the planet.
"It truly is such an exciting time as we haven't had a cub for a little while now."
Dr McDonald hopes the programme will enable Amur leopards to be reintroduced to their native habitats in the eastern part of the world.
She said: "The end goal is to be able to reintroduce more Amur leopards back into protected areas of their native habitat in Russia and China."
The sex of the cub is still unknown and members of the public will not be able to see it for some time.
Yorkshire Wildlife Park, which is home to Europe's largest leopard sanctuary, has celebrated successful births before, having bred two Amur leopard cubs in 2015.
The reserve has a 6,000 square metre sanctuary, known as Leopard Heights, with a tower that stands at eight metres tall and a 100 square metre viewing platform.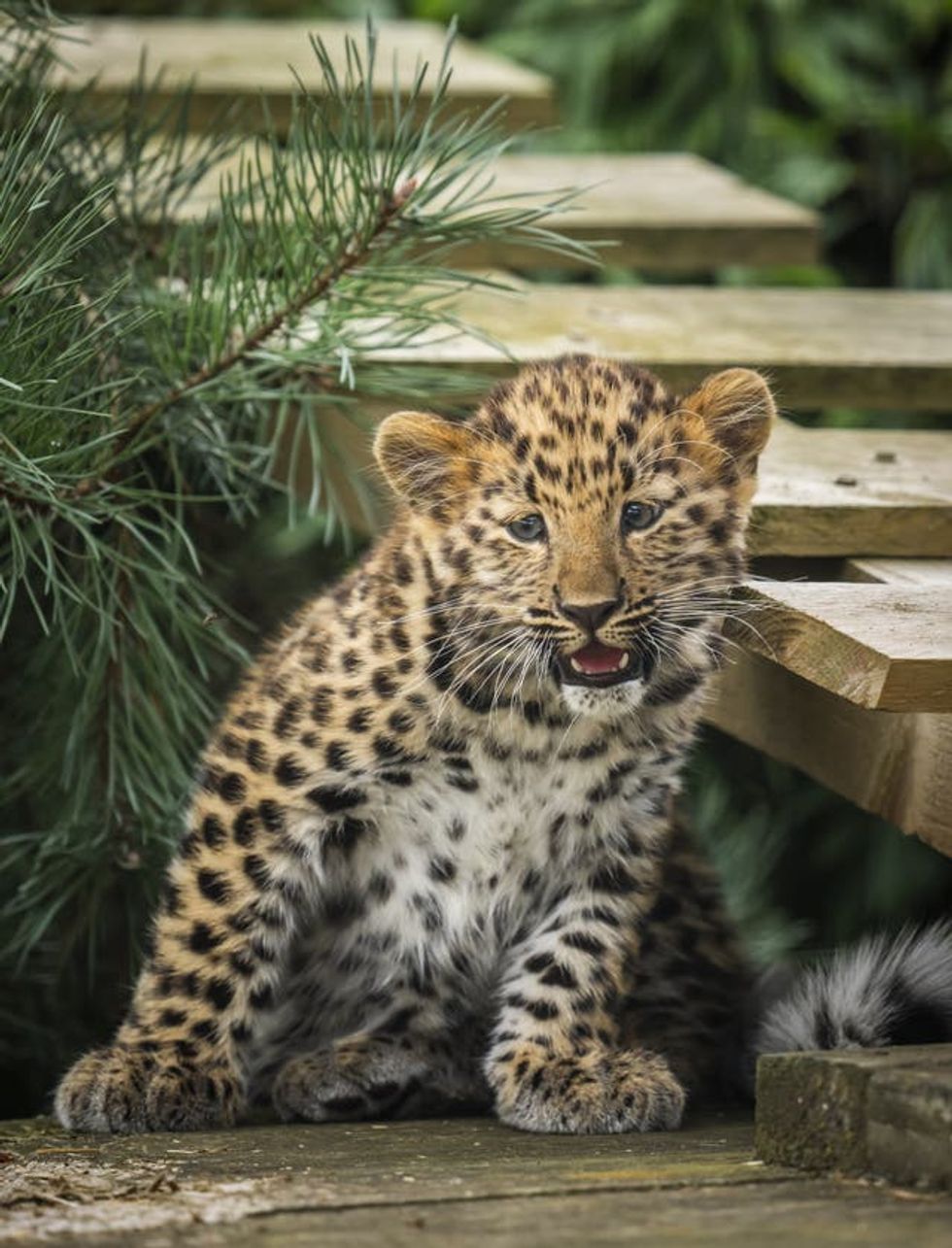 The Amur leopard cub weighs around two to three kilograms and is doing well (Danny Lawson/PA)PA Wire/PA Images - Danny Lawson
Before arriving at the sanctuary last December, the cub's mother, Kristen, originally from central Europe, travelled from Twycross Zoo in Leicestershire to replace the park's previous Amur leopard, Freya, who was transferred to Ireland as part of the breeding programme
Kristen, 11, is now a grandmother, after having two litters in 2014 and 2016.
Yorkshire Wildlife Park chief executive John Minion said: "This Amur leopard cub represents our commitment to the survival of this critically endangered species.
"We are not just preserving these incredible animals, we are giving them a chance to reclaim their place in the wild.
"When we constructed Leopard Heights here at the park, it was specifically designed as a breeding complex for these naturally shy animals, and it is just brilliant that all our hard efforts are reaping the rewards with this new cub."