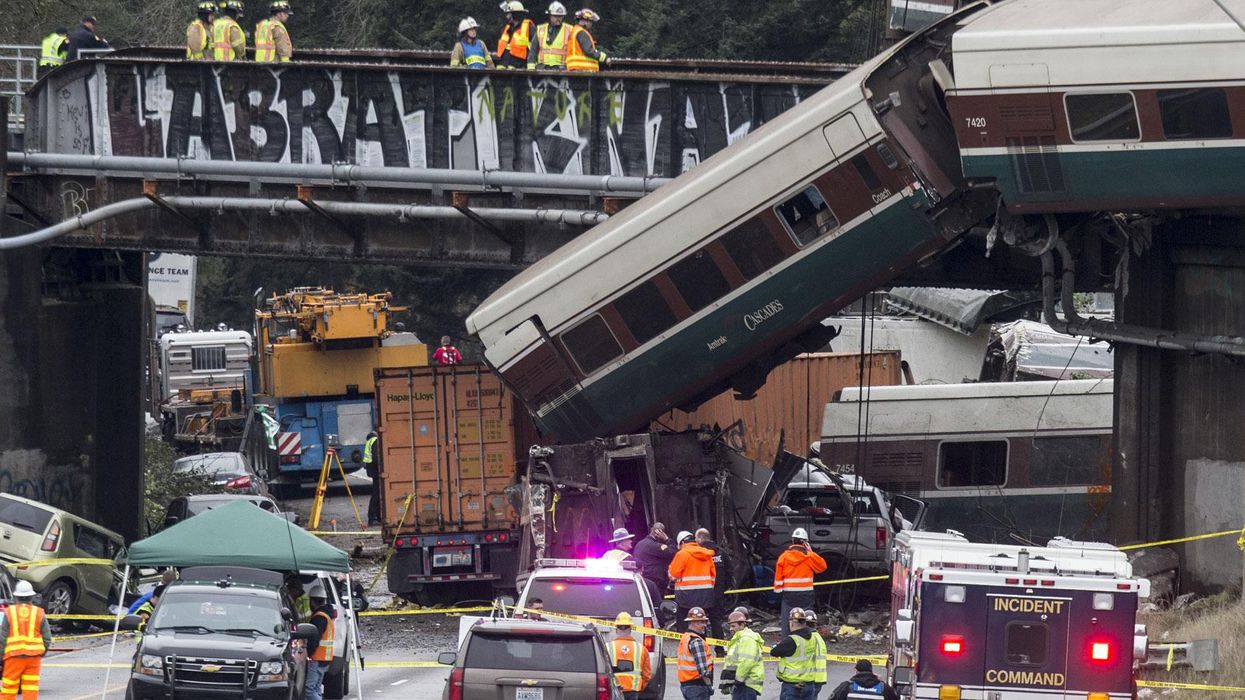 Getty Images / Stephen Brashear / Stringer
The Amtrak train that derailed south of Seattle on Monday, killing three people and injuring dozens more, has sparked a bizarre and disturbing conspiracy theory.
Alt-right online activist Jack Posobiec, most famous for the Pizzagate conspiracy, posted a tweet appearing to link the anti-fascism movement 'Antifa', who US security officials reportedly classified as "domestic terrorists", and the Amtrak tragedy.

Picture: Twitter / @JackPosobiec
Posobiec is referring to a since-removed anonymous blog post from April that was published on the website Puget Sound Anarchists. It has since been re-published on the anti-fascist news website It's Going Down! You can see an archived version here.
The post described how activists allegedly poured concrete on train tracks in Washington to protest fracking.
It read:
Early in the morning of April 20th we poured concrete on the train tracks that lead out of the Port of Olympia to block any trains from using the tracks.

We took precautions to notify BNSF (the train company) – we called them and we used wires to send a signal that the tracks were blocked.

We did this not to avoid damaging a train, nothing would bring bigger grins to our faces, but to avoid the risk of injuring railway workers.
At present, it is not clear what caused the deadly Amtrack incident - but Posobiec is not the only person to suggest a link between it and Antifa.
Jim Hoft, the founder of far-right website Gateway Pundit, shared a Gateway Pundit article that accused It's Going Down! of covering up its associations with the derailment.
Picture: Twitter / @gatewaypundit
And alt-right social media figure Mike Cernovich posted a video on Twitter suggesting there could be a link between the It's Going Down! article and the derailment, before tweeting:
Picture: Mike Cernovich / @Cernovich
Cernovich says the April post was taken down "after train crash". Yet a member of the editorial team for It's Going Down! told BuzzFeed News that the post was deleted four or five months ago because it kept getting taken out of context.
Cernovich, who has pushed several conspiracies about Antifa, then tweeted:
Picture: Mike Cernovich / @Cernovich
Newsweek asked Cernovich why he talked about 'Antifa' in association with the train incident.
He reportedly said in response:

Antifa groups shoudn't pour concrete on train tracks. 
The tweets were met with much derision.
Is this the only way you can get yourself going these days? Tweeting insane theories about unfolding tragedies? Sti… https://t.co/7eHSDOS2ne

— Mike Stuchbery 💀🍷 (@Mike Stuchbery 💀🍷) 1513665116