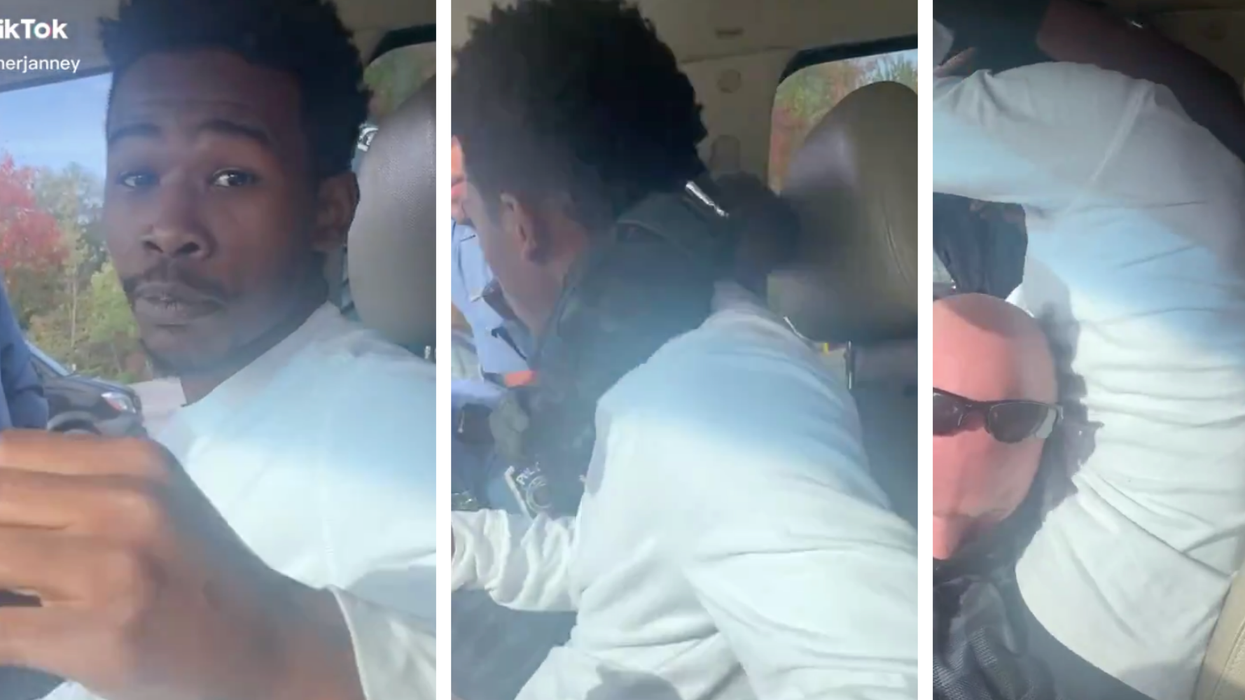 TikTok/heatherjanney
Another day, another upsetting encounter between police officers and a Black person.
The latest incident has seen a white woman stopped by police for speeding in Anne Arundel County, Maryland… but her Black boyfriend being arrested instead.
Heather Janney, who was driving the car, videoed officers forcibly removing her partner, Antoine Webington, from a vehicle and uploaded the footage to TikTok.
Officers arrested Webington for not providing his identification details, despite the fact he was not accused of committing an offence and wasn't driving the car.
The footage can be seen here but warning – it's graphic.
Before Webington is pulled out of the car, he explains what's occurred prior to filming commencing.
Confirming with the officer that Janney had been pulled over on suspicion of driving at "45mph in a 30mph [zone]", Webington then turns and addresses the camera, saying;
So if she's going 45 in a 30, a traffic ticket, how is it lawful for them to get the identification of the passenger, which they did not get, but said they identified me?
At this point, three police officers grab Webington and try to force him from the car, despite the man audibly saying he wants to get out on his own.
Janney can be heard sobbing as she films.
Webington is then handcuffed and led away, with the officers telling TMZ that he was arrested for resisting arrest and having outstanding warrants, even though Webington had not been identified at this point, having refused to hand over his ID card.
Maryland is not a 'stop and identify' state, which means police officers can't demand an individual must provide identification unless they have reasonable grounds to believe the person has committed a crime.
In a later video, Janney outlined more details about the situation and explained that Webington was now facing an "active case".
She said:
You guys…This is an active case…Anything I say can and will be held against him in court. So I will not be going into detail until the case is over. I have been a stay at home mom so I have not been working. It is obvious Antoine needs a lawyer to beat this case properly.

If you guys want to help me pay for a lawyer that would be amazing. Something has to be done about this, Antoine can't go into that courtroom alone. He needs a higher voice, a good lawyer.

…This is racist!! There was no reason for that police officer to ask for his identification when I was the one driving. Warrant or no warrant?! Even if the police visually identified him to have a warrant…I still believe there was no reason for them to take him away from his family like that.
There's been an outpouring of support for the couple.
People have said that, warrants or not, it just "doesn't make sense".
Others recalled very different experiences to Webington's when in a similar situation.
And comments on Janney's TikTok video agreed.
Janney says the couple now plan to fight Webington's charges in court and has appealed for donations.