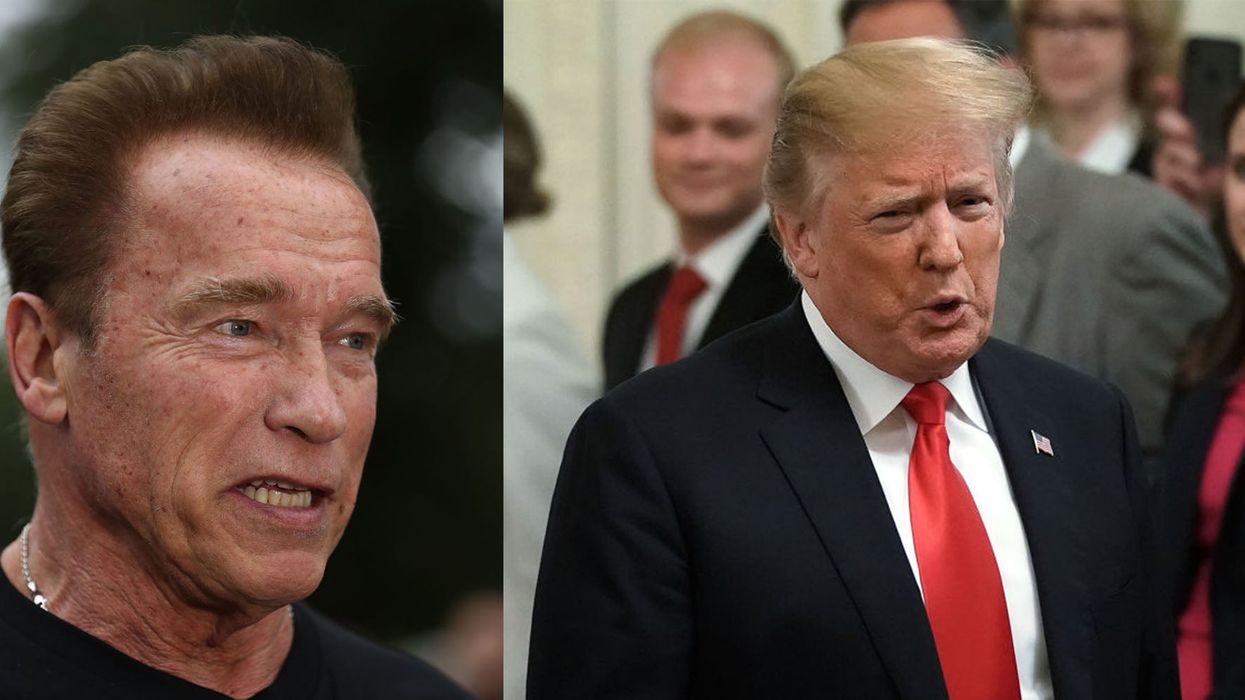 Robert Cianflone/Alex Wong/Getty Images
Arnold Schwarzenegger vs. Donald Trump literally sounds like a blockbuster movie that we would pay cold hard cash to see.
The two "politicians" have been at loggerheads for quite a while now, with Arnie more than happy to speak out against the President whenever he gets a chance.
Last year the pair traded jibes after Schwarzenegger replaced Trump as the host of the Celebrity Apprentice.
Then the movie star hit back after Trump's controversial comments following the Charlottesville protests last summer.
Now we have the third part in their epic trilogy as Schwarzenegger has now criticised Trump for trying to rebuild America's coal industry and this time he's brought his old friend The Terminator along.
In a Facebook video posted on Thursday by the media company ATTN, the former Governor of California, who is a big supporter of environmental issues says that Trump's policies will be "a threat to future generations."
Not only does he reference the Terminator but also make as a very apt analogy using Netflix and Blockbusters.
Speaking to a Trump bobblehead, the 70-year-old Austrian says:
So, President Trump, I know you really want to be an action hero, right?

So take it from the Terminator, you're only supposed to go back in time to protect future generations.

But your administration attempts to go back in time to rescue the coal industry, which is actually a threat to future generations.

It is foolish to bring back laughable, outdated technology to suit your political agenda.

I mean, what are you going to bring back next? Floppy disks? Fax machines? Beanie Babies? Beepers?

Or Blockbuster? Think about it. What if you tried to save Blockbuster?
Trump is yet to respond to Schwarzenegger's comments but we wouldn't put it beyond him.
The Hollywood legend has retweeted the video several times since, each with a different message for his fellow Republican.
So, @realDonaldTrump, if you want to be an action hero, let's retrain those coal miners for new, safer jobs. Don't… https://t.co/dJodqIa6H7

— Arnold (@Arnold) 1530223967
A few days previously Schwarzenegger also condemned the Trump administration's handling of immigrant families at the US border.
The administration is right that we need to fix our immigration system. But if anybody is going to be in a cage whi… https://t.co/K7wnb3Mf11

— Arnold (@Arnold) 1529458988
HT CNN