AMY OSBORNE/AFP/Getty Images
On Sunday thousands of demonstrators descended on Civic Park in Berkeley California in opposition to planned right wing protest.
A 'No Marxism in America' rally had been planned to take place in the park between 1pm and 5pm.
The organisers of the rally called it off before it was due to take place.
Speaking on Tuesday, organiser Amber Cummings stated in a post on Facebook that they did not want the anti-Marxism event to be taken over by white supremacists.
I do not invite or condone anyone showing up to this event with the intent of starting violence.

I also want to add I do not stand with any racist groups like the KKK, Neo Nazis, or any form of racist groups.

You are not welcome at this event and please stay away.

I myself am a transsexual female who embraces diversity and loves diversity.

This event is not a event of hate speech it is a event about concerns of Marxism in America.
Fox KTVU reports that the Mayor of Berkeley and several other local officials became concerned about social media posts leading up to the event, which they claim were hateful in character.
Ahead of the demonstration Berkeley Police Department announced they would be instituting a strict bag search policy, for banned items such as weapons, helmets, and bottles.
According to Berkeley's Office of City Manager, the city had informed Cummings, the rally's organiser, that their permit application for the 'No Marxism In America' rally had been denied.
This was due to their failure to submit the application on time, or supply enough information.
On Sunday, despite cancellation, a small number of anti-Marx protestors showed up, but were vastly outnumbered by counter-demonstrators.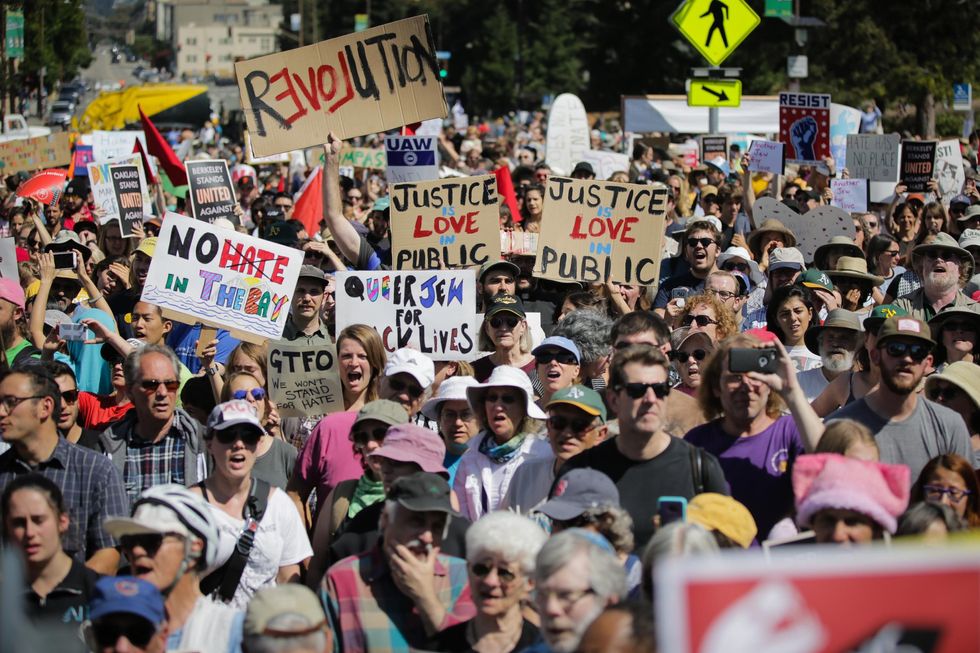 Picture: Elijah Nouvelage/Getty Images
Participants in the anti-Marx rally held signs supporting President Donald Trump.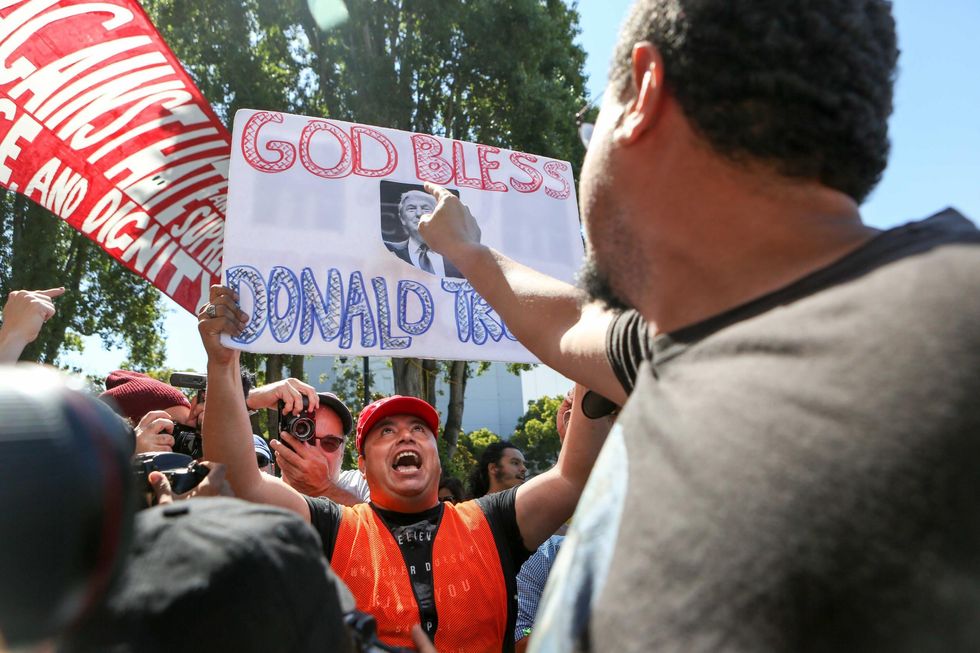 Picture: AMY OSBORNE/AFP/Getty Images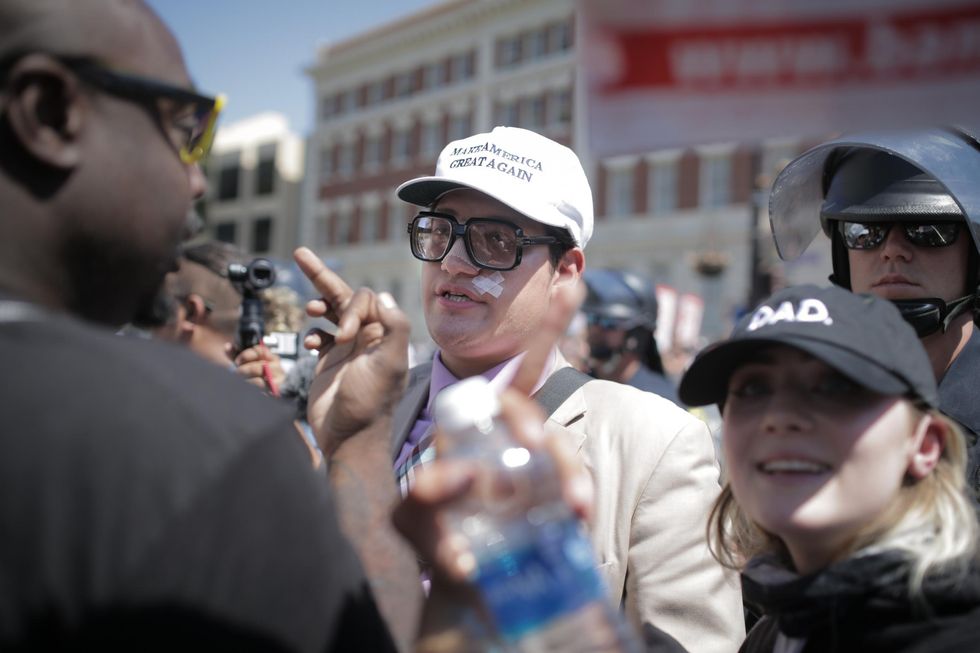 Supporter of President Trump, Jovi Val was surrounded by counter demonstrators.
Some of these made light of the 'Marx' element of the planned rally, wearing attire of comedian Groucho Marx, and not the author of the Communist manifesto.
Anarchists and member of the Antifa (Anti-Fascists) also turned out to oppose white supremacy.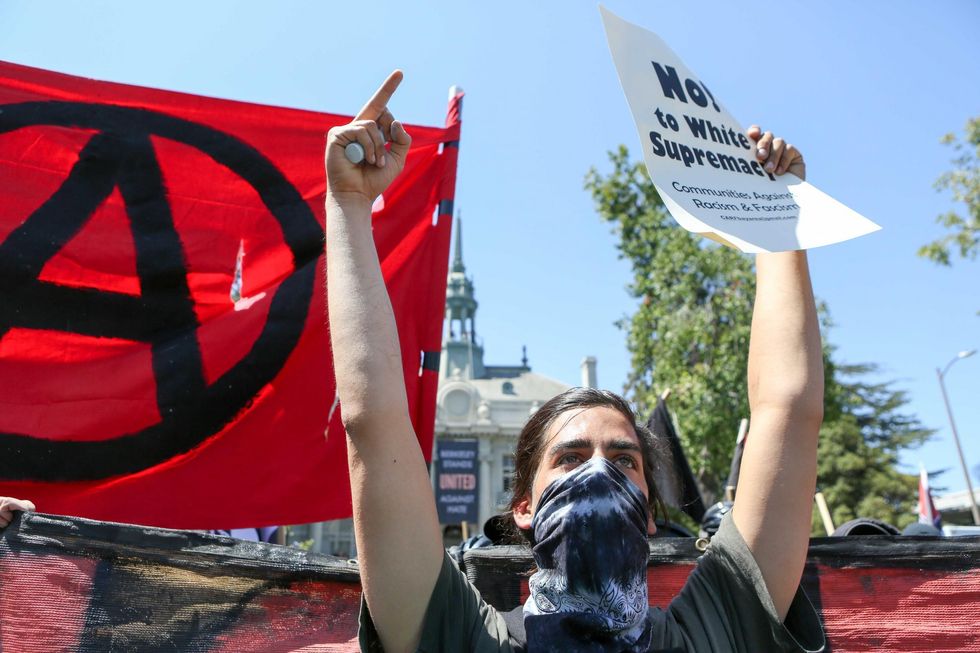 Antifa members and counter protesters gather during a rightwing No-To-Marxism rally on August 27, 2017 at Martin Luther King Jr. Park in Berkeley, California. (Picture: AMY OSBORNE/AFP/Getty Images)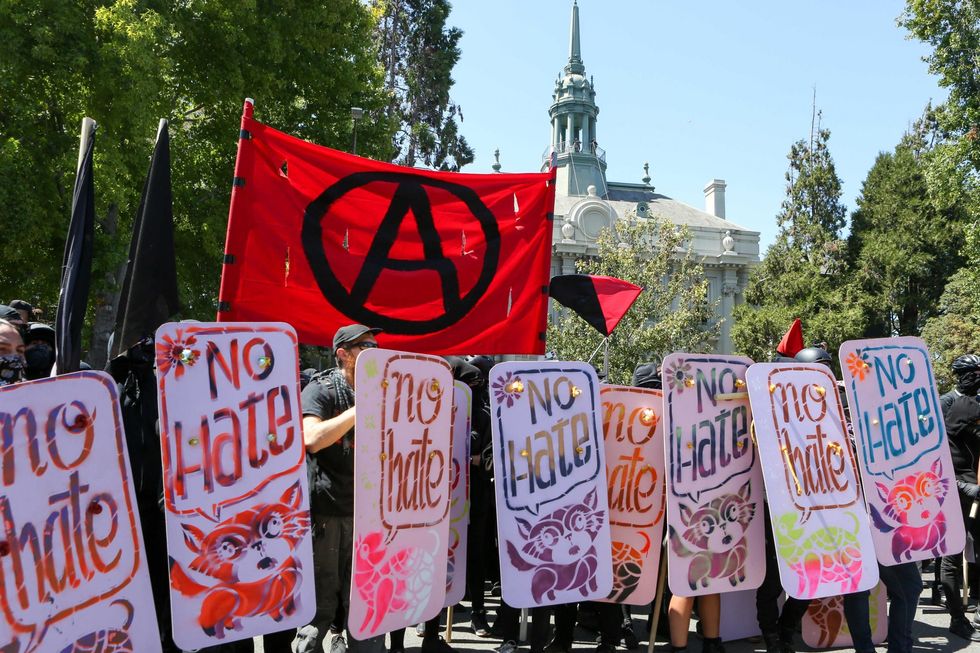 Picture: AMY OSBORNE/AFP/Getty Images
Mother Jones reporter Shane Bauer shared this image from the demonstration.
The incident followed a planned far right protest in neighbouring city of San Francisco on Saturday.
Joey Gibson, the founder of the far right group Patriot Prayer was also present in Berkeley on Sunday, and was the target of much of the ire of the counter demonstrators.
Gibson, second from left, is chased by anti-fascists during the rally.
Video taken in Berkeley showed the protestors shouting 'Nazi scum, off our streets'
At least 13 arrests were made at the demonstration on Sunday.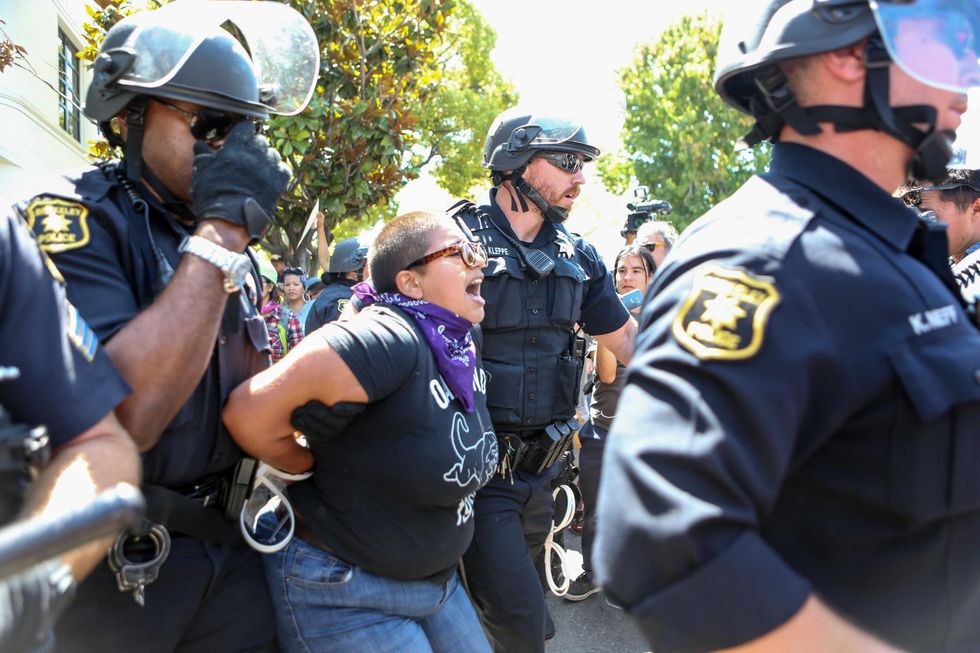 Riot police arrest a counter-protestor at the No To Marxism rally.
One man was injured by figures wearing masks, as he attempted to take photographs.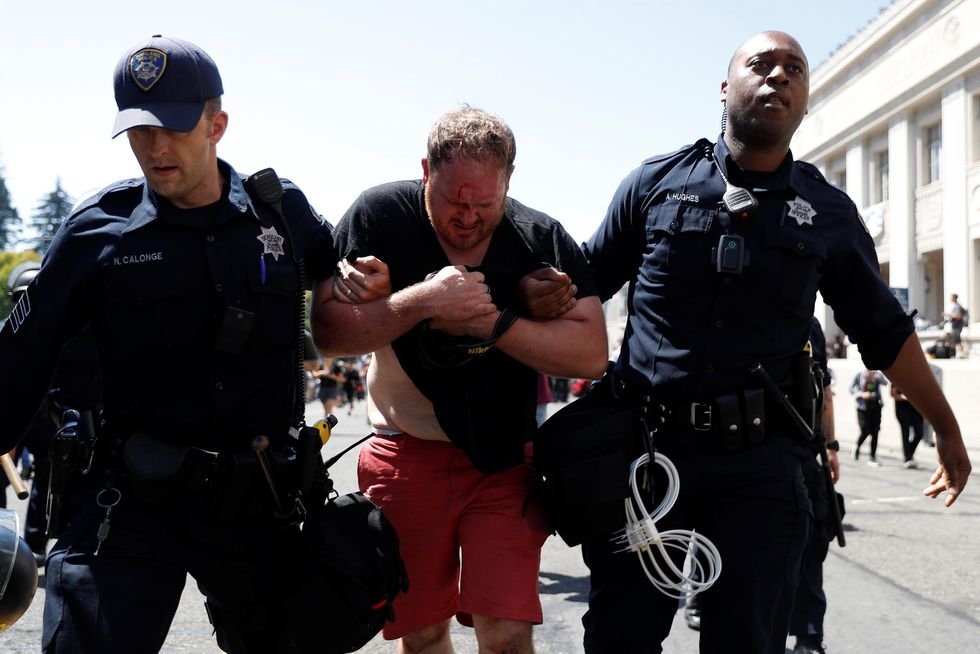 Police officers help an injured man after he was attacked by masked demonstrators in Martin Luther King Jr. Civic Center Park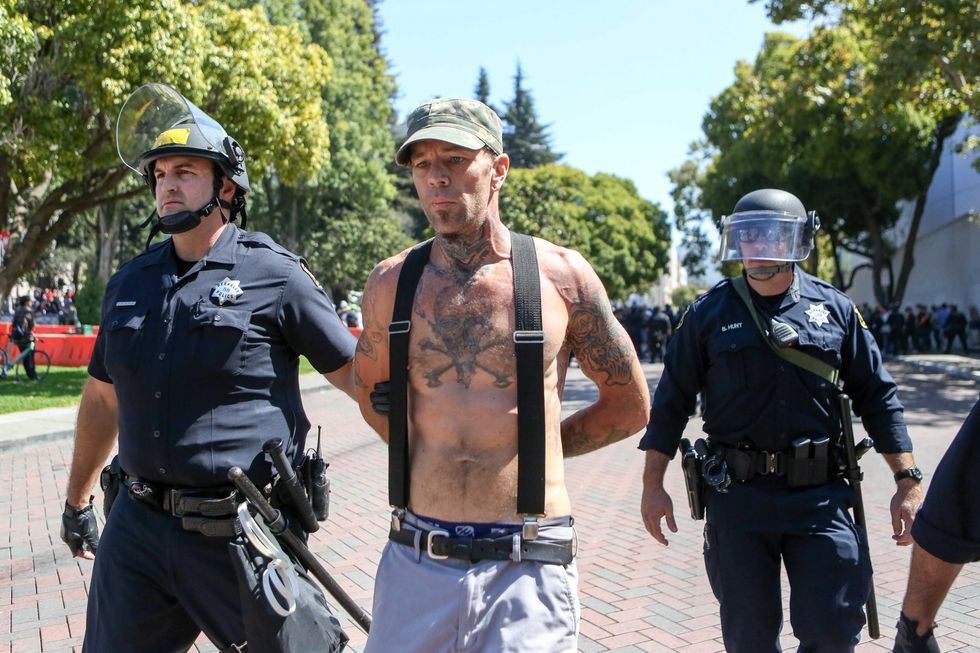 A member of the No To Marxism rally is arrested.
Other moments appeared more lighthearted, as captured in this video.
An estimated 4,000 people were involved in the events on Sunday.