Christopher Furlong/Getty Images/Twitter
The leader of UKIP Gerard Batten has had to delete a tweet where he made a completely false claim about the Irish border.
With Theresa May set to go back to Brussels in the hope of renegotiating a Brexit deal, the discussion of the controversial backstop is one again in the discourse.
As a Brexiteer, you won't be surprised to hear that Batten isn't a fan of the backstop and is seemingly happy to reinstate a hard border in Ireland if it means leaving the EU.
In the tweet, which he posted on Wednesday afternoon, the 64-year-old MEP wrote in a reply to LBC:
Here's a fact about the Irish border.

There are approx 100 lorries per day crossing the ROI & NI border.

This accounts for 0.5 per cent of the UK/EU trade.

One company accounts for 50 per cent of these trips - that company is Guinness.

And this is the false premise that is holding up Brexit.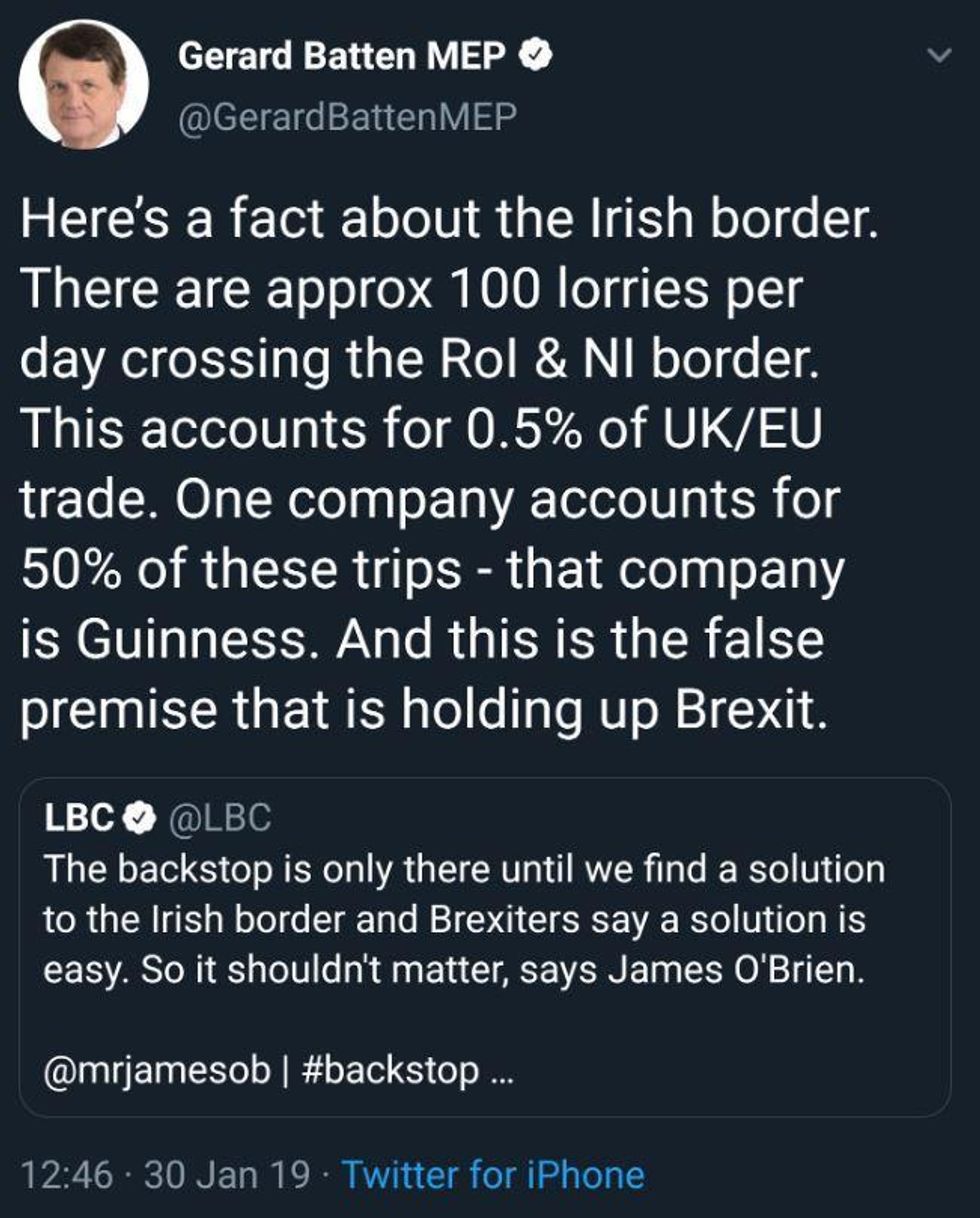 Picture: Twitter
Not long after he tweeted this 'fact', people soon began to point out the huge error that he made.
Richard Chambers of Virgin Media News pointed out to Batten that there are slightly more than 100 lorries to pass through the border every day.
Each month around 170,000 lorries, plus 200,000 vans and 35,000 people pass through the border.
This information isn't particularly new either.
In June 2017, InterTrade Ireland, a body set up under the Good Friday Agreement, published a blog by their director of strategy and policy, Aidan Gough, which laid out the opportunities and challenges that cross-border trading will face after Brexit.
In the space of one month 177,000 lorries, 205,000 vans and over 1.8m cars will cross the border between Ireland and Northern Ireland.
In one day it is estimated that 30,000 people make the cross-border commute to work. 

These lorries, vans, cars and people are involved in a trade in goods and services that now totals close to €6bn a year, growing at an average annual rate over the past twenty years at over 4 per cent.

This trade across the border is disproportionately important for small business.

The reality of this 'frictionless' land-border for many small businesses is that the all-island market is effectively their local market despite it being cross-border, a notion that is unfamiliar to many small businesses in Great Britain.
Batten is no stranger to criticisms of Ireland's close relationship with the EU. In November 2017, he called Ireland a 'tiny country that relies on the UK for its existence' and called for the common travel area to be 'revoked'.
indy100 has contacted Gerard Batten for comment.
HT Joe
More: Someone listed every outrageous Brexiteer quote and it's as infuriating as you'd expect