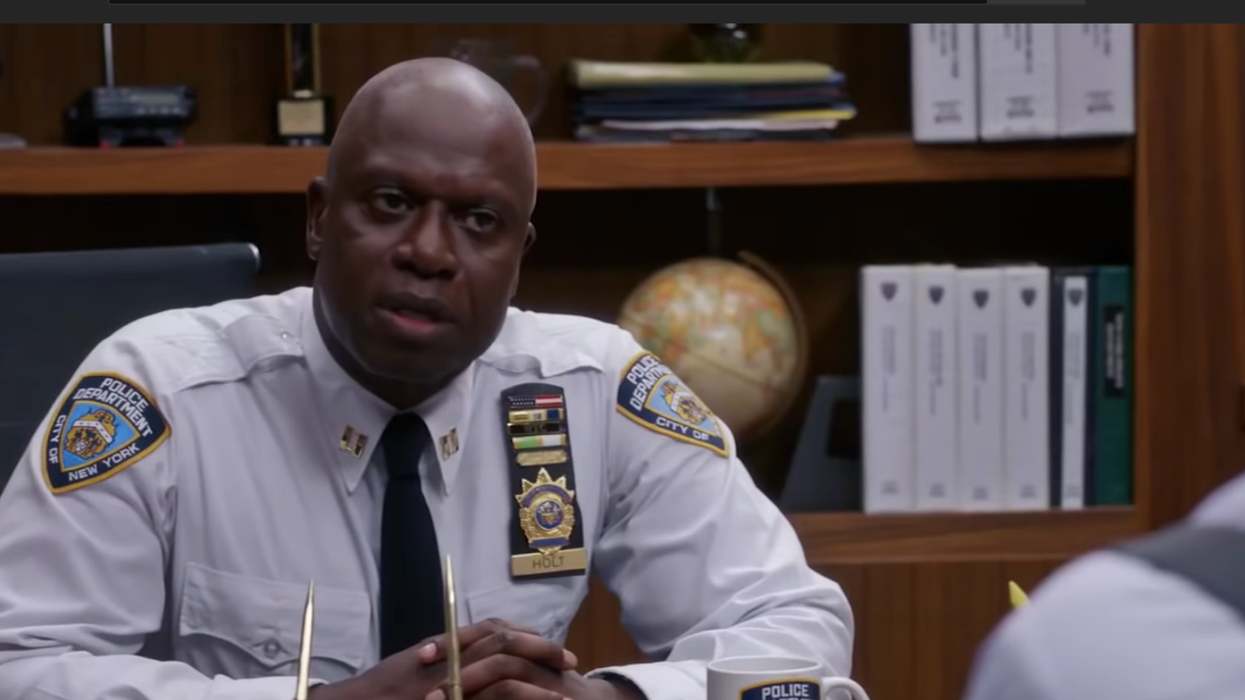 YouTube/NBC
Fans of cop shows have faced a reckoning this summer.
The Black Lives Matter movement has forced a reevaluation of how police are represented in culture, particularly on television – and how positive portrayals of police forces can prevent their real life counterparts from being held accountable for breaking the laws.
It turns out, the stars of those cop shows have been doing some thinking too.
In a new interview with Variety, Andre Braugher – who plays Captain Raymond Holt in the enormously popular Brooklyn Nine-Nine – explained how the "mythology" of policing is built up via cop shows – and how he's unwittingly played into that.
TV legend Andre Braugher on playing so many cops: "I, too, have fallen prey to the mythology that's been built up.… https://t.co/D8nZHr4UbN

— Caroline Darya Framke (@Caroline Darya Framke) 1600266550
Braugher, who is Black and has portrayed several police officers during his decades-long career, told reporter Michael Schneider that he'd "fallen prey to the mythology", continuing:
I look up after all these decades of playing these characters, and I say to myself, it's been so pervasive that I've been inside this storytelling, and I, too, have fallen prey to the mythology that's been built up. 

It's almost like the air you breathe or the water that you swim in. It's hard to see. 

But because there are so many cop shows on television, that's where the public gets its information about the state of policing. 

Cops breaking the law to quote, 'defend the law,' is a real terrible slippery slope. 

It has given license to the breaking of law everywhere, justified it and excused it. 

That's something that we're going to have to collectively address — all cop shows.
Brooklyn Nine-Nine, for the uninitiated, is a comedy about a group of cops working in New York City. They're unambiguously the good guys, even though the show hasn't shied away from confronting difficult topics, like police corruption and the poor public perception of cops.
Ultimately it does position police as a force for good and that has caused more questions to be raised about its purpose in recent weeks.
Braugher himself admits he has "no idea" what season eight of Brooklyn Nine-Nine has in store.
"I have no idea what season eight of Brooklyn Nine-Nine is going to be, because everything's changed," he says.
"Brooklyn Nine-Nine has to commit itself, as a comedy, to telling the story of how these things happen, and what's possible to deal with them. I don't have any easy answers, nor do I have a window into the mind bank of this writing staff.
"Can you tell the same story? Can anyone in America maintain any kind of innocence about what police departments are capable of?"
Some people on social media had their own ideas of where Brooklyn Nine-Nine could go now.
I would love for Season 8 to open up with Jake waking up from a dream during a nap in the break room in the middle… https://t.co/VrpZLBelnG

— Peter Ho-Ho-Hochanek 🌲 🎁 (@Peter Ho-Ho-Hochanek 🌲 🎁) 1600285284
Changing the setting to a library was also suggested.
We'll keep our eyes peeled...