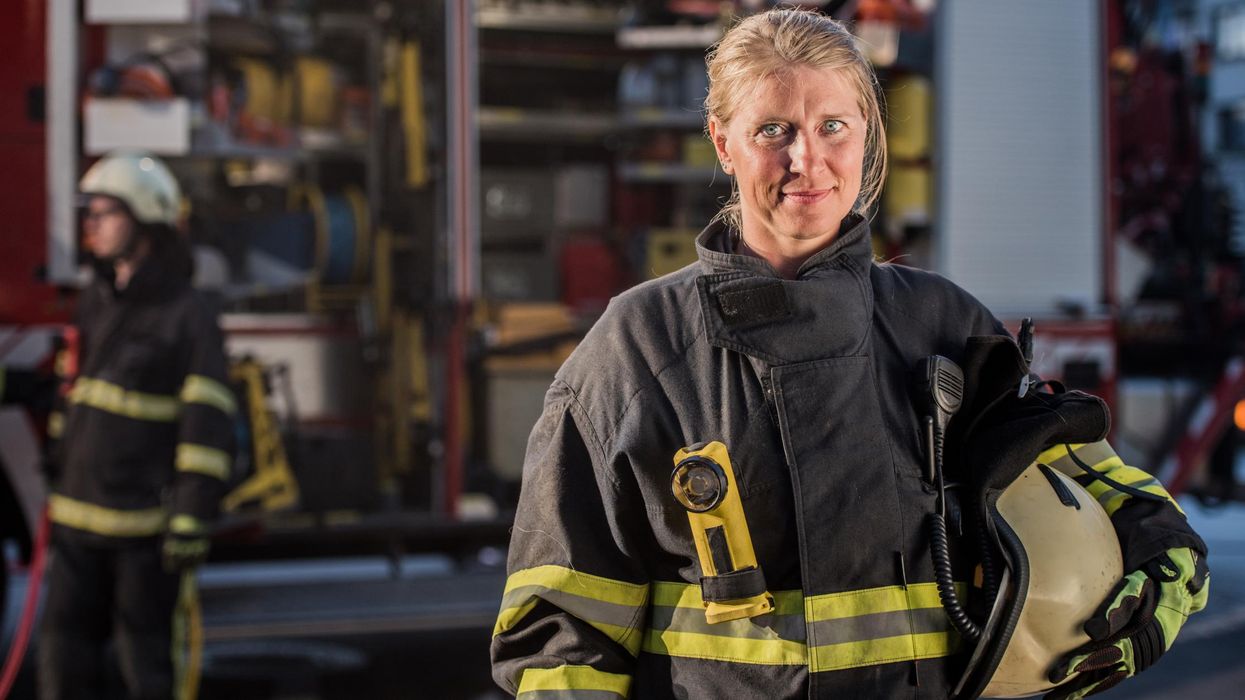 Getty Images
A chief fire officer has apologised for using the gender specific words "man" and "he" at a meeting when describing fire crew staffing levels.
South Yorkshire's chief, Jamie Courtney, used the word "man" four times and the word "he" four times when describing the importance of five-strong fire crews.
He was brought to task for using the outdated language at a Rotherham Council meeting, after a complaint was received from a member of the public.
The person who made the complaint, who did not wish to be identified, said:
I felt his language was minimising the role of women in the fire service especially as International Women's Day had just taken place and South Yorkshire Fire and Rescue had made a video highlighting the role women play in the service.

There aren't many women firefighters and it's important not to just see firefighters as men.
Jamie Courtney made his remarks despite the brigade trailblazing the way for women firefighters in December last year when they appointed 50-year-old mum-of-one Alex Johnson as its assistant chief fire officer.
She is third-in-command after chief officer James Courtney, who is on a salary of £185,000, and deputy Martin Blunden.
His words came in response to a question from Rotherham councillor Victoria Cusworth at the authority's Overview and Scrutiny Management Board last month.
Responding to the complaint, Diana Terris, clerk to South Yorkshire Fire Authority, wrote back saying she had raised the chief's use of "gender specific" language with him and "discussed the matter with both the chair and vice chair of the Authority".
She went on:
The chief fire officer is grateful for this to have been highlighted and apologises unreservedly and would have done so without question at the time had it been pointed out.

He is a great advocate of equality and diversity within the Fire and Rescue Service, a point affirmed by both the chair and vice chair of the Authority.
Mr Courtney declined to comment. Instead, a South Yorkshire Fire Service spokeswoman said:
The chief has already responded via the clerk to the Authority and has apologised unreservedly and would have done so at the time had it been pointed out to him.

No further statements will be issued.
The issue of women in the fire service nationally has been a sensitive one given there are relatively few female firefighters.
South Yorkshire only has 42 whole-time and retained duty firefighters who are women out of a total of 672.
Last autumn, London Fire Brigade's first woman chief, Dany Cotton, declared there was no such thing as a "fireman" – only firefighters - and added: "I want to shake off outdated language which we know is stopping young girls and women from considering this rewarding and professional career."
The female chair of South Yorkshire's Fire Brigade Union, Nicky Brown, said:
On behalf of my female members I welcome the apology from the chief fire officer for the terminology he used in the recent public meeting at Rotherham Council.

The Fire Service nationally and locally goes to great lengths to promote itself as an Equal Opportunities Employer and it is essential that the senior representatives of the organisation are seen to endorse this ethos.
SWNS