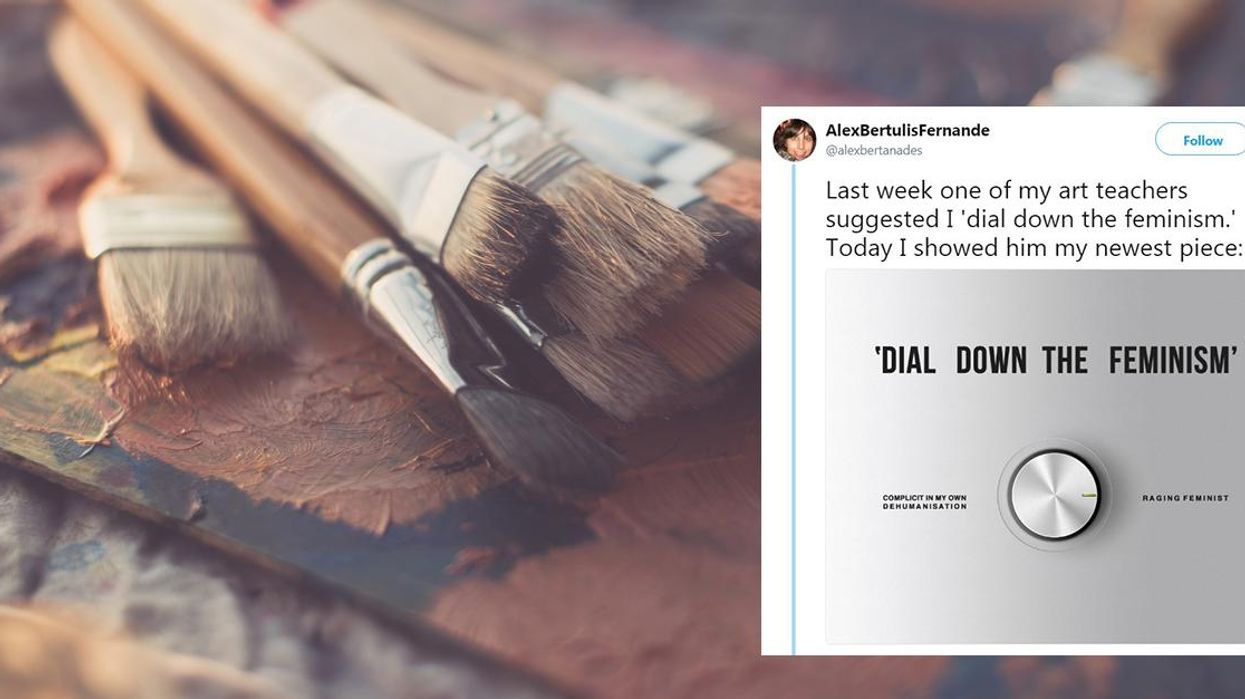 Getty Images/iStockphoto/ Alex Bertulis Fernandes/ Twitter
Many say that you should heed the advice of your teachers, after all, they know best, right?
However, when a male lecturer allegedly told 23-year-old London art student Alex Bertulis-Fernandes to "Dial down the feminism" in her work, she used it as a source of inspiration.
Literally using the words, Alex edited a photo of a volume dial with the two settings reading "Raging Feminist" with the opposite being "Complicit in My Own Dehumanisation."
The artist then tweeted the image to her followers on Wednesday and it soon went viral, picking over 95,000 retweets at the time of writing.
Last week one of my art teachers suggested I 'dial down the feminism.' Today I showed him my newest piece: https://t.co/VrnB4oJ8Cz

— Alex Bertulis-Fernandes (@Alex Bertulis-Fernandes) 1518031046
The response to her piece was that of overwhelming praise, with some people even asking where they can get their own copy.
@alexbertanades So brilliantly executed!

— Sunny the Solar Guy! (⧖) (@Sunny the Solar Guy! (⧖)) 1518179395
Even Avengers actor Mark Ruffalo shared the image on his profile.
Alex later confirmed that she had used the help of Icon Deposit to create the image and that she would be producing prints and t-shirts that would be available to purchase.
Speaking to NewsweekAlex said that her work is inspired by the #MeToo and Time's Up campaigns but the teacher felt that her pieces were too feminist.
She admits that she almost followed the advice, but instead used it in a different and far more creative manner.
I was exasperated with the idea that feminism is just something you can dial down to the most appropriate setting.

Feminism is relevant and important to everyone, but men are much more likely to think, 'I can afford not to engage'.
Alex added that she never intended to shame her teacher with the piece, but said that he was pleased that she stuck to her values.
He looked a bit sheepish, but he said he was pleased that he inspired it. I think he appreciated that I stuck up for myself.

I never felt like I'd be penalised. At the end of the day, he'll express his opinion, I'll express mine. It's a dialogue.
The piece of art is reportedly not finished yet and Alex hopes that she can turn the piece into a physical installation complete with a working dial.
If you would like to see more of Alex's artwork please visit her Twitter and Instagram profiles or alternatively her website.
HT Newsweek