On Monday, firefighters responded to a blaze at Trump Tower in New York, the home of President Donald Trump.
One person suffered minor injuries, while another sustained serious and possibly life-threatening injuries, officials said.
The fire was reported at 7 am local time and was located on the top floor of the building, according to the New York Fire Department.
Neon Nettle, a conspiracy theorist website, wrote in an article covering the news, later published on their Facebook:
Fears are mounting for Donald Trump's safety after a huge fire has suddenly broken out at Trump Tower in New York.

The President has yet to be accounted for with many fearing the fire could be deliberate.
The post can be viewed on Facebook here:
This was, even at the time, demonstrably untrue.
Here is Donald Trump, safe and sound, returning to the White House after a brief trip to Camp David in the afternoon, 7 January 2018, where he remained until the subsequent day. This photographic evidence is publicly accessible.
Picture: Kevin Dietsch-Pool/Getty Images
He departed the White House for Air Force One at Joint Base Andrews at roughly 1 pm on 8 January. Again, this information is available publicly and easily confirmed. The press were informed of his schedule and news sources can request comment or confirmation from the White House at any time.
And here he is later that day at the NCAA game between Alabama and Georgia at 8 pm in Mercedes-Benz Stadium, in Atlanta.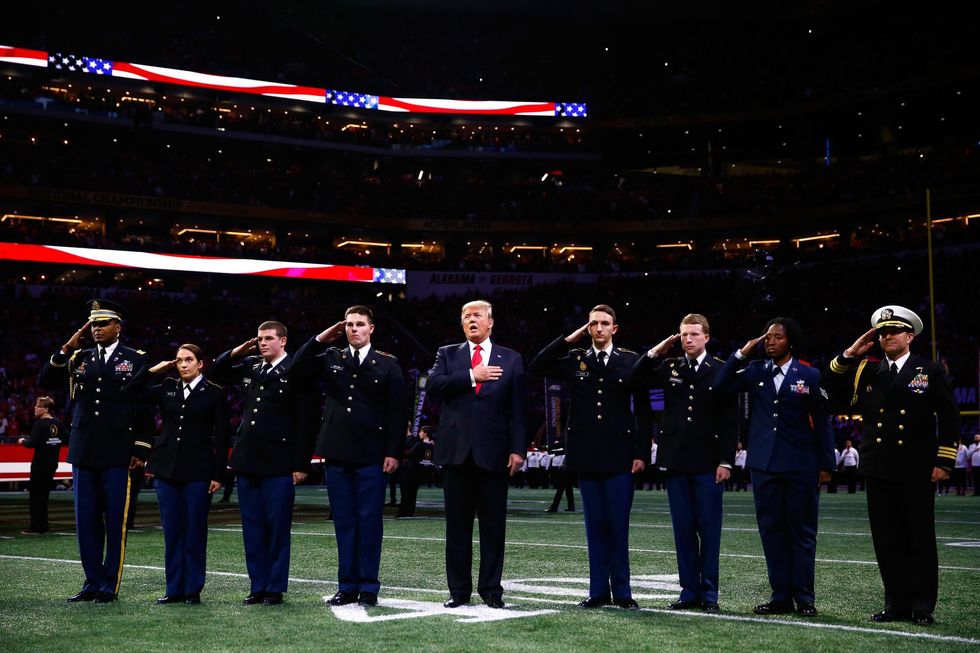 Picture: Jamie Squire/Getty Images
In short, he was always in the White House during the fire at Trump Tower, 200 miles away.
Despite this, the stories remain live on the Neon Nettle website and no retraction or correction has yet been offered.
Neon Nettle describe themselves on their Facebook page as:
A free independent news source created by people for people, not corporations.
They continue:
We appreciate that there are aspects of our articles that you won't agree with, but that's ok, in fact, we encourage it.

If you don't agree with something then leave your thoughts in our comment section or even write a counter article.
Neon Nettle published a follow-up story later in the day which alleged the fire was an assassination attempt by the New World Order, quoting conspiracy theorists Alex Jones and Mike Cernovich as sources.
Neon Nettle, at the time of writing, has over 500,000 followers on Facebook, and the two stories on Facebook have close to 150 shares each and hundreds of likes.
Neon Nettle has been approached for comment by indy100.