Donald Trump's weird, power handshake has developed a bit of a reputation.
His grip has been the topic of articles (like this one!) and countless TV show segments. Psychologists, behaviour experts and news pundits have all weighed on his infamous grasp, nicknamed the 'grab and yank', which he has utilised in meetings with global leaders, including Canada's Justin Trudeau and China's Xi Jinping.
French president Emmanuel Macron has engaged with the handshake on a number of occasions.
Back in 2017, Macron was caught intensely shaking the US president's hand. It was… electrifying.
The pair had met in Brussels, and Macron, apparently prepared for the yank, later admitted the handshake "wasn't innocent". He told a French newspaper:
One must show that you won't make small concessions, even symbolic ones, but also not over-publicise things, either.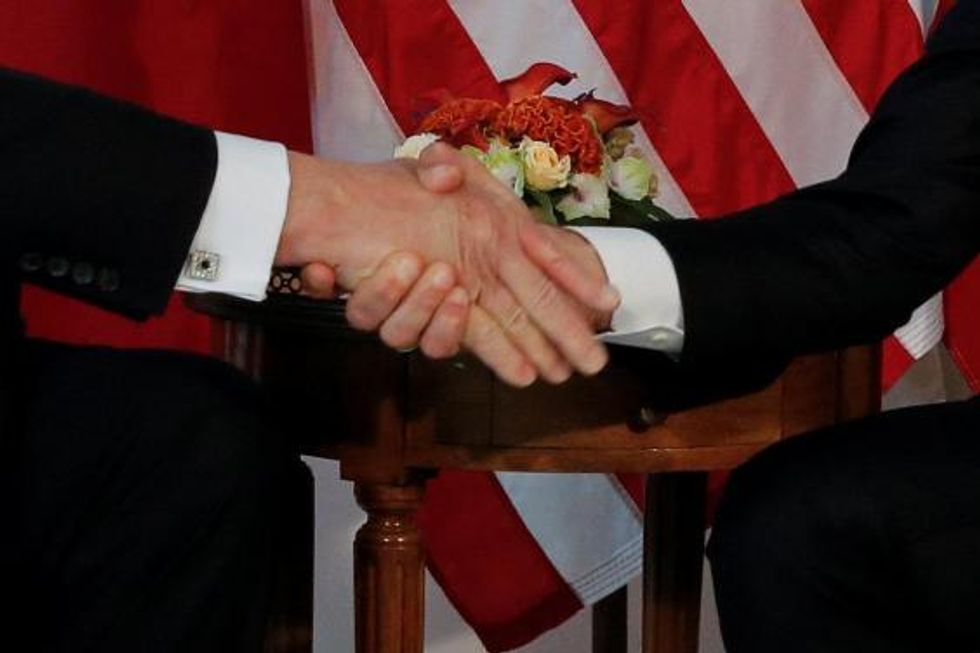 The squished hand belongs to Donald Trump
Not long after, the skirmish continued with Donald Trump attempting to get the upper hand by upgrading the yank-and-grab to the dudebro fist snatch.
The farewell handshake between President Trump and French President Emmanuel Macron lasted about 25 seconds… https://t.co/Z63FSmb3wq

— CNN (@CNN) 1500037346
Ladies and Gentlemen, November has brought us an unequivocal winner: Emmanuel Macron.
The US president and the French leader met on Saturday at the Elysee where they discussed the need for European defence spending. In addition to the bone-crushing handshake, Macron patted Trump's knee and referred to him as "my friend".
"We want a strong Europe, it's very important to us, and whichever way we can do it the best and more efficient would be something we both want," said Trump.
We want to help Europe but it has to be fair. Right now the burden sharing has been largely on the United States.
"That's why I do believe my proposals for European defence are totally consistent with that," Macron said in English.
Look at the veins. Look at the squished skin.
The best thing about it all is that it looks like Trump knows he's been had.