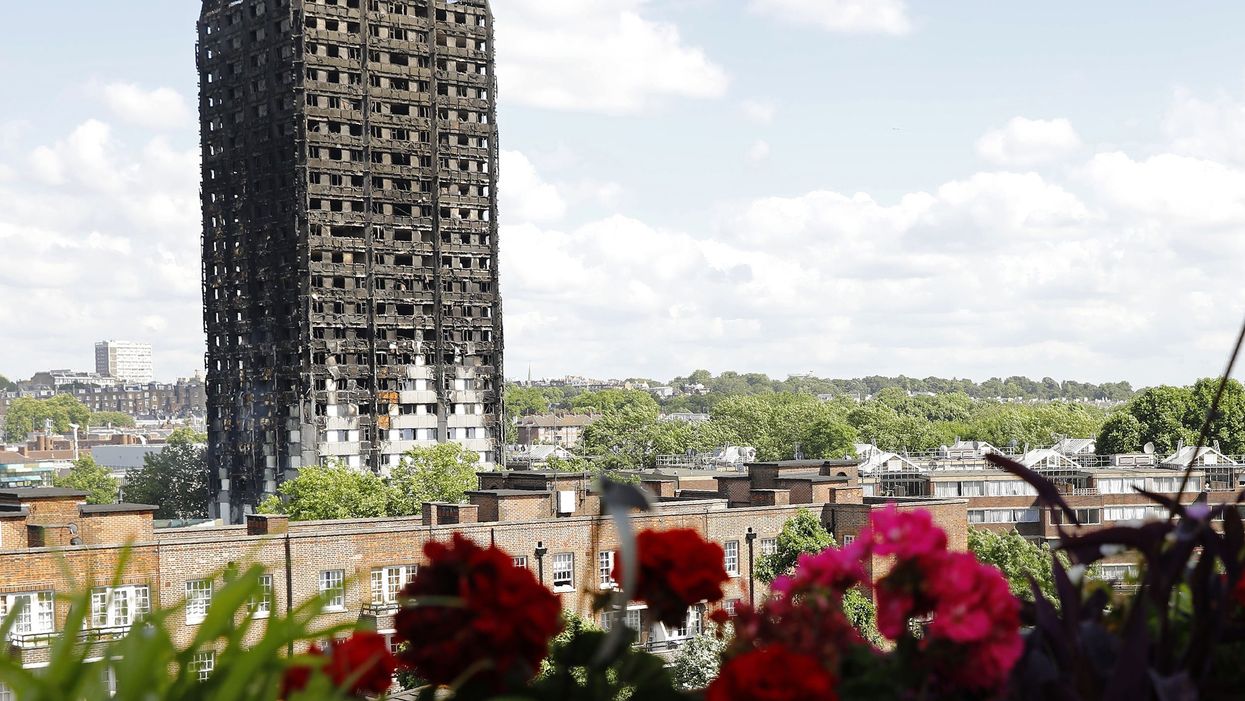 AFP/Getty
24 years ago, the BBC broadcast the second in the House of Cards trilogy called 'To Play the King.'
Not to be confused with the American House of Cards starring Kevin Spacey, the original British political drama charted the fictional life of a manipulative Conservative MP, Francis Urquhart, who rises from Chief Whip to Prime Minister.
In the second part of the saga, Urquhart comes into conflict with the newly crowned King, who is displeased with the PM's social policy, which he argues has lead to more problems in urban areas.
This is put into real focus when neglected tower block in London explodes, killing residents and forcing others into homelessness.
Vimeo user Al-Jazz has edited together clips from the episode, which proves to be a chillingly similar comparison to the appalling scenes that we have recently seen in London.
The scenes feature similar criticisms to the ones aimed at Prime Minister Theresa May, when she met with the emergency services prior to the survivors and the victim's families.
Then there is the cold and robotic television interview that Urquhart gives, showing little emotion or consideration. Theresa May was accused of giving an 'inhuman' interview when she appeared on Newsnight last week to address her thoughts on the disaster.
In a caption on his Vimeo page Al-Jazz wrote
Originally broadcast on December 12th 1993, these edited excerpts from the BBC's 'House of Cards' are incredibly prescient, in light of the events of last Tuesday. The obvious satirical commentary of the show highlights the withering opportunism of governments and media alike to jump on such stories. The points are made in general, but I found the arguments around social injustice, and the nature of the cause of the tragedy - a gas explosion in a run-down tower block - particularly chilling. Especially uncanny are the details of the degraded state of public housing, and even the specific points that a small fire on the fourth floor began the blaze, and the death toll being 72 (an estimated figure of around 70 from the fire service yesterday was given in relation to Grenfell).

I have absolutely zero intent to offend the victims, their families or the survivors of this dreadful and shocking event, nor to trivialise the nature of this disaster in comparing real world events to fictional television shows, and I wholly apologise if that is how this is judged. Neither do I wish to make a further comment on either the real event or opinions voiced in the fictional dialogue. What I will say though is that Urquhart's reaction in the BBC interview is chilling, and I hope not at all prescient. Beyond that, I am simply struck by how a 25-year old show can so closely resemble today's reality, with seemingly so few of the issues having been addressed in the interim.
Many people have shared the clip on Twitter including government advisor Dr. Sue Black and former MP George Galloway.
Grenfell Tower disaster parallels in House of Cards, 1993. on Vimeo https://t.co/q2NGgiRv0z

— George Galloway (@George Galloway) 1497812235