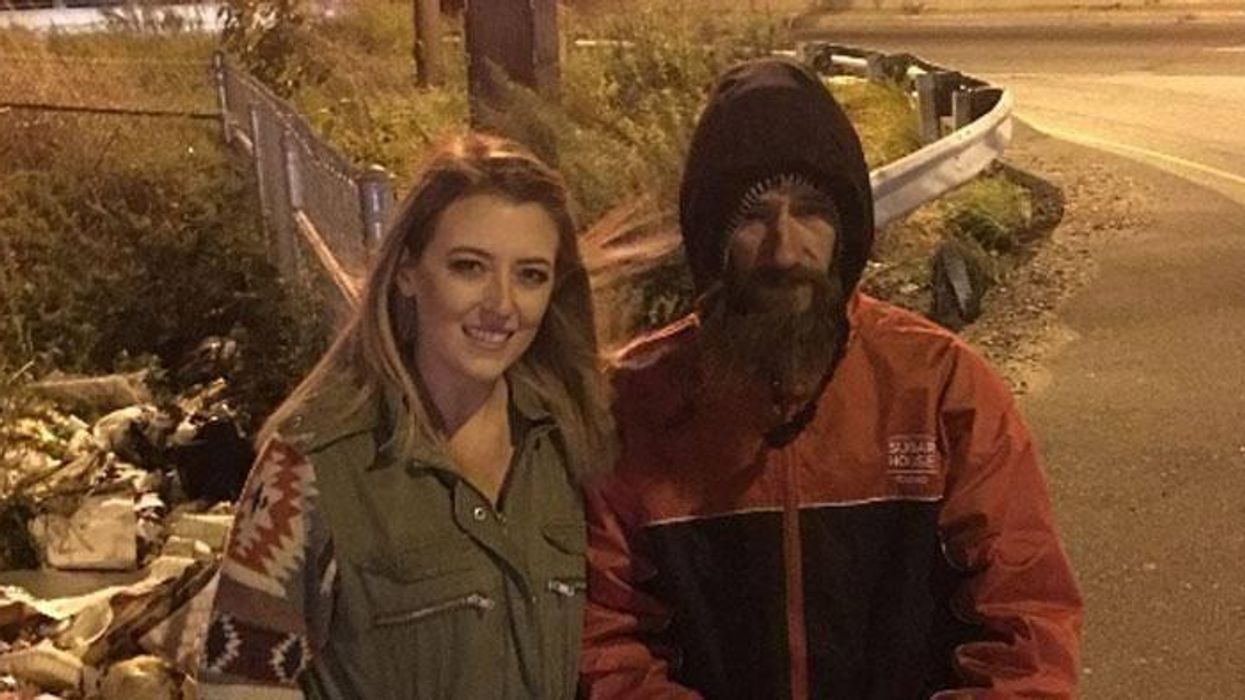 GoFundMe
The heart-warming story of the couple who raised hundreds of thousands of pounds on GoFundMe for a homeless man who helped them with their car has taken yet another sour turn.
Mark D'Amico, Kate McClure and Johnny Bobbitt have now been charged with theft by deception and conspiracy to commit theft by deception, reports AP.
A complaint, obtained by NBC10says they conspired to make up a false story in order to raise more than $400,000 (£313,648) for themselves.
The feel-good story went viral in 2017, when the couple claimed Bobbitt, who was homeless, had given them his final $20 to help buy McClure gas as her car had run out on a Philadelphia motorway.
The couple later said they were so touched by his actions they decided to set up a GoFundMe page to help Bobbitt out.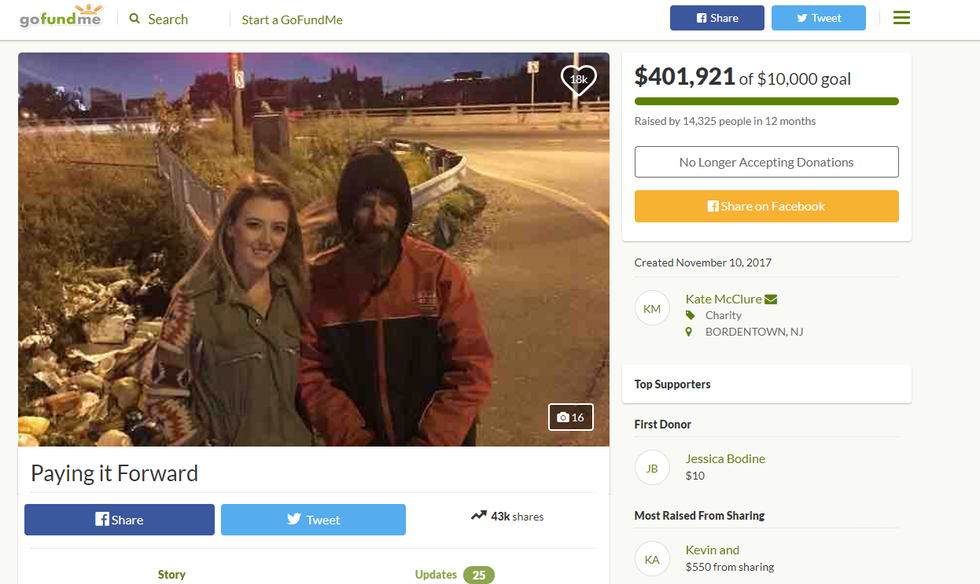 Initially, the three of them spent time together, and the couple had lots of TV appearances and reached global fame for what appeared to be a lovely act of altruism.
Things quickly started to deteriorate when Bobbitt accused the pair of using the funds meant for him as their "personal piggy bank."
Bobbitt went on to sue McClure and D'Amico, who denied doing anything wrong. They said he had spent $25,000 in less than two weeks on drugs. They said they had given Bobbitt $200,000. Bobbitt's lawyer claims he only got $75,000 of the money.
The couple purchased a camper for him which they said he could park on their land (they later revoked this and Bobbitt became homeless again).
In September, the police raided the couple's home in New Jersey and removed a new BMW on a flatbed from the property. Additionally, their financial statements, jewellery and cash were also seized.
GoFundMe issued this statement:
All donors who contributed to this GoFundMe campaign will receive a full refund. GoFundMe always fully protects donors, which is why we have a comprehensive refund policy in place.

GoFundMe will process all refunds in the coming days.

While this type of behavior by an individual is extremely rare, it's unacceptable and clearly it has consequences. Committing fraud, whether it takes place on or offline is against the law.

We are fully cooperating and assisting law enforcement officials to recover every dollar withdrawn by Ms. McClure and Mr. D'Amico.

Finally, it's important to understand that misuse is very rare on our platform. Campaigns with misuse make up less than one tenth of one percent of all campaigns.

We have a zero tolerance policy for fraudulent behavior. If fraud occurs, donors get refunded and we work with law enforcement officials to recover the money.

One fraudulent campaign is one too many, but when it does take place, we take action to protect donors.

To learn more about our refund policy, the GoFundMe Guarantee, please visit www.gofundme.com/guarantee
Reports claim that Bobbit was brought into custody on Wednesday by US marshals on probation detainers and a $50,000 bond in a Philadelphia jail.
D'Amico and McClure surrendered themselves shortly afterwards.
By Thursday all three had been charged with deception with prosecutors learning that evidence showed that all three knew of the scheme for at least a month before it was put into action.
The couple are said to be the subject of a lawsuit by Bobbit but it is unclear as to where the donated money has gone and what it has been spent on.
Representatives of the trip are yet to release a comment in regards to the issue.
More: Melbourne attack: People raise more than £70,000 for homeless 'Trolleyman' hero
More: Muslim groups raise over $40,000 for victims of Pittsburgh synagogue shooting