In news that should worry the entire world, Republican presidential candidate Donald Trump won the South Carolina primary on Saturday, cementing his position at the lead of the pack of GOP hopefuls.
The result led Jeb! Bush, younger brother of Dubya and son of George Sr, to bow out of the race, after a disappointing finish of just 7.8 per cent of the vote.
Jeb!, as the ex governor of Florida and member of an established political dynasty, was seen as a shoo-in for the Republican nomination when he entered the race in July - but his "low energy" campaign has been decidedly lacklustre, overshadowed by outsiders Trump and Ben Carson and his political juniors Marco Rubio and Ted Cruz.
To be honest, his plummeting polling figures were not helped along the way by a series of oddball comments, contradictions and classic political f--kups, nine of which we are delighted to remind you of below:
1. When he insisted on petting a stuffed moose
2. When he said if he could go back in time, he'd kill baby Hitler
Hell yeah I would!
Even if baby Hitler was really cute?
You gotta step up, man.
3. When he responded to a mass shooting by saying 'stuff happens'...
4. ...and then contradicted himself spectacularly.
5. When he defended his brother's war in Iraq by implying he isn't Jesus
He told reporters in Iowa:
We're all going to make mistakes. If you're looking for a perfect candidate, he probably existed 2,000 years ago.
6. When he gave a selfie workshop at a campaign event
Calling the selfie the '11th Amendment', Bush reminisced about the days when people just wanted autographs instead of their "damn selfie" and gave advice on arm length and angles so takers "look skinnier":
7. When he tweeted a picture of a gun captioned 'America' which is made by a Belgian company
8. When he had to ask his supporters to 'please clap'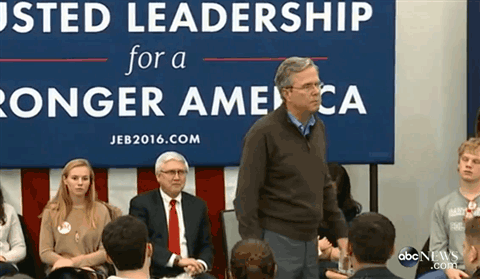 9. When he forgot to renew his website domain and it got bought by Donald Trump
Try going to www.jebbush.com. It redirected to Trump's campaign website, but now appears to be dead.
It's OK, Jeb. You get to go home now. Maybe for a sit down and a cup of tea.
While Trump surges ahead - in modern times no candidate has won both New Hampshire and South Carolina and then failed to win the nomination - there may be some hope left...