On Monday Theresa May was interviewed by ITV's Political Editor Robert Peston for Facebook Live
The interview was being broadcast on Facebook Live, allowing users to comment and react to the Prime Minster in real time.
It comes after May would not agree to debate Corbyn one-on-one.
Hundreds of thousands tuned in and the Tory leader was being asked questions on a range of topics including fox hunting, cuts to the NHS and the legalisation of cannabis by thousands of voters.
One voter sticks out above the others, because, well - he's after her job.
Yes, Jeremy Corbyn commented on the video and threw a parasol of shade at his rival in the race to number 10.
In the comment, Corbyn says
Hi Theresa May, as Prime Minster you have served your elite friends by giving them tax cuts while wages have stagnated, house-building is at its lowest since the 1920s, there are 20,000 fewer police on our streets since 2010 and the NHS is in crisis. Do you not think the British people deserve to see us debate, live and on TV?
Quite the burn.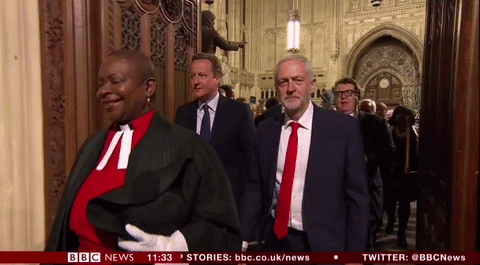 We guess that's one way of getting a TV debate, Twitter seemed pretty pleased with it, at least.
Here's how Theresa reacted to the question.