Wednesday's Prime Minister's Questions - the first in three weeks - was a tense affair thanks to the Panama Paper revelations and ensuing scandal over politicians' tax affairs.
David Cameron used the opportunity to ridicule Labour leader Jeremy Corbyn for his "chaotic" tax return, which was filed late and showed that Corbyn had actually overdeclared his earnings:
I thought his tax return was a metaphor for Labour policy! It was late, it was chaotic, it was inaccurate, it was uncosted.
Corbyn, though, didn't miss a schoolmasterly beat, coming back with:
I'm grateful for the Prime Minister for drawing attention to my own tax return, warts and all - the warts being my handwriting, the all being my generous donation to HMRC.

I actually paid more tax than some companies owned by people that he might know quite well.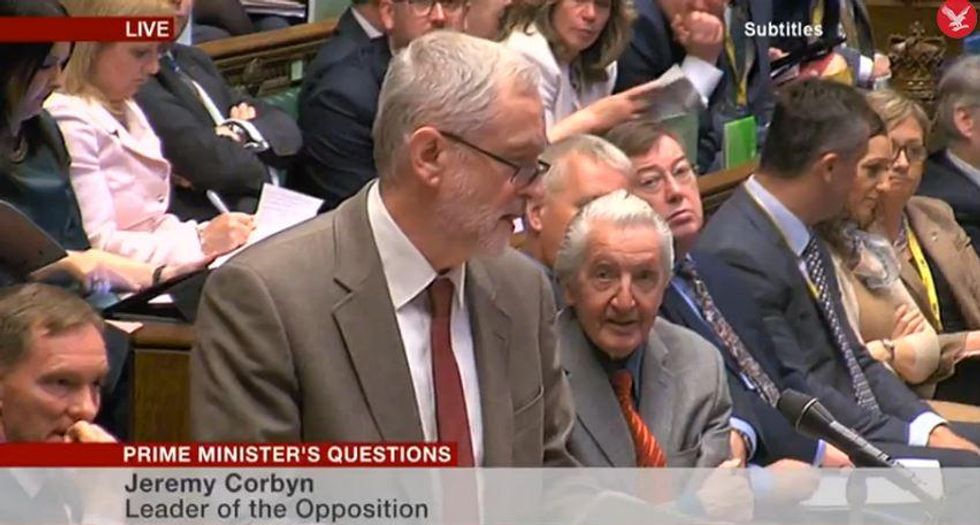 It has been suggested the dig was squarely aimed at George Osborne, whose family wallpaper company Osborne and Little has been accused of not paying UK corporation tax in the last seven years.
The chancellor is among several high profile politicians who have made their tax returns public to erase any queries over tax avoidance.
The PM went on to defend Osborne and Little for not paying tax as it has been making a loss, and said it was "exactly the sort of company Britain needs".
Osborne's tax return revealed that he received a £44,000 dividend from the firm in 2014-15.
Watch the exchange and other PMQs highlights below: