NCD Risk Factor/ Screengrab
Child obesity is becoming a worldwide epidemic after rising ten times in just the past four years.
Research by the British medical journal The Lancetanalysed obesity around the world and discovered that 124 million boys and girls are overweight.
The most concerning countries were mostly in the west as well as China, Australia and parts of South America.
The research, in association with the World Health Organisation looked at 2,400 studies which tracked the height and weight of around 32 millions 5 to 19-year-olds.
Although more children worldwide are considered to be underweight than overweight, if trends continue as they are, those facts are likely to swap places by 2022.
Majid Ezzati, who was an author on the study admitted that these findings were nothing to be optimistic about:
This shows that something can be done about obesity, but it might be an exaggeration to call this 'good news.'

These are still pretty high levels and we don't want it to stay there, we want it to go down.
The following two maps from NCD Risk Factor show the extent of the problem for both boys and girls.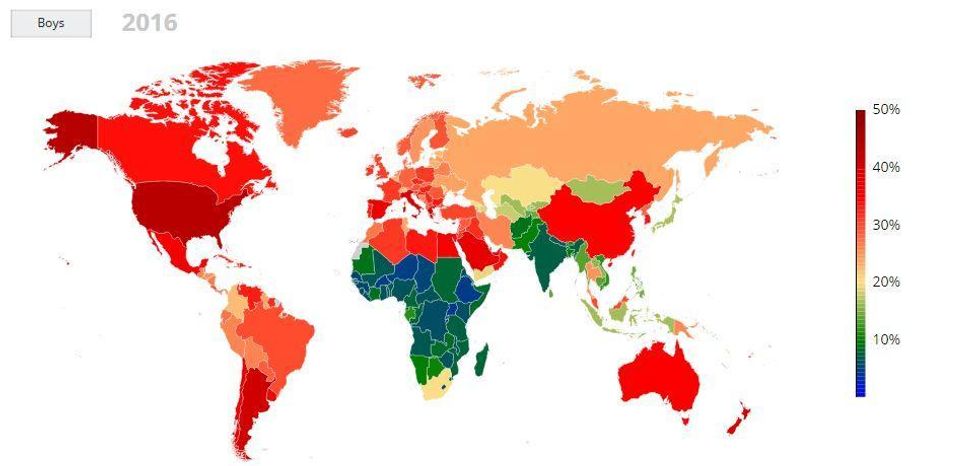 Picture: NCD Risk Factor Boys/Screengrab
Picture: NCD Risk Factor Girls/Screengrab
In 2016 the countries found to have the biggest problem with child obesity were small islands in the Pacific like Nauru, The Cook Islands and Palau.
Countries that struggled with too many underweight children were in Asia, namely India, Pakistan, Afghanistan and Bangladesh.
Experts have suggested introducing a similar tax policy to the one the UK currently has in place, which taxes unhealthy food and drink.
As Professor Ezzati adds though, junk food is often the cheaper option for more people.
Right now it's very hard to eat healthy if you're poor.
HT news.com.au