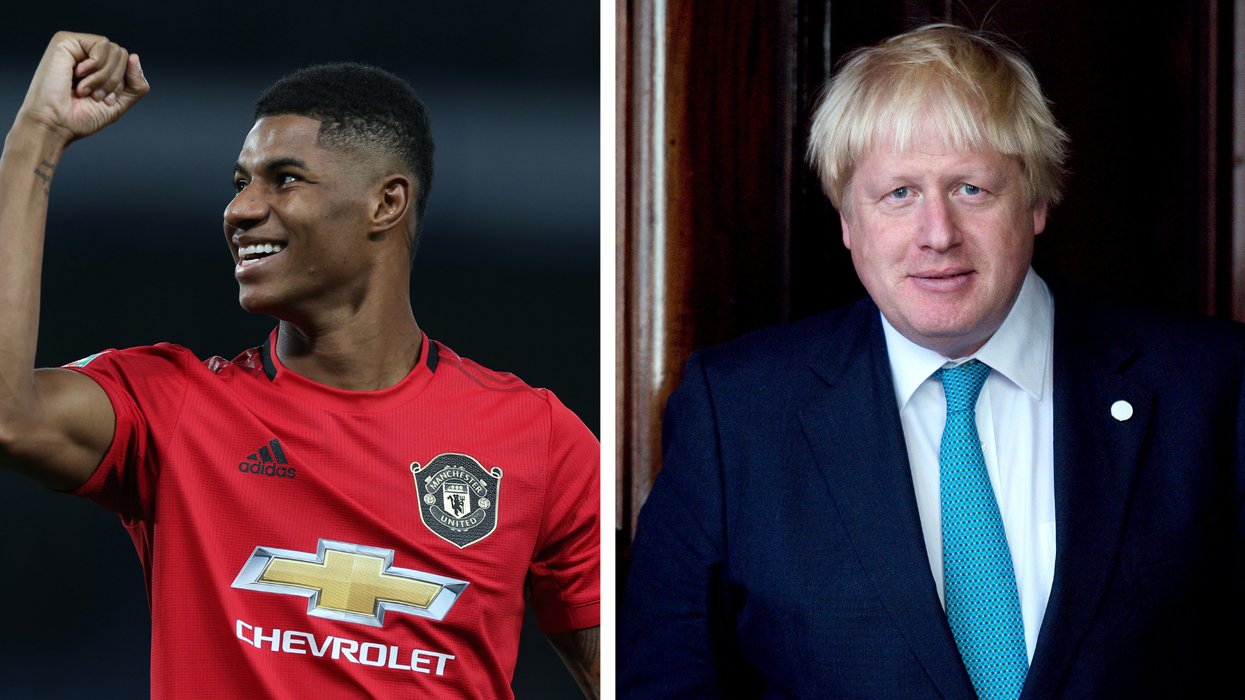 Getty
On Wednesday, the Tories voted down an amendment that would have seen free school meal vouchers – worth only £15 a week, lest we forget – be continued for low income families over Christmas and through the Easter holidays.
This has led to widespread anger, from the general public all the way up to footballer Marcus Rashford, who's become the face of the fight to get the government to support hungry children.
It's staggering that this conversation is even being had though.
Here's 8 reasons why feeding hungry children shouldn't even be up for debate.
1. The state has a duty of care
Children – as the noun suggests – are not adults. Fundamentally, they are not able to take part in adult choices or the state apparatus. The state has a duty of care to citizens who, through no fault of their own, are now in danger of going hungry in the sixth largest economy in the world.
Except some Tories arguing against this are blaming kids going hungry on "absent parents" and saying feeding starving children from low income families is "nationalising children".
Funny how Tory calls to "take responsibility" and "tackle to causes of child poverty" ignore the decade of austerity implemented by the Tories, which show that tens of thousands of families with children have been pushed into poverty by measures like benefit cuts and freezes on work allowances.
2. It's literally what we pay taxes for
What is the point of paying taxes for public services when £10bn of that money is spent on a failed track-and-trace system but zero can go towards feeding children in need?
Does the public get a say in where their hard-earned cash is going? Apparently not anymore, or the children would be fed.
3. Private charity isn't a replacement for the welfare state
You know who was big on private charity without complementary welfare state support?? The Victorians.
You know who had horrible rates of child poverty and mortality? Also the Victorians.
Private charity will never be a replacement for state support and the charity of others – whether that's the efforts of a high profile footballer or the spare cash ordinary people have lying around the house – can't shoulder the weight of feeding around 1.3 million children. Especially in the middle of a pandemic that had already seen national income drop by 20 per cent by June.
4. Feeding children means they can be nourished in other ways
As Marcus Rashford tweeted this week, kids going hungry doesn't just have an impact on their physical and mental welfare. It also costs a lot; an estimated £5.2m per year is lost in teaching hours that teachers instead are having to devote to caring for children who need feeding.
Schools currently pick up a lot of the slack left by holes in state support, to the degree that school closures in May lead charity Human Rights Watch to say that their absence was violating the right of children to have access to food.
In May, The Observer revealed that of the children in the UK entitled to free school meals, 31 per cent weren't receiving a substitute for the free breakfast clubs and food previously provided by their school which they were unable to access because of the pandemic.
What a terrible state of affairs.
5. Unemployment is rising and families can't feed themselves
A popular Tory counter-argument for not continuing to offer free school meal vouchers is that increases "dependency" on the state.
But that's simply not what the evidence suggests is happening.
Families do not typically willingly visit food banks, or want to depend on a weekly £15 meal voucher to feed their kids.
But thanks to the economic downturn prompted by coronavirus, there has been a huge increase in food poverty, with Conservative MP Robert Halfon adding that 32 per cent of families have had a drop in income since March.
On top of that, at least 1.5 million people are known to be unemployed as of August and the number of people receiving unemployment benefits has risen 120 per cent from March to September, with 2.5 million citizens now claiming it.
6. The government will pay millions for us to 'eat out' but not for families in need to eat, full stop
As Labour MP Nadia Whittome pointed out, Rishi Sunak's 'Eat Out to Help Out' scheme cost £500m.
But providing free school meal vouchers over the Christmas holidays would only cost the government £20m.
So the government is willing to push people in Nando's but not feed the most vulnerable in society.
Even Nigel Farage condemned their failure to give way.
A coalition of consensus that unites Labour and Nigel Farage. That's when you know you've gone wrong.
7. Wales and Scotland are funding free school meals
Both the Welsh and Scottish governments have pledged to continue providing free school meals, at least until Easter 2021 – England is the only member of Great Britain which won't be doing the same for its children.
What's even more baffling is that Douglas Ross, leader of the Scottish Tories, recently announced an election promise to introduce free school meals for all primary school children at breakfast and lunch, if elected in May.
But when it came to the Westminster vote over meals for English children, he went very quiet indeed.
8. The MPs who voted against the policy get free meals – and a pay rise
MPs have the option to expense their meals. Small children in need don't have the option of not going hungry.
Perhaps some of the money going towards the £3,300 increase in MPs' pay (despite no increase in their workload or remit) could go towards funding the continuation of free school meal vouchers?
Especially as they plan to reduce Universal Credit payouts by up to £1000 next year.
Who would let a child go hungry at Christmas? Well, now we have an answer.
Boris Johnson, over to you.