Warning: This article contains foul language in hilarious headlines.
The tabloid press in the UK is often accused of trivialising the debate in the EU. Here's Denmark's offering: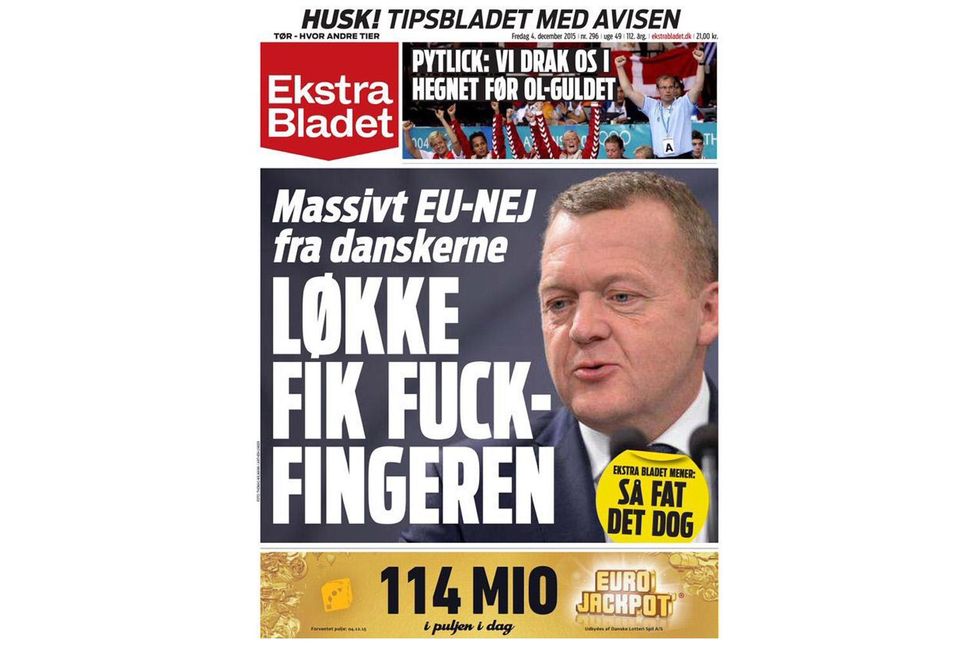 Elkstra Bladet is a Danish tabloid newspaper, the above front page of which is in reference to a recent vote on the relationship of the EU.
The translation reads (roughly):
Solid EU NO from Danes, Lokke got the fuck-finger.
The decision of yesterday's vote, 'No', is to reject the adoption of EU rules on cross-border policing, whereas the prime minister Lars Lokke Rasmussen campaigned for the 'Yes' vote.
Fifty-three per cent voted 'No' to the proposals to abandon some Danish opt-outs from EU home affairs legislation, as campaigned for by the country's centre-right government.
The decision, which rejects cross-border cooperation in policing only weeks after a series of terrorist attacks in Paris, shows the strength of anti-EU sentiment in the country.
Rasmussen said he had "full respect" for the voters' decision:
It is a clear 'No'.

It is my clear impression that it's not so much what we have voted about that the Danes have turned their backs on, but perhaps what we haven't voted on.
Denmark does not fully participate in EU justice or home affairs policies, due to the country's rejection of the Maastricht Treaty in 1992.