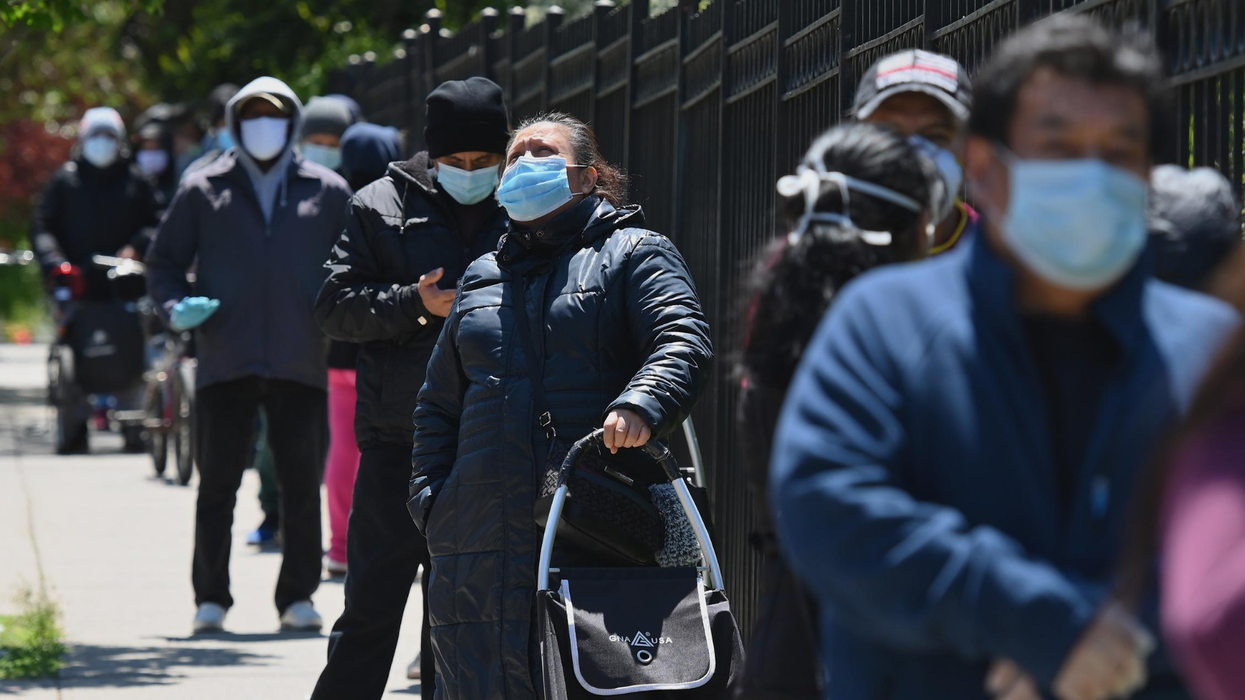 Getty
Queues stretching several blocks have been recorded in New York as thousands queue for free food during the coronavirus pandemic.
The New York Post reported the distressing scenes on Saturday, noting that the queue in Queens, New York reached a quarter of a mile "before the sun was barely up", comparing the sight to bread lines during the 1930s.
The line in question for La Jornada food pantry, who, during the pandemic, have increased the number of families they hand out groceries to by over 9,000.
Hungry New Yorkers form quarter-mile line for free food in Queens https://t.co/U2f01B1ZXE https://t.co/KNEP934IMD

— New York Post (@New York Post) 1598136935
They also serve a daily lunch to 1,000 people, many of them children.
And volunteers say that this work is nowhere near meeting demand.
"We feel like we are underwater, drowning in a tsunami of people," said Pedro Rodriguez, the food pantry's executive director.
This isn't like a little rain coming down. The numbers are unbelievable.
It reminds me of the picture from the Great Depression where a man in a suit and tie is giving another man in a suit and tie an apple.

That's all he had. We give all we have, but that's not enough.
According to the Post's report, many of those queueing are "seniors, moms and kids [and] singles" who are often immigrants from China and Mexico, made unemployed by the pandemic.
One food pantry patron interviewed, Walter Barrera, arrived at 6am to pick up groceries to feed his family for the week.
Barrera told reporters he lost his construction job four months ago and neither he, nor his two eldest sons can find work.
Friends and relatives are helping fund the $2,300, three-bedroom apartment the family live in.
"What do I tell my children when they look at me with hungry bellies, especially my 11-year-old son?" said Barrera.
"It breaks my heart. I'm their father. I'm supposed to feed them".
People seeing the reports were horrified.
Donald Trump was called out.
Hey @realDonaldTrump- here is an example of your 'booming' economy- https://t.co/6BfVDRUxhZ

— Julie Frein (@Julie Frein) 1598205570
Others reminded people of the wealth sitting nearby.
It was sarcastically referred to as the "American Dream".
American dream https://t.co/mpisJQGogD

— Walkir Gomes, Jr 🇷🇺🚩 (@Walkir Gomes, Jr 🇷🇺🚩) 1598198921
It's not too late to learn from the lessons of history.