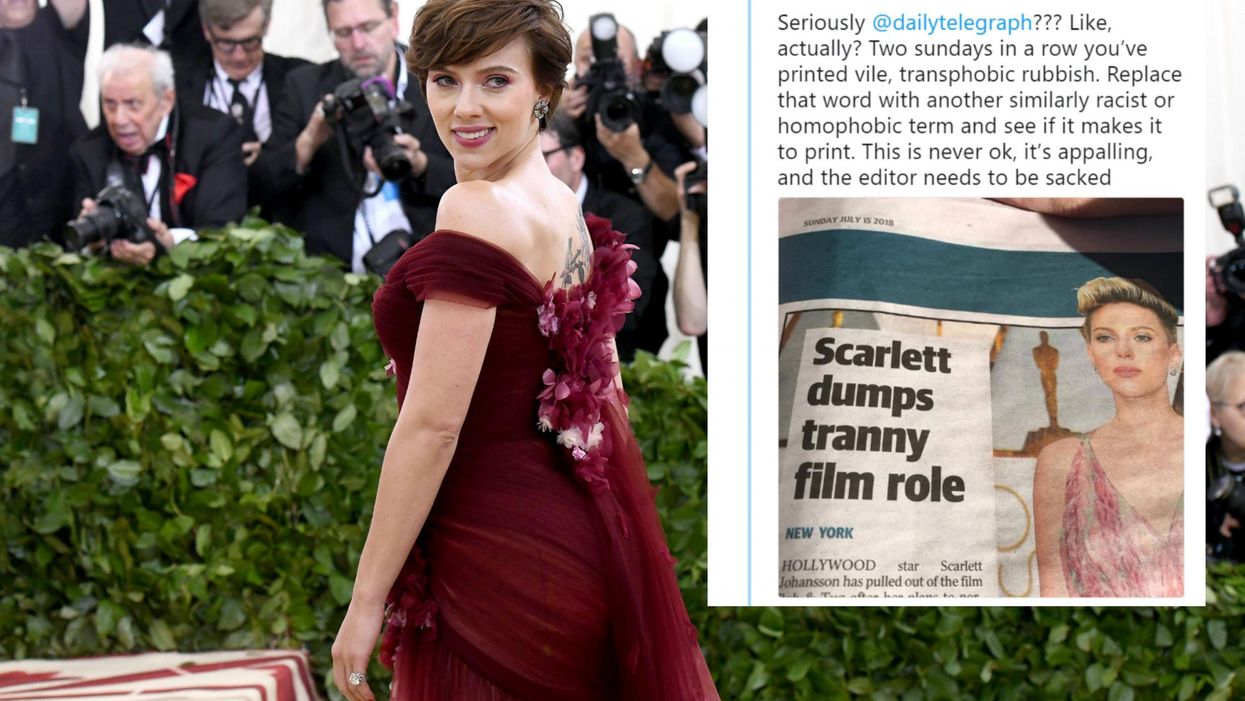 It's no secret that media coverage of trans issues – as well as trans people – can often be biased, laced with misinformation and, in worst-case scenarios, slurs.
It should therefore come as no surprise that Australian newspaper Sunday Telegraph, owned by a subsidiary of Rupert Murdoch's News Corps, last week came under fire for a grossly offensive headline featuring the term 'tr**ny'.
The widely-condemned term has a controversial history. Some trans people in the public eye have tried to reclaim it – most notably musician Laura Jane Grace, who chose it as the name of her autobiography.
The key term here is reclamation – it's yours to seize back if you've ever been oppressed by it, meaning that the trans community can reclaim it by choice if they so choose. This fact doesn't give media outlets – particularly those with national circulation – licence to use it freely in articles about trans issues. In this context, it's still very much a slur.
Seriously @dailytelegraph??? Like, actually? Two sundays in a row you've printed vile, transphobic rubbish. Replace… https://t.co/PGrb1SCDWT

— Hannah Mouncey 🤾‍♀️ (@Hannah Mouncey 🤾‍♀️) 1531651772
Like many publications, the Sydney newspaper was reporting on Scarlett Johansson's decision to eventually back out of her role as Dante 'Tex' Gill, a trans man, in upcoming film Rub & Tug.
However, its misguided use of nasty language proves that there's still a long way to go before trans issues are written about respectfully, and with no hint of discrimination.
This is a well-known fact among vast swathes of the LGBT+ community; in the United Kingdom in particular, a series of similarly offensive headlines and misinformed articles have been printed. Some studies were even found to have been authored by transphobic groups and later disproved.
Tensions are especially high in the wake of the government's recently-announced LGBT Action Plan, which has finally kick-started plans to reform the 2004 Gender Recognition Act. Whispers of a reform circulated late last year, but they were initially delayed by a pushback from – you guessed it! – transphobes.
Issues like these are precisely why nuanced coverage of trans issues – including Johansson's incendiary casting as Gill – is desperately needed.
US site INTO led the charge in underlining exactly why the casting was so problematic, and even created a video in which several trans men auditioned for Johansson's previous roles to hilarious effect.
When reports first revealed that the Hollywood star had accepted the role, Johansson initially brushed off the backlash with a dismissive statement highlighting that other actors such as Matt Bomer and Jeffrey Tambor had played trans roles in the past. She seemingly failed to realise that Tambor, star of Transparent, was fired after being accused of sexual harassment by his trans co-stars, and previously stated a desire to see trans roles portrayed by trans actors in the future.
Now, Johansson is thanking the LGBT+ community for making its voice heard.
In a recent lengthy statement, released alongside an announcement that she was formally giving up the role, she wrote:
Our cultural understanding of transgender people continues to advance, and I've learned a lot from the community since making my first statement about my casting and realise it was insensitive.

I have great admiration and love for the trans community and am grateful that the conversation regarding inclusivity in Hollywood continues.
Let's hope the debate can be discussed in less transphobic terms in the future.