Shutterstock / Nomad_Soul
Your job might be stressful, confusing, high-pressured or pointless – but one of the very worst things it could be is boring.
We spend a lot of our life at work – and as we all know, it's practically a scientific fact that time goes about ten times slower when we're sitting behind our desks than it does over the weekend.
So, if you want to avoid spending your life stifling yawns, these are the top jobs to avoid, according to Emolument.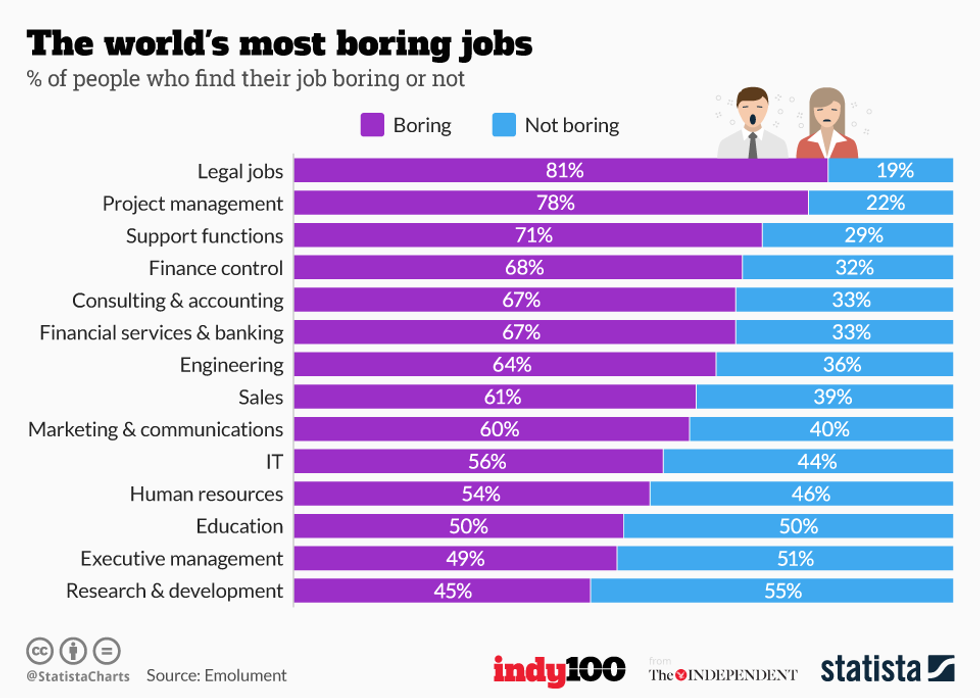 Picture: Statista 
The list, broken down by profession by Statista includes in order:
1. Legal jobs
2. Project management
3. Support functions
4. Finance control
5. Consulting and accounting
6. Financial services and banking
7. Engineering
8. Sales
9. Marketing and communications
10. IT
The least bored people surveyed were those working in education, executive management and research and development.
Eight out of ten law professionals are bored, mainly due to daily tasks of researching cases and rulings, Emolument's survey of 1,300 professionals found.
The survey also looked at which countries have the most bored employees.
Those working in the United Arab Emirates are the most bored, with 83 per cent saying they're bored at work.
The UK has the third least bored workers, with 64 per cent saying their work bores them. Switzerland comes in at the least boring, with only half employees saying they're bored.