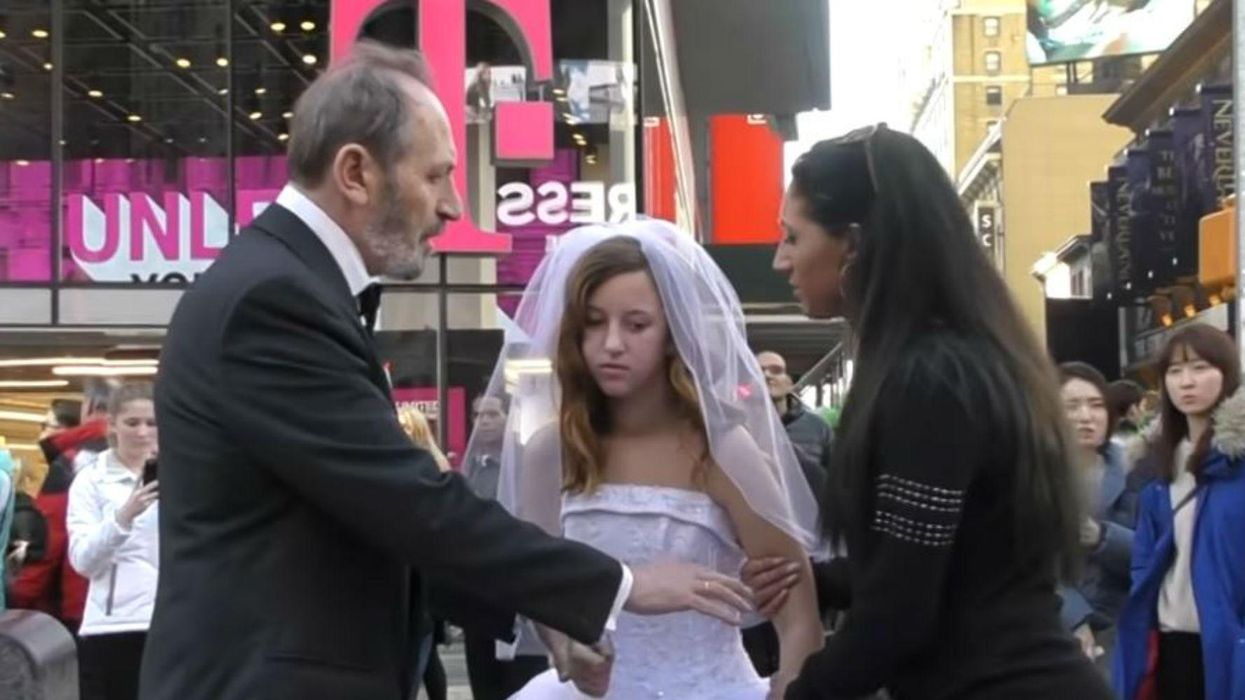 Cooby Persin/YouTube screengrab
The Texas legislator has finally banned marriage for anyone under age 16, but advocates fear it contains a 'dangerous loop hole', and child marriage 'age floors' remain absent in 25 US States.
In late September the state's legislator made it illegal for anyone under the age of 16 to marry, and also ruled that any persons between the ages 16 and 18 wanting to marry need the permission of a judge to do so.
According to the Pew Research Center, nearly five in every 1000 children aged 17-18 in the United States are married.
Pew's data from 2014 showed that Texas and West Virginia had the highest proportions of child marriage in the United States.
According to children's charity Frontline, between the year 2000 and 2014, over 40,000 minors were married in the state of Texas.
The Lone Star state has a lot of company on this front. While incidents of child marriage are more common in the south, it was only in July 2017 that the New York legislator outlawed child marriage.
The Texas law (SB 1705) was a bipartisan measure, co-sponsored by State Senator Van Taylor (R) and State Representative Senfronia Thompson (D).
Advocacy groups such as the Tahirih Justice Center and Unchained focus their efforts at the state legislator level to pass age floor laws and remove potential loopholes in existing laws.
According to a report from the Tahirih Justice Center, 25 states do not have a minimum age 'floor' enshrined into law.
While many of these states have requirements that an official or parents must consent to the marriage, if these requirements are met a child of any age can be married.
25 states and the District of Columbia have an age floor, which means no person under this age may be married under any circumstances.
Yet while the change has been welcomed by advocates, another group campaigning against child marriage claims the 'court-emancipation' process is a 'dangerous loophole'.
Fraidy Rice, the executive director and founder of Unchained told indy100 that although the law 'limits' child marriage, it does put and end to it in Texas.
 While the new marriage-age law in Texas is a positive step, we at Unchained At Last and other advocates are concerned that it limits, rather than ends, child marriage. Texas legislators eliminated the dangerous loopholes that previously allowed marriage before 18, but they added a new dangerous loophole: the emancipation exception.

Provisions within the law allow for a person to be legally 'emancipated' from their parents, removing the legal limit.
Rice cites the fact that the age floor law passed in Virginia failed to completely prevent child marriages.
Parents who are determined to force a child into marriage can use the new loophole to force the child to emancipate and then to marry. In Virginia, where a bill with a similar emancipation exception went into effect in July 2016, child marriage did not end. Some 36 children in Virginia have married since July 2016.
She added.
Right now, marriage before 18 remains legal in all 50 U.S. states, including Texas, even though the US State Department considers such marriage a 'human rights abuse'.
The age floor laws in Texas, and the one passed in Virginia in 2016, were drafted by the Tahirir Justice Center.
Their Senior Counsel for Policy and Strategy Jeanne Smoot told indy100.
SB 1705 offers simple, but powerful protection for girls to prevent them from being forced into marriage against their will, by requiring that anyone who marries in Texas must be a legal adult–either age 18 or older, or a minor age 16 or 17 who has been court-emancipated (given the legal rights and status of an adult after a special proceeding).
Smoot also stated that safeguards had been built into the court emancipation process.
Among other safeguards built into the emancipation process, the minor is appointed an attorney, must demonstrate that she is self-supporting and managing her own affairs, and the judge must find it's in her best interest to be emancipated. So if an at-risk girl is being forced or coerced, this process will connect her with an advocate who can help her get to safety.
She continued.
And if a minor is emancipated and then marries and faces abuse, this process ensures that she's someone with the wherewithal to escape a violent home, rather than being trapped for years without resources or options. With this new law, young women will be empowered and enabled to resist or prevent an unwanted marriage, and to escape any abuse or exploitation they may face.
Smoot also stated that Virginia's health department data showed only two minors were married in the year since Virginia's age floor was enacted, in contrast to the average of 200 minors marrying per year before the law was passed.
The US joins these countries in allowing minors to marry within its borders.