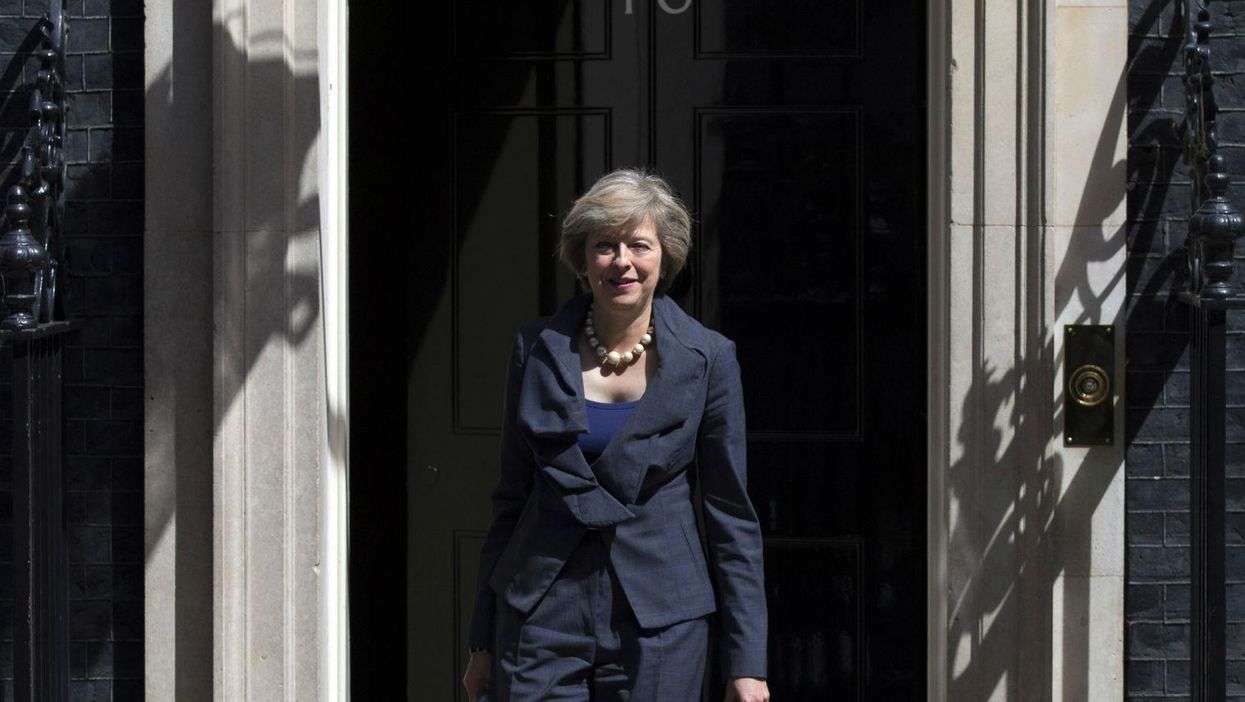 The Conservative party's 2015 autumn conference feels a lot longer than eight months ago.
Back then, the Conservatives were still basking in their unexpected general election majority. David Cameron had stuck to his guns in saying he wouldn't seek a third term in office. And elbows were being sharpened to determine who was best placed to succeed him.
George Osborne, Boris Johnson and Theresa May were all vying for the limelight at the Manchester conference. And the home secretary decided she was going to go hard.
Picture: Christopher Furlong/Getty Images
Her speech was trailed as outlining her "tough new plan for asylum" - and in an address precisely calibrated to play on every inflammatory trope about immigration, she made sure the "nasty party" lived up to its name:
People on both extremes of the debate – from the anti-immigration far right to the open-borders liberal left – conflate refugees in desperate need of help with economic migrants who simply want to live in a more prosperous society.

Because when immigration is too high, when the pace of change is too fast, it's impossible to build a cohesive society. It's difficult for schools and hospitals and core infrastructure like housing and transport to cope. And we know that for people in low-paid jobs, wages are forced down even further while some people are forced out of work altogether.

Free movement rules don't just mean European nationals have the right to reside in Britain, they now mean anybody who has married a European can come here almost without condition... once a migrant arrives in a country with weak border controls, like Greece, they can make their way across Europe and into Germany, or up to the British border at Calais, without checks. Many of those people will eventually get EU citizenship and the free movement rights that come with it.

These problems have led some people to say we need a new approach, a new European approach that would involve a common immigration and asylum policy. To those people, I have a very clear answer. Not in a thousand years. We're not seeking to regain control of our borders with one hand, only to give it away with the other.

What I'm proposing is a deal: the fewer people there are who wrongly claim asylum in Britain, the more generous we can be in helping the most vulnerable people in the world's most dangerous places. And my message to the immigration campaigners and human rights lawyers is this: you can play your part in making this happen – or you can try to frustrate it.

We will not be able to solve all the world's problems.
Charities and human rights groups were horrified by the repetition of fallacies about those fleeing war who come to Europe, her rejection of a Europe-wide effort to help, and the demonstrably false claim that high immigration pulls down wages.
The Refugee Council called her speech "chilling and bitter". Even the Telegraph called it
...awful, ugly, misleading, cynical and irresponsible.
By the end of the conference, after odds-boosting speeches from both Osborne and Johnson, it was thought that the likelihood of May becoming the next Tory leader had significantly dropped.
But that was eight whole months ago. And as we've all been reminded, an hour can be a long time in British politics at the moment.
Picture: CHRIS J RATCLIFFE/AFP/Getty Images