In an interview with the BBC ahead of the Holyrood elections, the Scottish Lib Dem leader has delivered one of the most golden video clips in modern political history.
Scottish Lib Dem leader Willie Rennie chose to make an announcement Friday about encouraging opportunities for those with, and wishing to gain, vocational qualifications.
When asked by the BBC why he chose to make the announcement at Gorgie City Farm in Edinburgh, Rennie replied:
We like to organise our visits to send a message in pictorial terms exactly what we're asking for, and I think this does it very well today.
While this was going on over his shoulder: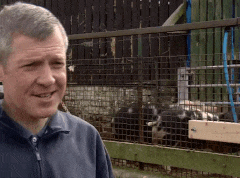 The best laid plans.
The footage was tweeted by the BBC's Philip Sim, and the retweets (currently over 250) show no sign of stopping.
Clearly, the public love politicians and pigs as a combo.