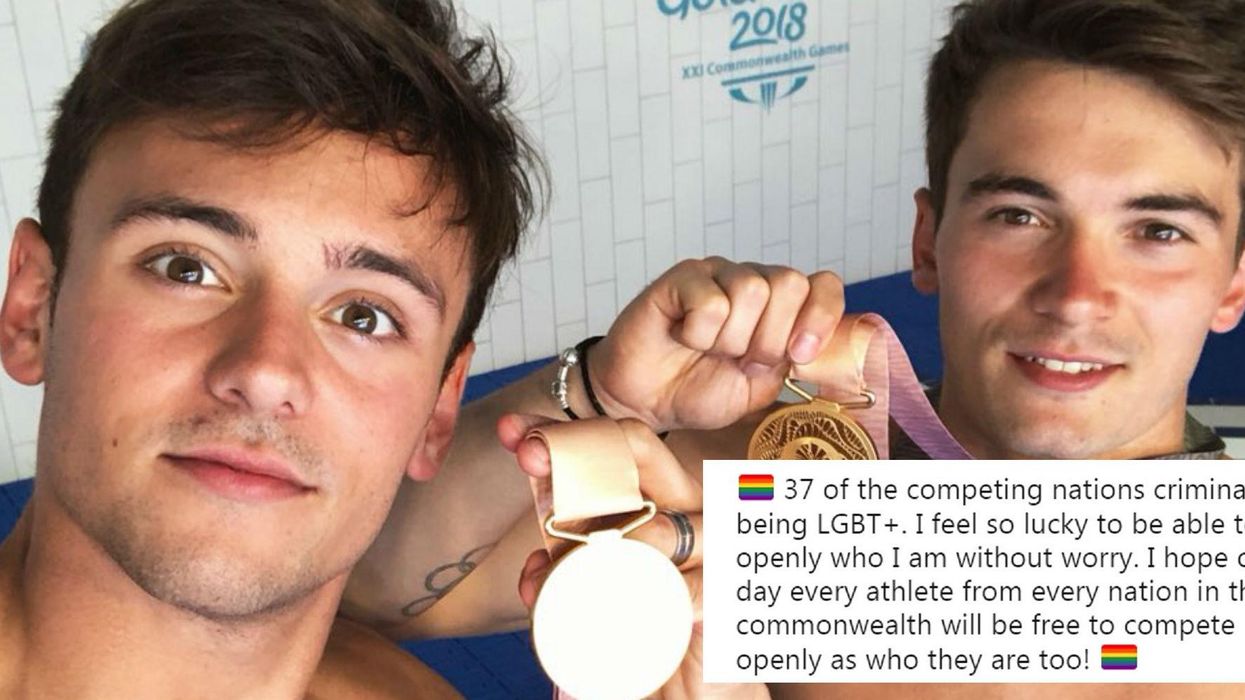 TOM DALEY
Since coming out in a YouTube video in December 2013, Tom Daley has become one of the most prominent LGBT+ voices in sport.
After tying the knot with Oscar-winning screenwriter and activist Dustin Lance Black in 2017, the pair announced on Valentine's Day this year that they are expecting a child via surrogate.
But after winning a gold medal at the Commonwealth Games in synchronised diving, Daley took the opportunity to acknowledge that many LGBT+ people around the world do not enjoy the same freedoms and opportunities.
Tweeting a picture of himself and his diving partner Dan Goodfellow clutching their gold medals, Daley highlighted the fact that same-sex intimacy is illegal in 37 out of 53 Commonwealth countries.
🥇G O L D 🥇 • • • 🏳️‍🌈 37 of the competing nations criminalise being LGBT+. I feel so lucky to be able to be openly… https://t.co/bm8VucMmaq

— Tom Daley (@Tom Daley) 1523593256
The number of nations that criminalise with homosexuality is slowly decreasing, but 72 countries continue to criminalise male homosexuality, with 45 criminalising same-sex acts between women.
More than half of the nations that criminalise homosexuality are members of the Commonwealth.
In some Commonwealth nations, such as Nigeria, Uganda and Brunei, life has arguably become more challenging for LGBT+ people in recent years.
In 2017, the Commonwealth Equality Network (TCEN) became the first LGBT+ network to receive Commonwealth accreditation, putting the human rights of LGBT+ people on the agenda. The network comprises 46 member organisations representing 44 countries drawn from all five Commonwealth regions.
Scott Cuthbertson of The Equality Network, Scotland's national LGBT+ equality and human rights charity, represented TCEN at the Commonwealth Games 2018. Cuthbertson brought a groundbreaking human rights exhibition, which highlights the latest global developments in LGBT+ rights, from Glasgow to Australia. The exhibition is on display at Pride House, the official LGBT+ sanctuary house at the Commonwealth Games.
Emphasising the importance of LGBT+ role models and visibility in sport, Cuthbertson welcomes Daley's intervention.
Sport is a powerful vehicle for social change and building understanding within and between communities. It is heartening that LGBT+ people young and old now have role models like Tom Daley speaking out about LGBT+ issues.

But with 72 countries still criminalising same sex intimacy, including 37 Commonwealth member nations, it is clear that we still have a long way to go in the fight for global LGBT+ equality.
The opening ceremony of the 2014 Commonwealth Games in Glasgow featured a same-sex kiss. At the time, 42 Commonwealth nations criminalised homosexuality.
After the conclusion of this year's Commonwealth Games, government leaders and activists from across the world will descend on London for the Commonwealth Heads of Government Meeting 2018. This year's event will feature the largest contingent of LGBT+ activists ever to participate, most of whom are from criminalising countries.
Paul Dillane, Executive Director of LGBT+ human rights charity Kaleidoscope Trust, a co-founding member and current Secretariat of TCEN, also welcomed Daley's remarks.
Ahead of next week's Commonwealth Summit, we welcome Tom Daley's message of hope: a world where every LGBT+ person can live their lives openly and in safety.