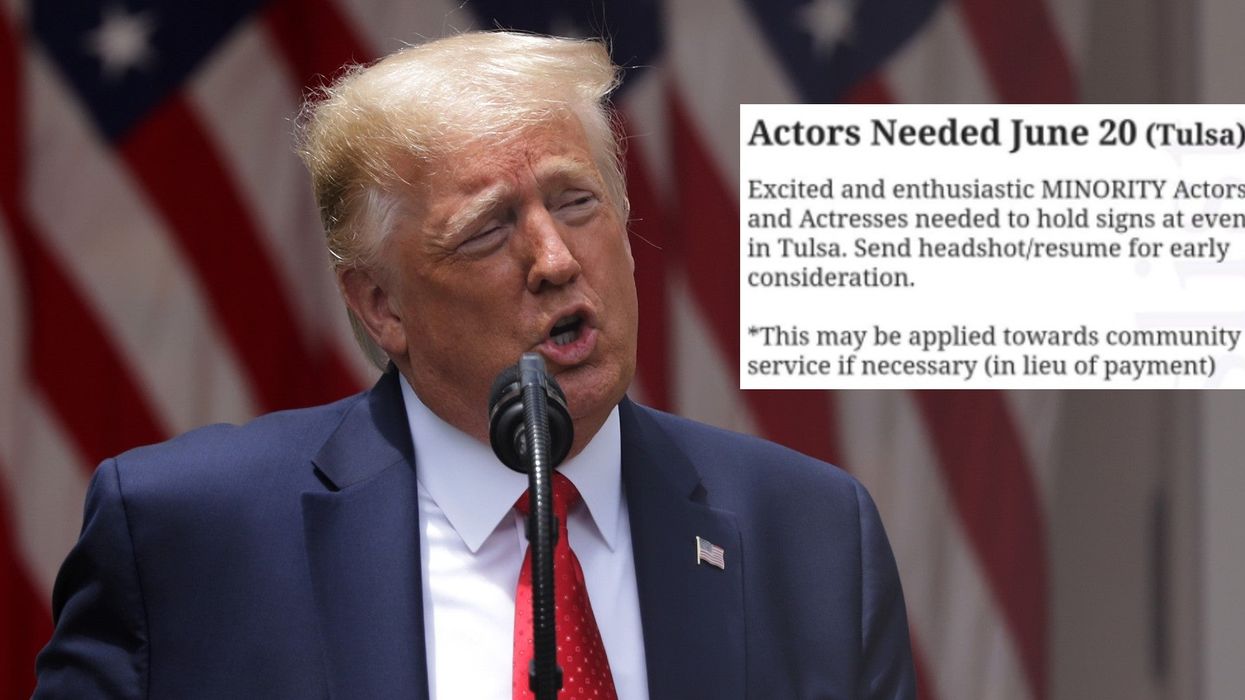 Alex Wong/Getty Images/Craigslist
A Craigslist advert in Tulsa, Oklahoma has gone viral after it appears to ask for 'minority actors' to attend Donald Trump's upcoming rally in the city.
The advert which started to appear on social media on June 15 was asking for:
Excited and enthusiastic MINORITY Actors and Actresses needed to hold signs at even in Tulsa. Send headshot/ resume for early consideration.
The location for the advert is 'Third St near Denver Ave' which just across the street from the Bok Center, where the president is due to hold his first rally since the coronavirus pandemic began. The advert also reportedly stated that anyone who is successful will be paid $10 but it is unclear if this was payment for the day or hourly.
Since the ad went viral people have begun to piece things together with many suspecting that someone from the Trump administration might have posted the advert in order to give the president a more diverse crowd at his big rally, especially when racial tensions are at their highest in recent memory.
People have begun to even question Trump's press secretary Kayleigh McEnany about the advert who claimed on Tuesday that there had been one million requests for rally tickets, despite the building's capacity being nowhere near that number.
The advert has since been removed reportedly after it was 'flagged for removal' on June 16, just a day after it was posted. The investigative website, Snopeshas looked into the advert but couldn't verify as to whether it was real or not or in any way connected to Trump's rally.
The president has come under fire for holding the rally in Tulsa, which has begun to experience a rise coronavirus, with Monday being its biggest number in confirmed cases since the pandemic began. Trump has also been criticised for holding a rally on 19 June, a day which is known as Emancipation Day in the US, as slavery in the state of Texas was officially outlawed in 1865. Tulsa is also the site of the 'Black Wall Street Massacre' one of the single worst race-related atrocities ever committed in the United States as a white mob attacked black citizens and their businesses from both the ground and the air, leaving 36 people dead.