Yes, 2016 was bad. We're all in agreement on that. But 2017 isn't off to a great start either
Quick recap:
DEAR 2016 WE'RE SORRY FOR ALL THE THINGS WE SAID ABOUT YOU WE WERE YOUNG AND NAIIVE PLZ TAKE US BACK 😫😫

— Jessica Kelly (@Jessica Kelly) 1485351117
So, we all need a little respite.
Given that Twitter has become the post-apocalyptic wasteland of bitter political scrapping, pointless feuds and Piers Morgan, we thought it would be a good idea to scour it for some nice moments to cheer us all up.
A mixture of comedy, comment and current affairs: a Twitter smorgasbord if you will.
Ladies and gentlemen, we give you...
The New Uncle
This guy is taking his duties seriously. Boy came correct.
The Sunflower Smile
Because nothing says "don't lick your wounds" like a jazzy flower hat.
The Spicer Smack down
ICYMI, Kellyanne Conway temporarily forgot the words 'wrong / lie / error' when defending Sean Spicer, so used the phrase 'alternative facts'.
The internet was having absolutely none of it.
The Awesome Grandma
Talk about wearing her heart on your sleeve.
The Cute Animal Tweet Off
The greatest battle that ever was. Bravo, zoos of the world, bravo.
The RT-Thirsty Petter
A pathetically desperate attempt for retweets. Also, adorable.
The Rogue Rebellion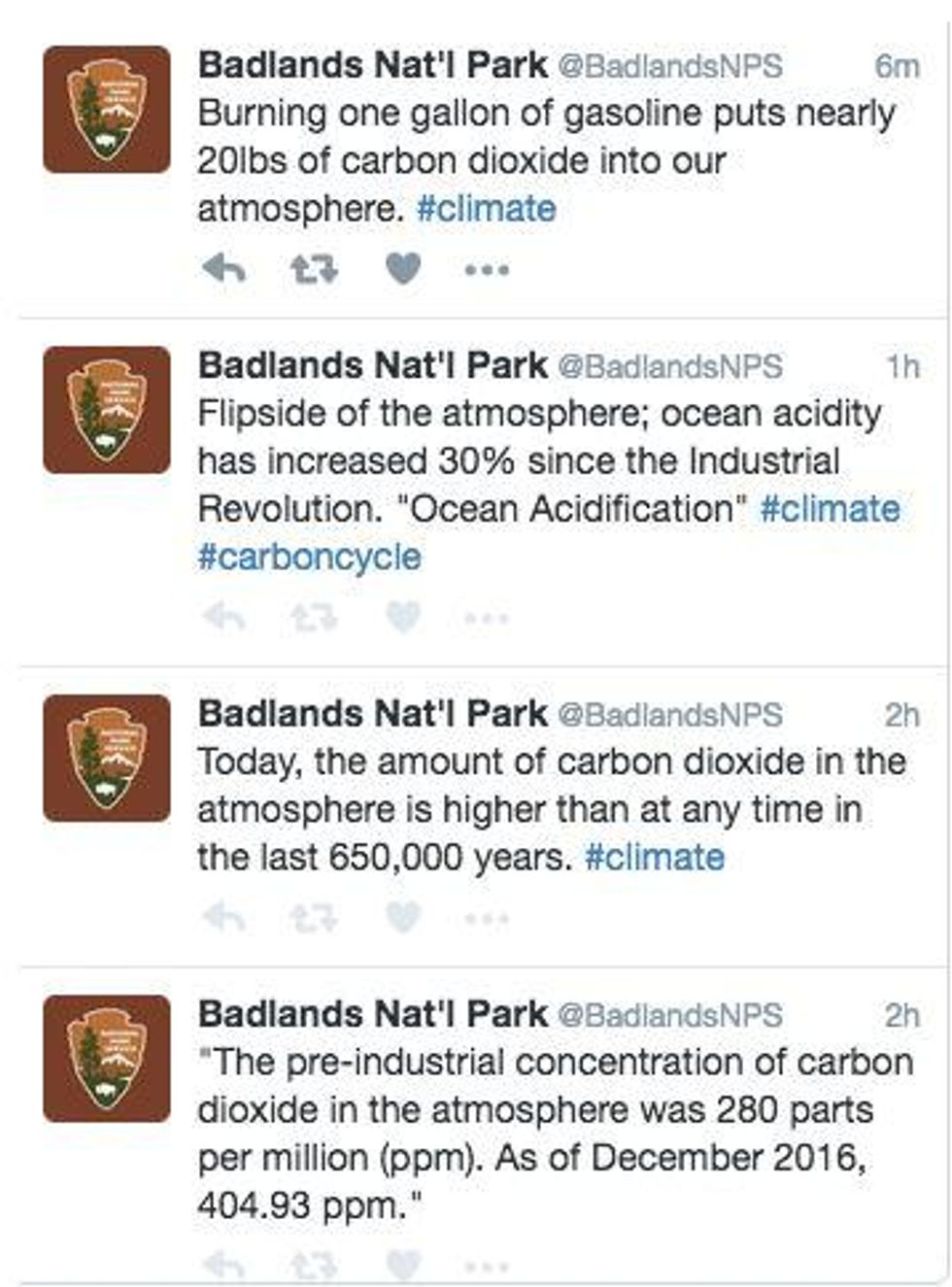 Picture: Twitter
After the National Park service retweeted a photo composite showing a contrast in crowd size between the 2009 and 2017 inaugurations, Trump ordered silence on the government agency social media channels.
But one heroic tweeter at the Badlands National Park defied Trump's gag order to drop some climate change knowledge.
Also, this parody...
Badass.
The Sushi Guy
Forget gingerbread men - this is the height of compliments.
The Epic Comeback
Trump declares war on women's reproductive rights around the world with a global gag order.
Women respond.
The Best Hashtag Ever
Profanity was never so political. Or hilariously sassy.
The Dog-Napper
A hero we can all sympathise with.
The Simple But Effective
Just. Cannot. Stop. Laughing.
The Obamas
Proving once again that former POTUS and FLOTUS are the actual definition of #couplegoals.
The Ultimate Throwback
The BBC is literally your dad trying to use young person slang. Oooff.
The Williams Sisters
We can't work out what's more awesome - the Williams sisters going head to head again, or Serena absolutely slaying again.
And of course, the first mega meme of 2017...
#SALTBAE
This is the Lord's doing; it is marvellous in our eyes.