John Moore / Getty Images
There are certain images that are burnt into the popular consciousness forever. This is one of them.
In a heartbreaking photo, a two-year-old Honduran girl is seen crying in fear as her mother is searched and detained near the US-Mexico border in McAllen, Texas.
Picture: John Moore / Getty Images
The image comes following President Trump's decision to prosecute every adult discovered illegally entering the US in a new and tougher crack down on illegal immigration, announced by Jeff Sessions on April 6.
Since the move, nearly 2,000 children have been separated from their parents and placed in makeshift detention centres while their cases are adjudicated. Some families have been reunited, but it is not clear whether the Trump administration is trying to make this happen at all.
The photographer who captured the image, John Moore, told CNN he'd managed to talk to the mother, and that she'd said she'd been travelling for over a month to arrive at the US border:
The mum told me that they had been travelling for a month, coming from Honduras, over the border, through Mexico, is a very difficult journey, it's often very dangerous, and so by the time they'd reached the US side, they'd probably been through a lot already.
He described the situation to Foto:
She was told to set the child down, while she was searched. The little girl immediately started crying.

While it's not uncommon for toddlers to feel separation anxiety, this would have been stressful for any child. I took only a few photographs and was almost overcome with emotion myself.

Then very quickly, they were in the van, and I stopped to take a few deep breaths.
He explained how difficult it was taking the photographs.
As a father myself, it was very difficult for me to see these families detained, knowing that they would soon be split up.

I could see on their faces that they had no idea what was about to happen.
He also detailed how painful it was, as a father and journalist:
I would like to say it was a pleasure to take these important photos, but the truth is that it was painful for me, as a journalist and as a father... 

The changes happening at the border now have 100 per cent to do with politics. The law is still the same.
He added that they were taken to a "processing centre". A US Customs and Border Protection spokesperson clarified to BuzzFeed News that they do not know if the child and mother were separated, adding:
I would tell you that being an infant, she will not be separated from her mother unless there is the criminal or immigration history of an adult in the family unit, evidence of abuse that would indicate that the child's safety is at risk, questionable familial relationships (fraud), [or] insufficient detention space to accommodate a family unit where both parents are present.
However, an undocumented immigrant mother from Honduras has said federal officials took her daughter away from her while she was breastfeeding in an detention centre.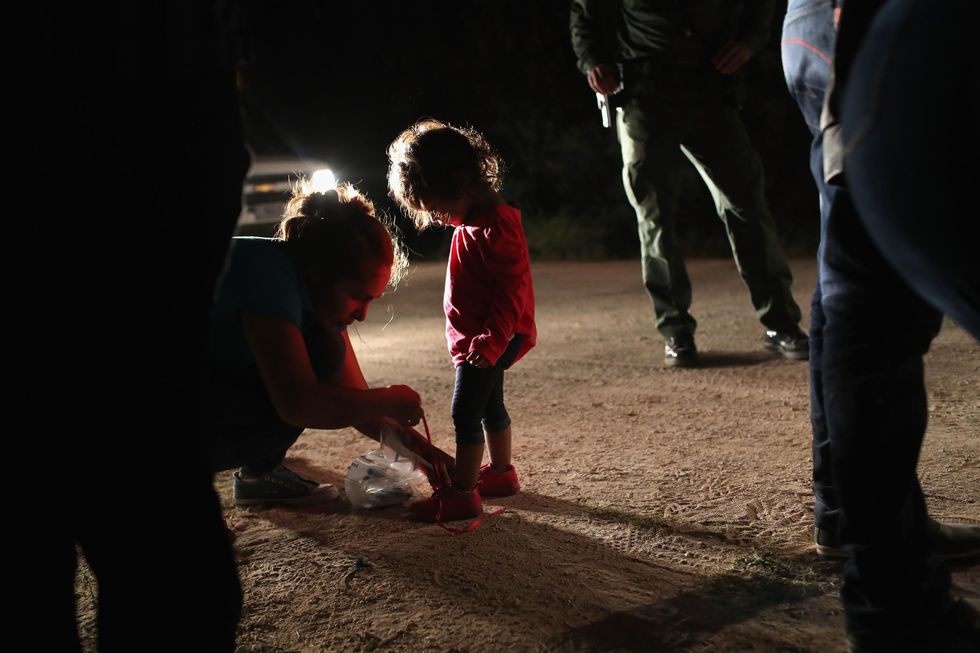 Picture: John Moore / Getty Images
People on social media were also quick to notice that in one of the images, the mother appears to be removing her daughter's shoe laces, as required by US Border Patrol agents, potentially so that she is unable to hurt herself.
@Rosie @AmoneyResists @SenatorCollins They. Took. Her. Shoelaces. So. She. Wouldn't. Harm. Herself. She. Is. 2. I'm… https://t.co/dpRo4p0MQY

— JJ/Jennifer (@JJ/Jennifer) 1529213766
The Trump administration has been quick to deflect responsibility away from itself.
Taking to Twitter, Donald Trump blamed the harsh new policy on the Democrats, though it was a Trump administration decision to charge everyone crossing the border with illegal entry.