Some people really don't like vegans.
On Sunday evening police had to be called out to a café in the city of Tsbilsi, Georgia, after they were attacked by "anti-vegan" campaigners.
What were they attacked with, you ask?
Sausages. And fish.
What started as light heckling during a film screening in Kiwi Café where a group of rowdy people ate grilled meat and sausages in front of the largely vegan patrons, ended with violence.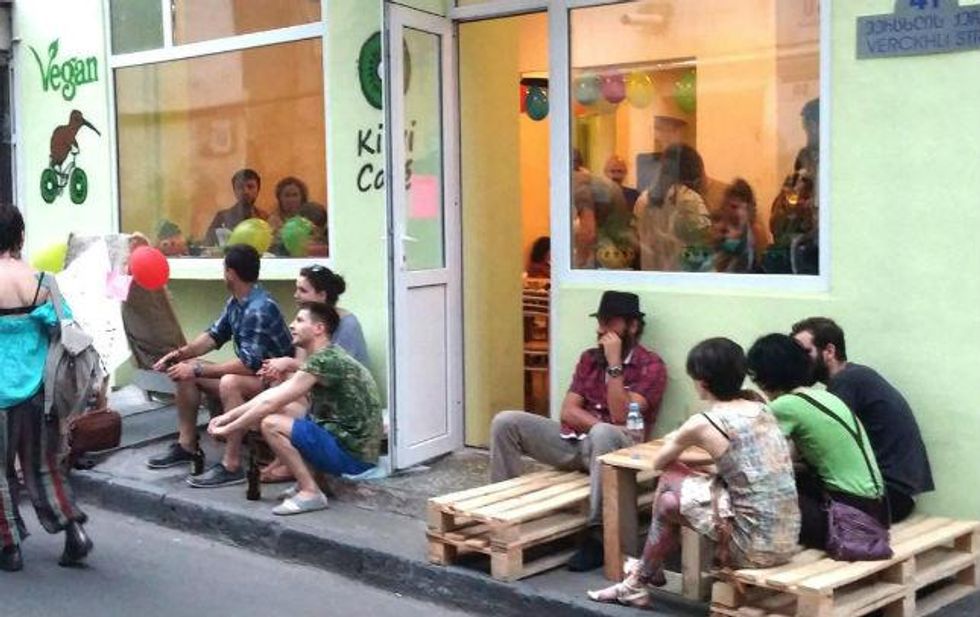 Picture: Kiwi Café/Facebook, 2015
The café wrote on its Facebook page:
They pulled out some grilled meat, sausages, fish and started eating them and throwing them at us, and finally they started to smoke. Knowing that all of the above is forbidden here, they were just trying to provoke our friends and disrespect us.

We said that they must leave...But they didn't leave and started yelling, laughing, and talking to us sarcastically.
Eventually verbal assaults turned physical...
We started to push these people out of cafe, already by force… one of the neighbours showed the knife, he said - come out, we will figure everything out. Our friend said that no one will go anywhere, and then one of them took her by her hair and pushed her on the street, pushed her to the asphalt with her face toward the ground. Then the fight started on the street.
But why such opposition?
Some neighbours had already showed us their negative attitude a lot of times, because we (the way we look, music that we listen to, ideas we support, and the fact that we don't eat meat) are out of the world to which they are used to, because we act weirdly by their measurements and are not embarrassed of who we are.
The Facebook post also alleged that the attack was motivated by homophobia, with many of the cafe's patrons a part of the LGBT community.
The attackers left before the police arrived, and staff at the cafe told indy100 that no arrests had been made.
They said:
I think that anti-LGBT feeling was one of the reasons why they attacked us.

Here in [the] café we have a lot of open minded people, people who look informal, who are not afraid to express who they are with their appearance. A lot of queer people, feminists, LGBT supporters and so on.
According to the people working at the café, some of the attackers are allegedly football hooligans, and others may be linked to Neo-nazi groups.