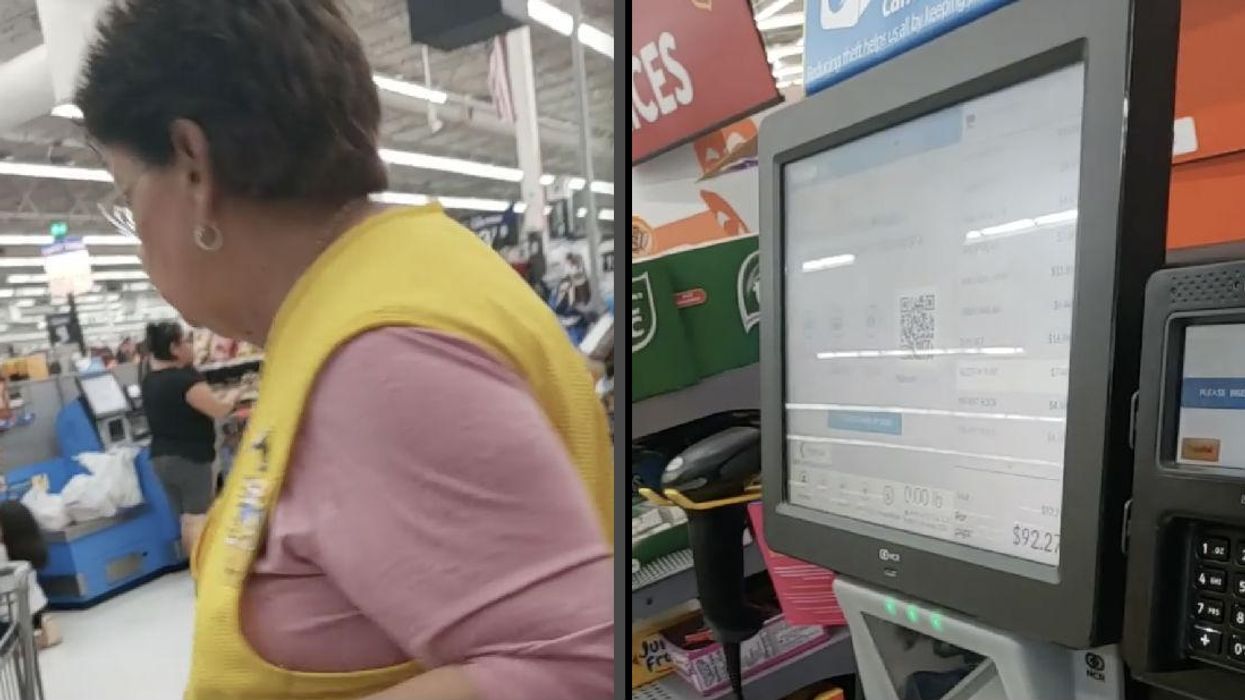 Joel Aparaicio Facebook screengrab
An elderly Hispanic American Walmart worker was filmed telling an El Salvadorian customer to "speak English."
Joel Aparicio said he was shopping at a Walmart in Pasadena, Houston, when the checkout machine he was using malfunctioned, prompting him to ask a worker for help.
A staff member called Cecilia approached the machine and fixed the problem - but when Aparcio asked if she spoke Spanish, she answered "no."
Before long the machine malfunctioned again and when Cecilia returned to fix it once more, she told him in Spanish, according to Aparicio, that he should not be in the US if he couldn't speak English.
Aparicio, who has been in the country for 13 years and owns his own hardware store, began recording her answers, though it is unclear what happened before the recording began. He asked her:
Is it obligatory to speak English then?
"Yes, because we're in Texas," the lady responded.
Aparicio told Houston Chronicle that he had responded by saying "money is all that matters" and added that he wasn't there for "freebies."
"No one has ever treated me like that in that store. They've always been friendly," he told the paper.
After a bit of back and forth, in which Aparicio implied that she herself looked Hispanic, she eventually said: "I live in Texas so I speak English."
The video was viewed almost half a million times and has over 4,300 comments.
The video got mixed responses.
A man claiming that Cecilia is his grandmother wrote to Aparicio stating "If I find you, i'ma f**k you up big time for messing with my grandmother."
Some people on Facebook are suggesting he learn to speak English '"if it's that big of a problem," and others, claiming to frequent the store, argue that Aparicio must have been rude to the elderly lady to elicit such a response.
"I know that lady," one woman wrote on the Facebook post.
And she NEVER talks s**t about people speaking Spanish...just because she speaks English back when you talk to her in Spanish doesn't mean she's 'racista.'
Aparicio said he contacted the police and Walmart officials told the Chronicle they are handling the incident "internally."