Image used by Russia 24.
A news network in Russia shared an image of the 'London terror suspect' that was actually from 2013.
Russia 24 incorrectly identified a photo of a man as the attacker who on Wednesday stabbed a policeman to death and killed three other people, and injured at least 40 others.
The photo was four years out of date, and showed a man outside of Buckingham Palace holding a knife to his neck.
Buckingham Palace was not the scene of Wednesday's attack, which happened on Westminster Bridge and outside the Houses of Parliament.
According to Buzzfeed, the reporter at Russia 24 began analysing the image, speculating:
This is him a few seconds before he attacked a policeman and a few seconds before he was shot.

He has a normal kitchen knife, which you can buy in any store,

"We've already noted the characteristic headgear. This type of headgear is worn in Afghanistan and in Pakistan and in another country in that region.
In fact, the man pictured from 2013 was tasered before he could cause any arm to himself or others.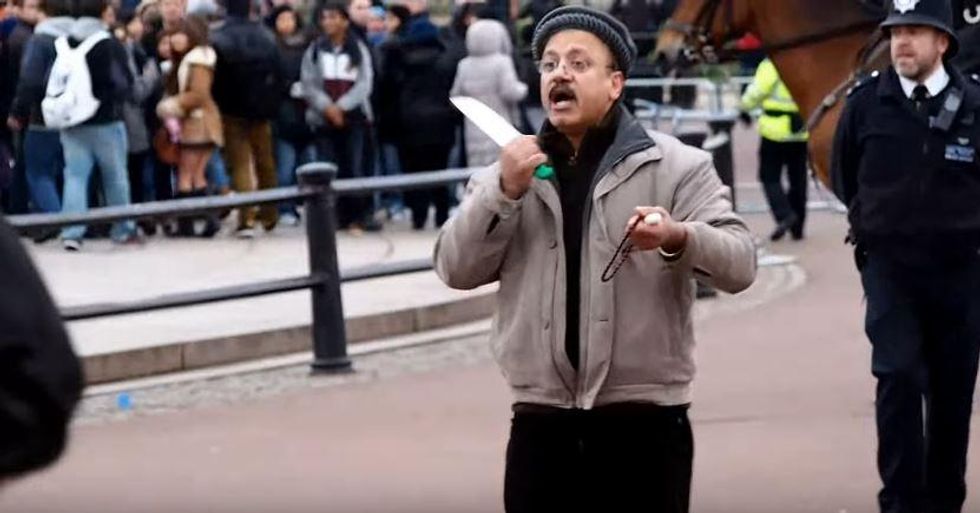 The image was part of a video taken by Grant Shepherd and it was uploaded on 3 February 2013.
At the time, a spokesperson for the Metropolitan Police said:
A man was seen outside the centre gate in possession of two knives.

He was not making threats to members of the public but he was challenged by police.

He acted aggressively and a Taser was discharged.
Nevertheless, the incorrect suggestion that this man was responsible for the Westminster Attack was made by Russia 24, appearing on their website, and later promoted on Facebook by Russia News 24's parent company Vesti.
Originally it was posted with the caption:
The London terrorist had a knife with a green handle in his hand.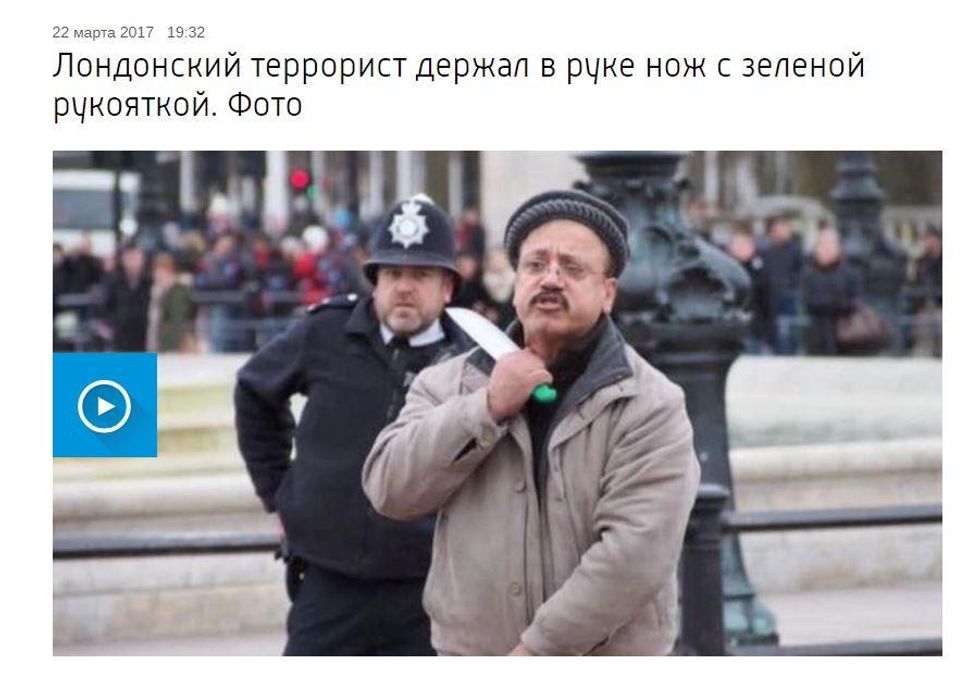 FALSE image of London terror attack shared by Russian media.
The image reappeared alongside a later post, which debunked it.
According to a reporter for the Moscow Times, another Russian channel, "Channel 5," also used the false image.
The story and comments were made at approximately 7.44pm on Russia 24.
The image was not used in the 8pm broadcast that followed.
HT Buzzfeed
More: Westminster terror incident: What we know and what we don't know