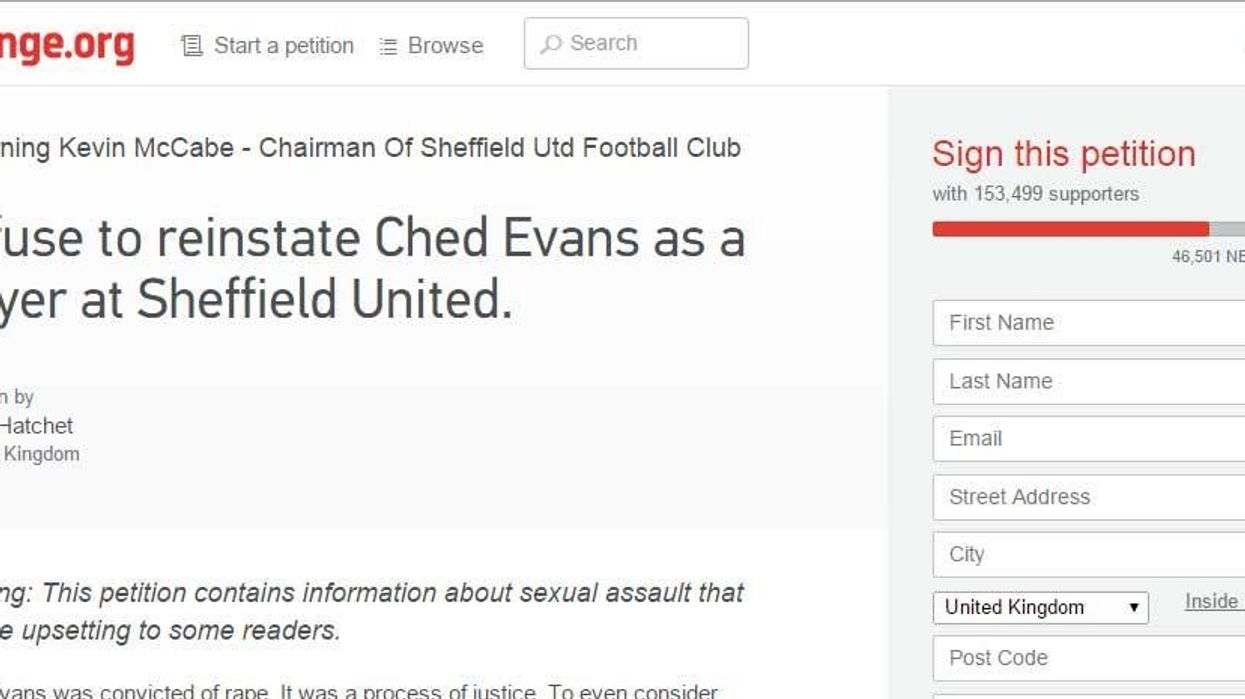 The woman who set up the Change.org petition calling on Sheffield United not to reinstate Ched Evans as a player following his conviction for rape has been targeted by supporters of the footballer.
Evans left prison on Friday after serving half of his five year sentence. The 25-year-old former Sheffield United striker said in an interview this weekend with the Sunday Mirror that he regretted cheating on his girlfriend but claimed he had "done nothing wrong".
He is expected to make a "personal and profound" statement on his website this week.
Meanwhile, Jean Hatchet, who started the petition in April in response to media reports Sheffield United could reinstate the player after his release from prison, told i100* she had been targeted by "relentless abuse" including trolls threatening rape. More than 150,000 have signed.
Over the weekend I have been targeted by relentless abuse from men on Twitter. Some of it has been sexist and predictable and simply annoying like "get back in the kitchen you sl*g". Some of it has been quite threatening and scary at times like the man who told me "It's a real shame you and Peter Sutcliffe never crossed paths!"

Some of it leaves me cold like the one threatening to rape me with my own petition.
Kevin McCabe, the chairman of Sheffield United
This is interspersed with men who needed to tell me how I should have done the petition. What else I could do. What I should also be doing which would be far better - like solving Ebola.

It got a bit quieter yesterday and I started to think the storm was over and I could begin to focus on the other things that concern me around women's rights. After all feminism - no matter what Ched's mum thinks, isn't just about whether a rapist gets his lucrative footballing career back.

Or whether he goes on to influence the views of sexual consent of thousands of young men who are just forming their views of how they should treat women in a sexual situation because he is in denial about the nature of what rape is.
*Hatchet is a pseudonym, as the author of the petition does not want to use her real name.
More: Why Ched Evans should not be allowed to return to Sheffield United