Microsoft has not been making strides in PR recently.
In March, the company faced a backlash for hiring dancers in skimpy outfits as entertainment for a party in San Francisco during the Game Developers Conference.
Now, an email is being shared on Twitter from a Microsoft recruiter advertising an "internapalooza" afterparty.
A particularly unimpressive part of the email reads:
There will be hella noms, lots of dranks, the best beats and just like last year, we're breaking out the Yammer beer pong tables.

HELL YES TO GETTING LIT ON A MONDAY NIGHT.
Four of those words triggered my spell check. That should never be the case in just two sentences of a recruitment email.
A Microsoft spokesperson confirmed the authenticity of the email to Business Insider:
The email was poorly worded and not in keeping with our values as a company. We are looking into how this occurred and will take appropriate steps to address it.
The reaction on Twitter was the equivalent of having to watch a sex scene with your parents:
As well as a few digs:
All in all, the summary is this: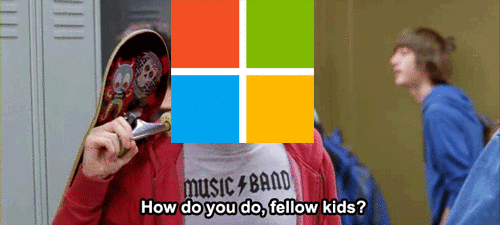 More:Windows 10: Seven things to know about Microsoft's new operating system
More:Here's how to remove those annoying notifications from your phone