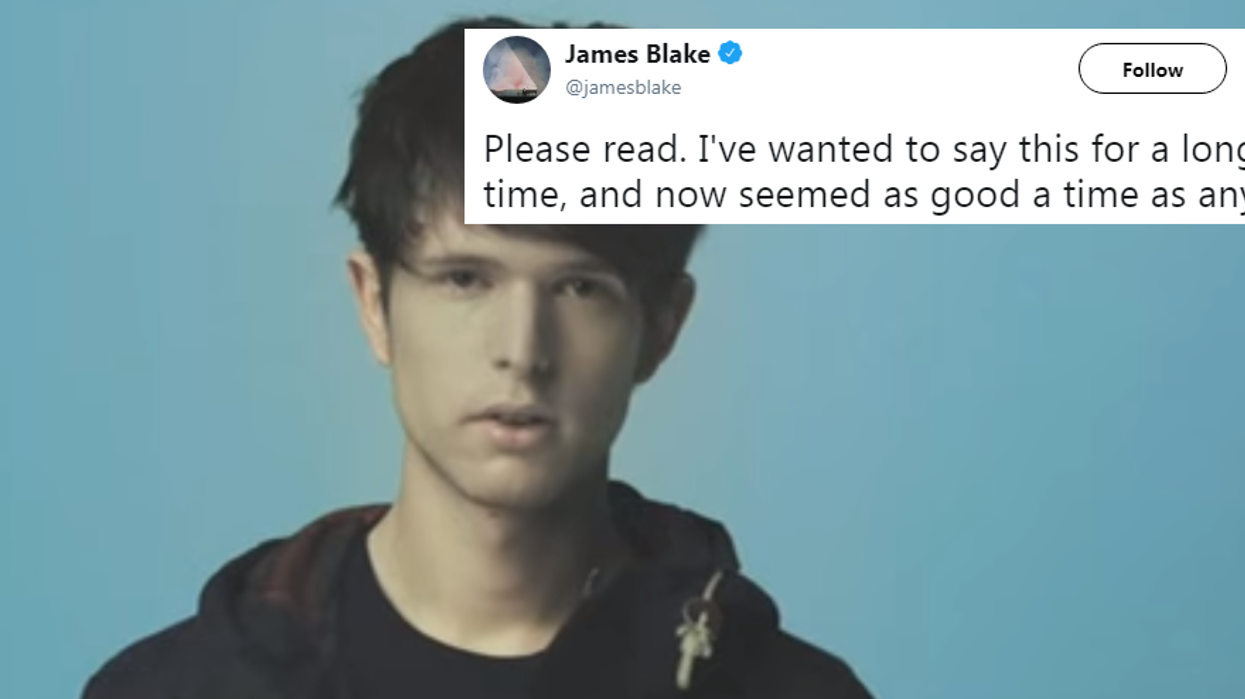 YouTube / jamesblakeproduction
Award-winning musician James Blake has criticised the media for the use of the term 'sad boy' for men who speak about emotions and vulnerability.
The term 'sad boy' is believed to have stemmed from the Swedish rapper Yung Lean whose collective and fashion brand is named 'Sad Boys.'
After Blake saw the term crop up in a review of his new song 'Don't Miss It' on the popular music website Pitchfork he chose to respond. The review in question analysed the song as:
Made in collaboration with Mount Kimbie's Dom Maker, "Don't Miss It," is another beautifully brutal song to add to Blake's large catalog of sumptuous sad boy music.
In a statement posted on his Twitter account on Saturday, the 29-year-old Mercury Music Prize winner criticised the use of 'sad boy', saying it is problematic and creating a further stigma in the epidemic blighting male mental health and male suicide.
Please read. I've wanted to say this for a long time, and now seemed as good a time as any. https://t.co/1fSPt7SJnx

— James Blake (@James Blake) 1527308009
The statement reads:
I'm overwhelmed by the lovely response to 'Don't Miss It' today.

But I can't help but notice, as I do whenever I talk about my feelings in a song, that the words 'sad boy' are used to describe it.

I've always found that expression unhealthy and problematic when used to describe men just openly talking about their feelings. 

To label it at all, when we don't ever question women discussing the things they are struggling with, contributes to the ever-disastrous historical stigmatisation of men expressing themselves emotionally.

We are already in an epidemic of male depressing and suicide. We don't need any further proof that we have hurt men with our questioning of their need to be vulnerable and open.

It is only ever a good thing to talk about what is on your mind.

Please don't allow people who fear their own feelings to ever subliminally shame you out of getting anything off your chest, or identifying with music that helps you. 

There is no great victory in machismo and bravado in the end. The road to mental health and happiness, which I feel so passionately about, is paved with honesty.

Sorry for this 'sad boy' letter, but I've seen enough friends drown in this and almost drowned in it myself because I bottled everything up, afraid of being seen as weak or soft.

I now see the great strength and benefit for those around you in actually opening up.
Blake also shared a link to the Pitchfork review in question with a caption reading "Case in point.'' Pitchfork's tweet read as "Yes, James Blake is still sad."
Case in point. https://t.co/fc6HKrASLF

— James Blake (@James Blake) 1527308654
Suicide is the biggest killer of men under 45 in the United Kingdom and it is believed that 75 per cent of all suicides in the UK each year are men who have taken their own life.
Mental illness and anxiety affects 8.4 million people in the UK alone, according to Mental Health Org.
In a statement given to Indy100 a spokesperson from Samaritans said:
We would encourage anyone who's feeling overwhelmed, or struggling with difficult thoughts and feelings, to talk about what's on their mind.

Just saying out loud what you are going through can help give you some perspective - it can help you realise that you have options and that you can find a way through whatever it is that you're dealing with.

 

Many people, and men especially, can find it hard to open up so it's important that we all work together to empower men and women to express their feelings in ways that they feel comfortable with.

It's a strength, not a weakness, to reach out for help.

 

There is always someone who will listen. If you don't feel you can talk to someone you know then you can call Samaritans for free from any phone, even a mobile without credit, on 116 123. The number won't show up on your phone bill.
If you have been affected by this article, you can contact the following organisations for support: