Nobody pretends to know what goes on inside Miley Cyrus' brain.
Sure, Miley, sure. Whatever you say.
This week the singer decided to repost an old faceswap of Taylor Swift and Justin Bieber on Instagram because why not:
(Couple or not, the Swiftber on the left is proof that TayTay could rock a pixie cut if she felt like it.)
When news of the post reached Princess Taylor herself, she left a comment on Miley's post which is pretty, well, ambiguous as a response:
What does it mean? Why love? Does she mean it? So many questions.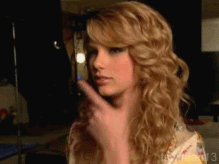 It didn't take long for Swifties all over the internet to start echoing Taylor's words to Miley:
The picture was posted yesterday, and it's already got more than 29,000 comments, many of them from Taylor fans.
ALL YOU NEED IS LOVE, MILEY.