Matt Winkelmeyer/Getty Images
Several companies have recently withdrawn from partnerships with the National Rifle Association - including Enterprise Rent-A-Car and Hertz..
Stephen Colbert just has one question - why were they ever partners?
He tweeted:
B-U-R-N.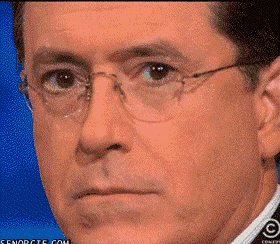 People jumped on the tweet, pointing out how easy it is to buy a gun in the US, compared to renting a car.
Almost 20,000 people shared Colbert's tweet, and so far it's got 92,000 'likes'.
Others appreciated his simple logic.
The NRA have said Donald Trump's calls to raise the age limit to buy certain types of guns – like AR-15 Assault rifles – from 18 to 21 infringes upon their constitutional right to buy a gun.
Currently, federal law states you have to be 18 to possess a handgun, but there is no minimum age limit for possession of long guns or ammunition.