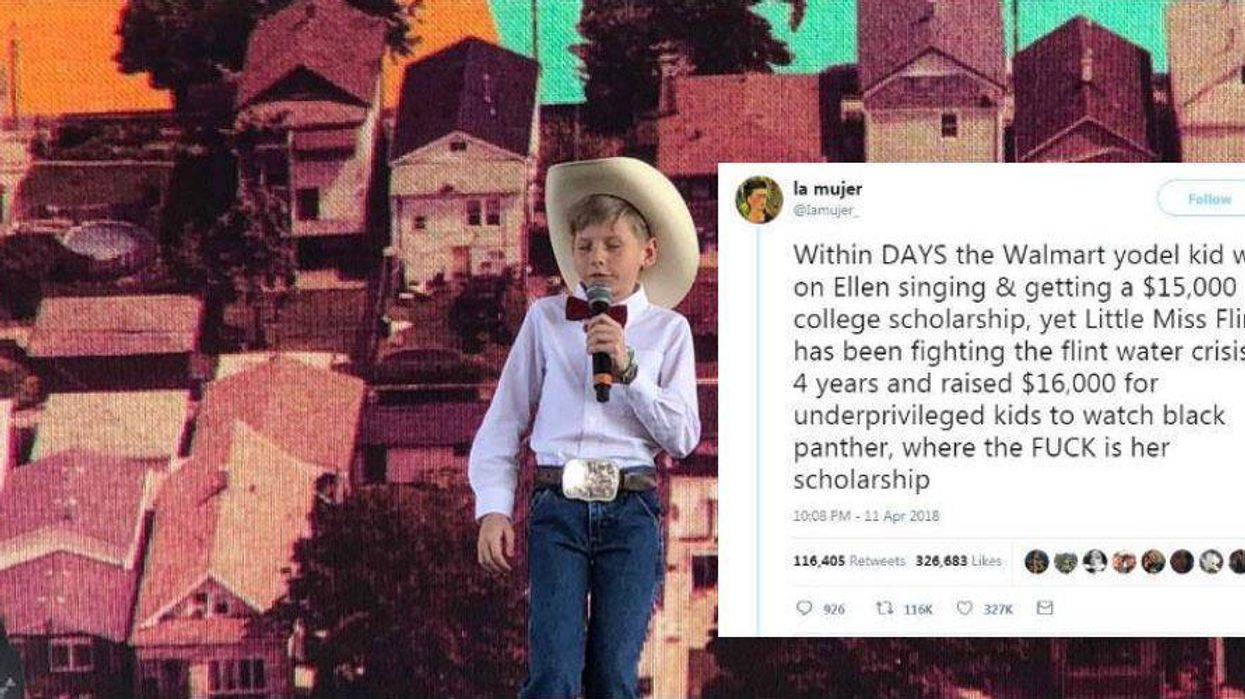 Twitter/@CMBYNmafia
It's been just a few weeks since 12-year-old Mason Ramsey yodelled in Walmart and spawned a million memes.
Since then he's been given a $15,000 college scholarship, an enormous concert at his local supermarket branch and even a guest slot at LA festival Coachella.
It's not hard to see the appeal: he's young, inoffensive and makes cute jokes about falling asleep on bales of hay, perfectly fitting the 'rags to riches' narrative we all love so much.
But one Twitter user was quick to point out that not all young viral stars are treated equally.
When she was just 8 years old, activist Mari Copeny – better known as Little Miss Flint – penned a letter to President Obama which prompted him to visit her in Flint, Michigan, a city then in the midst of a water crisis.
Since then, Copeny has continually fought for the rights of underprivileged communities. Last year she partnered with non-profit organisation Pack Your Back to raise more than $10,000, ensuring that more than a thousand students would be provided with backpacks and school equipment.
On top of various grassroots initiatives, Copeny has also been named as Equality for HER's Youth Ambassador and given various rousing high-profile speeches, one of which took place in front of the White House.
Despite receiving Obama's seal of approval and raising enough awareness to see her city's water crisis tackled effectively – although residents have still been warned to continue drinking bottled water until the project is fully completed in 2020 – Copeny has received no Ellen Show invitation and no recognition to match that of Yodel Boy.
Little Miss Flint has now been given a scholarship to Central Michigan University, but the Twitter user argues that she still deserves more recognition.
So now, Twitter users are repeatedly messaging Ellen to bring Little Miss Flint on the show and give her the recognition she deserves.
There have been countless opportunities – just a few weeks ago she took part in the #BlackPantherChallenge, raising $16,000 to ensure that around 800 underprivileged locals were able to see the landmark film.
The intention of campaigns like these is not to dismiss the talent of Yodel Boy. After all, his backstory and, of course, viral yodels have already brightened the lives of millions, spawning countless hilarious memes.
But it is worth questioning which viral stars are rewarded and why, as well as continually celebrating the young activists like Little Miss Flint who are actively making a difference.