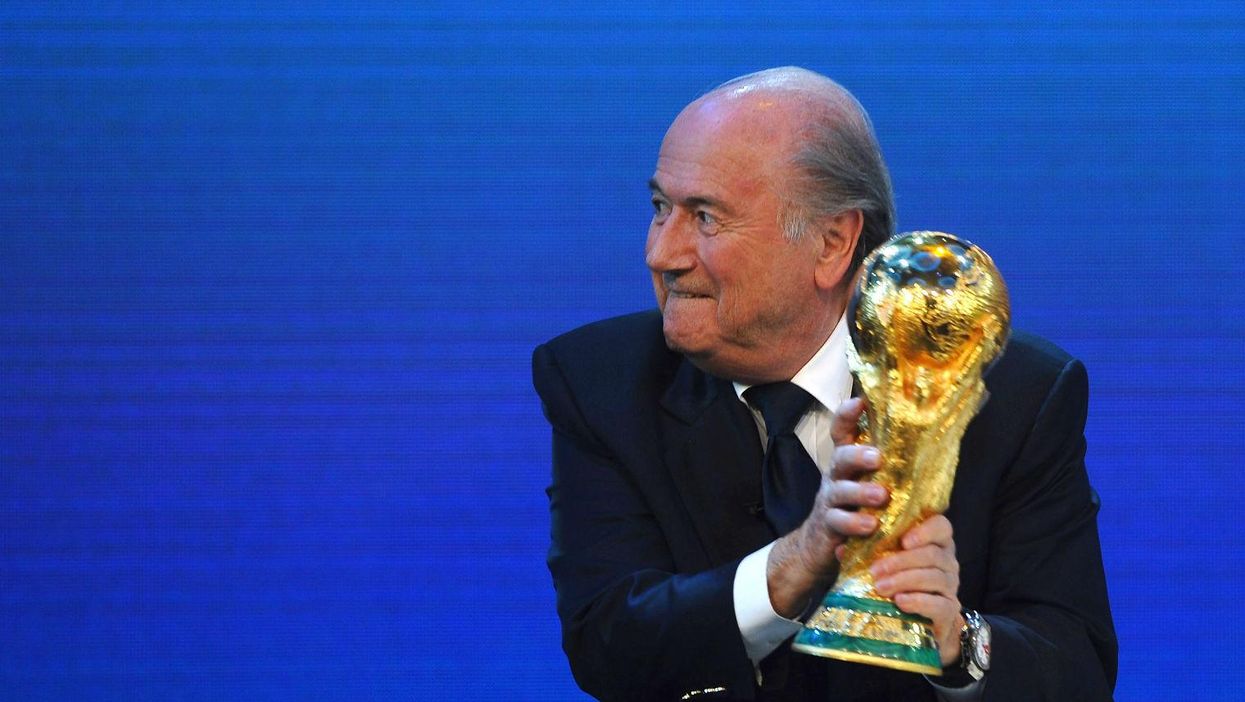 Fifa president Sepp Blatter and Uefa's Michel Platini have been banned from all football activities for eight years.
The world governing body's decision, which comes into effect immediately, effectively ends Blatter's career in football and gives some closure to what has been a tumultuous year for the organisation.
Here are the 12 most farcical things Sepp Blatter said or did in his rather inglorious career:
1. On women's football
In 2004, the leader of the world governing body actually said this:
Let the women play in more feminine clothes like they do in volleyball. They could, for example, have tighter shorts.
2. On gay rights in Qatar
After awarding the World Cup to Qatar and being questioned over its archaic laws on homosexuality, Blatter had this advice for gay football fans travelling to the country:
I'd say they should refrain from any sexual activities.
3. On allegations that John Terry had an affair with Wayne Bridge's ex-girlfriend
If this had happened in let's say Latin countries then I think he would have been applauded.
4. On Cristiano Ronaldo's transfer to Real Madrid
As rumours swirled ahead of Ronaldo's world record transfer to the Spanish giants, Blatter had this to say about a footballer who was paid hundreds of thousands of pounds each week:
I think in football there's too much modern slavery in transferring players or buying players here and there, and putting them somewhere.
5. Wanting to abolish draws
His lightbulb moment of 2004 was this:
Every game should have a winner. When you play cards or any other game, there's always a winner and a loser. We should have the courage to introduce a final decision in every game of football.
6. Sexist remarks at Fifa congress
At the 2013 Fifa congress, Blatter quipped:
Any ladies in this room? Say something ladies! You are always speaking at home. Now you can speak here.
7. Paying for the Fifa film
United Passions, inexplicably starring Tim Roth as Blatter and Gerard Depardieu as Jules Rimet, was panned by the critics. With a current rating of 3.1, its IMDB page describes the plot as: "The saga of the World Cup and the three wholly honest and deeply ethical men who created it." The worst part: Fifa paid €22m to have it made.
Yes, it really is every bit as bad as it sounds:
8. Falling off stage
9. On racism in football
There is no racism [on the field], but maybe there is a word or gesture that is not correct. The one affected by this should say this is a game and shake hands.
Although he did later clarify: "I would like to make it very clear, I am committed to the fight against racism and any type of discrimination in football and in society."
10. On the match-fixing scandal in Serie A
I could understand it if it had happened in Africa but not in Italy.
11. On the World Cup in Russia
In my opinion the World Cup in Russia will be able to stabilise all the situation in this region of Europe that is suffering now... I am sure that football is stronger than any other movement.
Right...
12. His manifesto for last week's Fifa board elections, in which he won a fifth term:
My manifesto is the work I have done in the last years in Fifa. I am now 40 years in Fifa and I am 17 years the president of Fifa. This is my manifesto."
#Never forget.
More: Diego Maradona calls Sepp Blatter a 'dictator' and Fifa a 'playground for the corrupt'