The votes have been counted and the people of Scotland have decided to remain in the United Kingdom.
Although that is obviously a victory for the Better Together campaign and a defeat for Yes Scotland, there were a whole host of other winners and losers in this referendum...
Grindr - Winner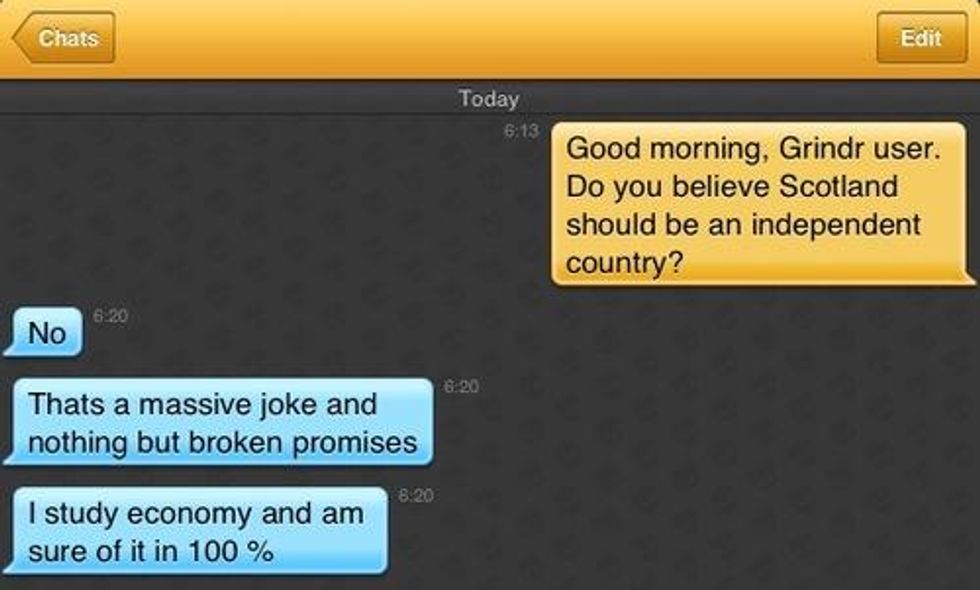 A straw poll using respondents on the dating app found provided an uncannily accurate prediction for the actual result - 54 per cent of Grindr users said No, compared to 55 per cent of those voting in the actual referendum.
Pollsters - Losers
Unlike Grindr, the majority of polls on the final day before the referendum had the result far closer than it eventually turned out to be, with many going for 51-49 or 52-48.
Gordon Brown - Winner
Hailed as "barnstorming", the "performance of his life", Gordon Brown's passionate speech in defence of the Union may well have swayed one or two 'don't knows'.
Westminster politicians - losers
A last gasp dash north of the border by David Cameron, Ed Miliband and Nick Clegg made it seem like Westminster was in a state of panic - with SNP leaders Alex Salmond and Nicola Sturgeon coming off far better in opinion polls.
Kay Burley - Winner
calling someone "a bit of a knob"
turned out
CNN - Losers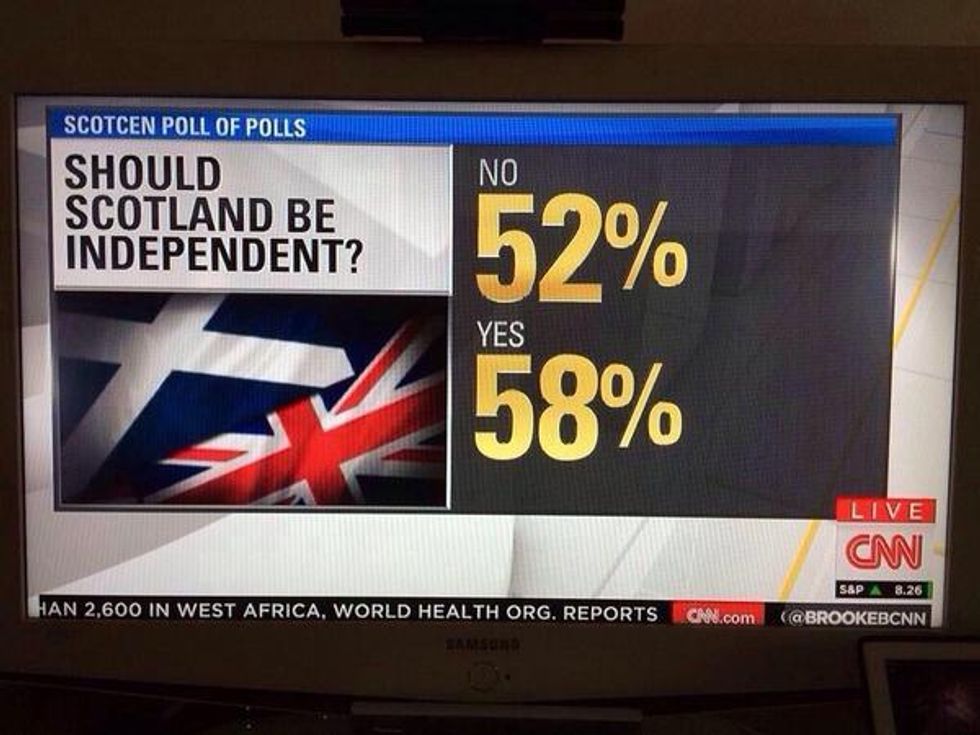 It turns out one of America's biggest broadcasters can't add up.
John Oliver - Winner
The British-born host of one of America's prime television talkshows made an impassioned plea for Scotland to stay, it may well have swung the final vote...
This American journalist - Loser
For not quite grasping the idea that the future governance of an entire country was 'big news'.
The entire United Kingdom - Winners
But not for the reason you may think. We finally got rid of Piers Morgan!
Rupert Murdoch - Loser
The media magnate's attempt to turn up in Scotland incognito didn't quite work when he was spotted in a pub in Mothwerwell, in a baseball cap...
Critics have also said that Murdoch's refusal to clearly back one side or the other in the referendum proves that he only ever backs the favourite in elections.
George Lucas - Winner
The creator of Star Wars is undoubtedly a winner, thanks to this Stormtrooper dancing to the bagpipes proving his films live on in our popular imagination.
Made.com - Losers
And there we have it.