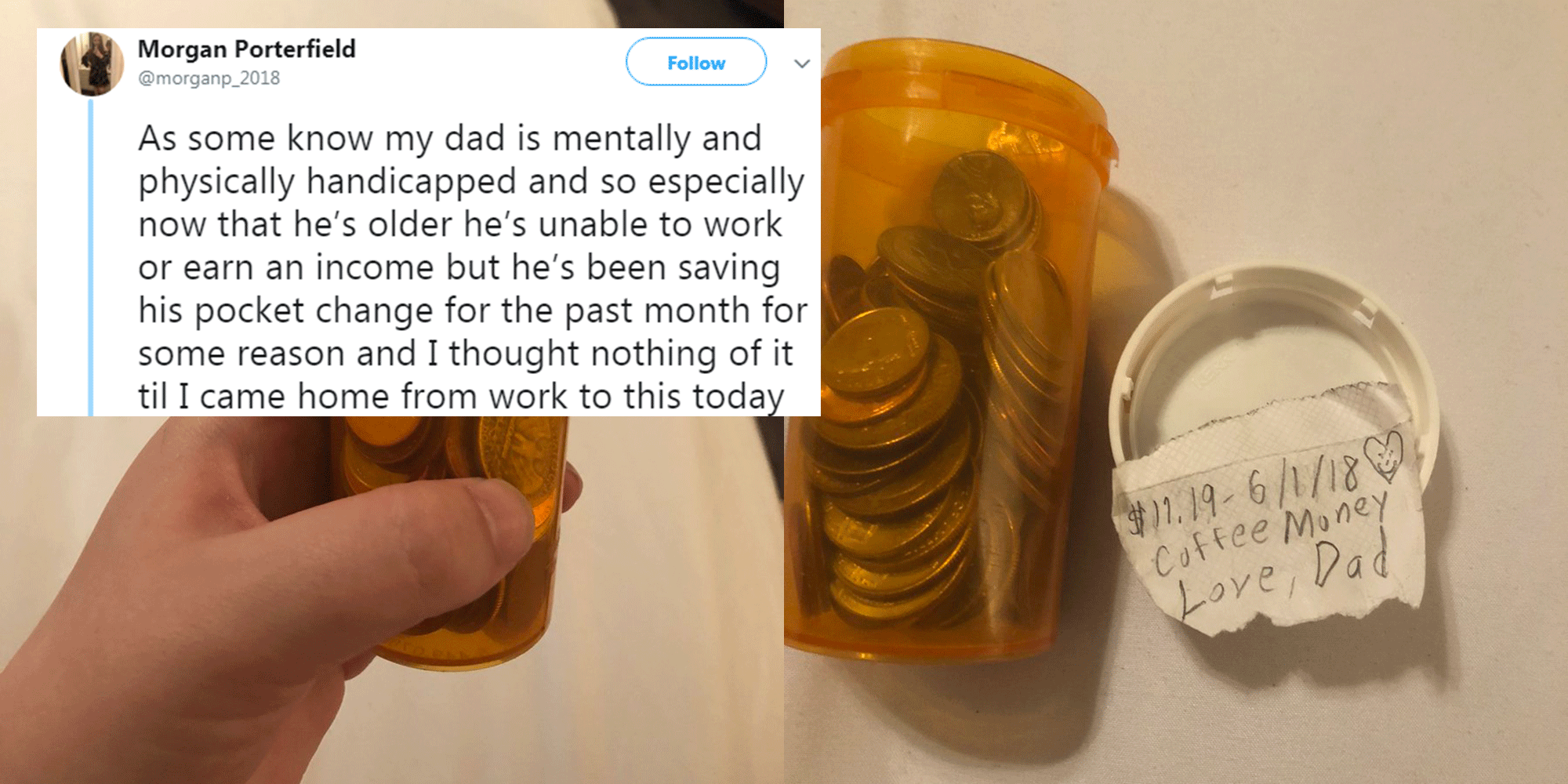 Twitter / @morganp_2018
Morgan Porterfield thought nothing of it when she saw her dad had been saving his pocket change.
That is, until the 17-year-old discovered that her dad, who is physically and mentally handicapped, had been saving up the small change left over from grocery shopping just for her.
As some know my dad is mentally and physically handicapped and so especially now that he's older he's unable to wor… https://t.co/NSOIA3bT2I

— Morgan Gibson (@Morgan Gibson) 1527906399
Jim Porterfield's life changed forever in 1981, when he was hit in a head-on collision with a drunk driver. He unexpectedly woke up from a coma after six weeks, but developed seizures and short-term memory loss.
Due to his elbow shattering in the collision, he is unable to brush his teeth, his hair or eat with his dominant hand. He lives in severe pain after bones in his foot were shattered and fused improperly, resulting in bone position that causes him to frequently fall over.
But he defied the odds, quitting his work on the railroad as a manual labourer and becoming an office clerk, able to hold down a job through determination and the will to live paycheck to paycheck. Last year, though, he was laid off. The family have finally secured disability income, but he is now ineligible for Medicaid and is racking up medical bills fast - which you can help him out with here on gofundme.
Despite all the hardships he has faced, Morgan told indy100 that her dad - who she shares a "love for coffee" with - is a hero and "loves to make me smile". She is one of his four children, who all learnt from him demonstrating constant kindness as they grew up, and said:
He is my number one fan and always puts me first, despite any expense to himself.