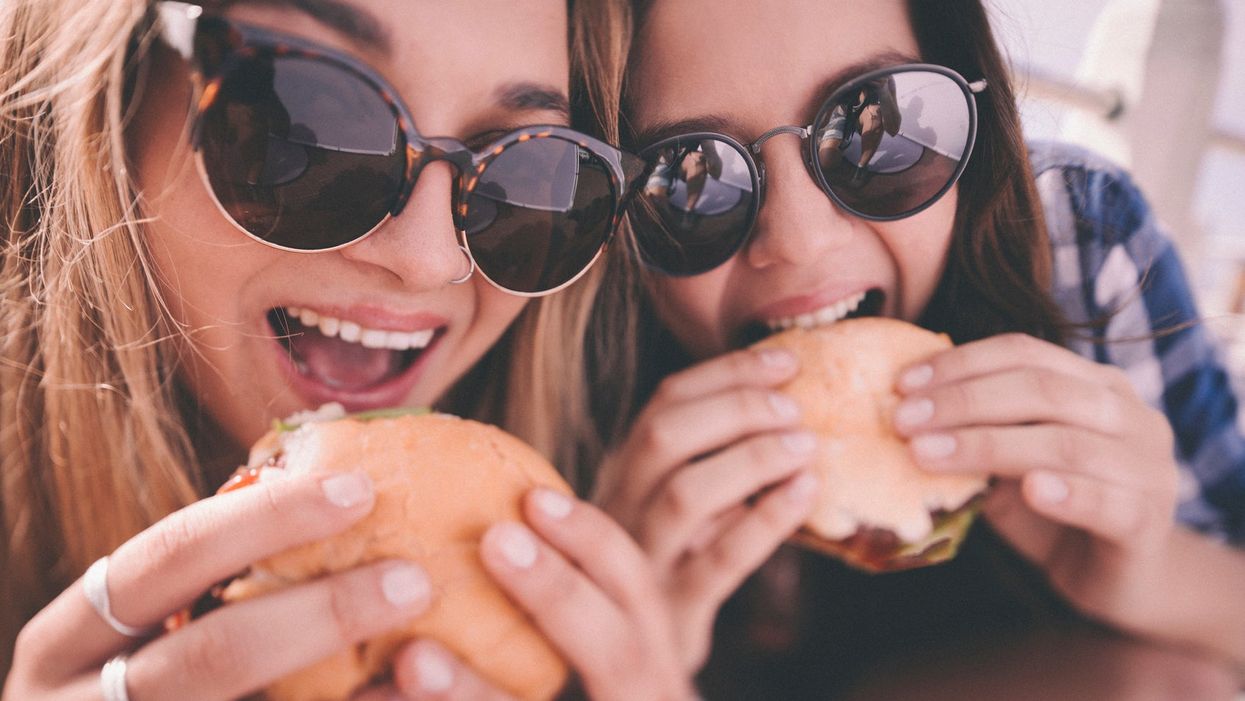 Getty Images
A nutritionist has identified the 'healthiest' items that can be bought at a fast food chain.
Rhiannon Lambert, a registered associate nutritionist based in London, has outlined the foods that are the least bad for you from fast food outlets.
Speaking to the Daily Mail, Lambert named the top meals available at each food chain.
So really it's what's the best of a bad bunch, not which of them are actually healthy when compared to other restaurants.
McDonald's
Picture: ( Tim Boyle/Getty Images)
1. Hamburger
2. Grilled chicken salad
3. Oatsosimple Porridge
4. Carrot Sticks
5. Apple and Grapes Fruit Bag
According to Lambert, the hamburgers are now 100 per cent beef, and therefore the healthiest.
One must admit the last three on that list are a bit obvious.
'Who told you carrot sticks were healthy? What other ancient secrets do they know? Ask them how jet fuel melts steel beams'.
KFC
Picture:
1. Original Recipe Salad
2. Original Recipe Rice Box
3. Toasted Twister
4. Flamin' Wrap
5. Popcorn Chicken
Salads up top again, yet to the surprise of some the popcorn chicken makes it into Lambert's top five.
The popcorn chicken is low in carbohydrate fats, but Lambert warns that it is salty and contains saturated fats, so hydrating is essential.
Burger King
Picture:
1. Chicken Strips
2. Apple Fries
3. Fish Fingers With Salad
4. Apple Pie
5. Crispy Chicken Salad
If you're one of the few Brits who still goes here, Lambert doesn't recommend any of the burgers.
She advises that next time you visit Chicken Apple Salad Pie Fish King Burger King, avoid adding sauces, as they're brimming with sugars.
Pizza Hut
Picture:
1. Small Italian-base pizza
2. Chicken or vegetable toppings
3. Heinz Garlic Sauce
4. Brownie Ice Cream Slice
A smaller and thinner pizza. Half the calories mean you can eat twice as much. Where has that advice appeared before?
Also, surely ice cream being healthier than the main meals is slightly disconcerting.
Nando's
1. Supergrain Salad
2. Chargrilled Veg
3. Butterfly Chicken
4. Beanie Pitta
5. Fillet Steak and Chargrilled Veg Pitta
Turns out your paleo style cheat day at Nando's when you swallow an entire chicken isn't very healthy. Gasp.
Having said that, Lambert identified that adding chicken to the supergrain salad will give it a good protein boost.
Five Guys
Picture:
1. Plain Bunless Hamburger
2. Bunless Bacon Burger
3. Bunless Hot Dog
4. BLT Sandwich
5. Plain Hamburger
Basically go bunless.
More: This newspaper found a brilliant way around the law that stops it endorsing a president​
More: Man's petty request to his ex-girlfriend backfires horribly​