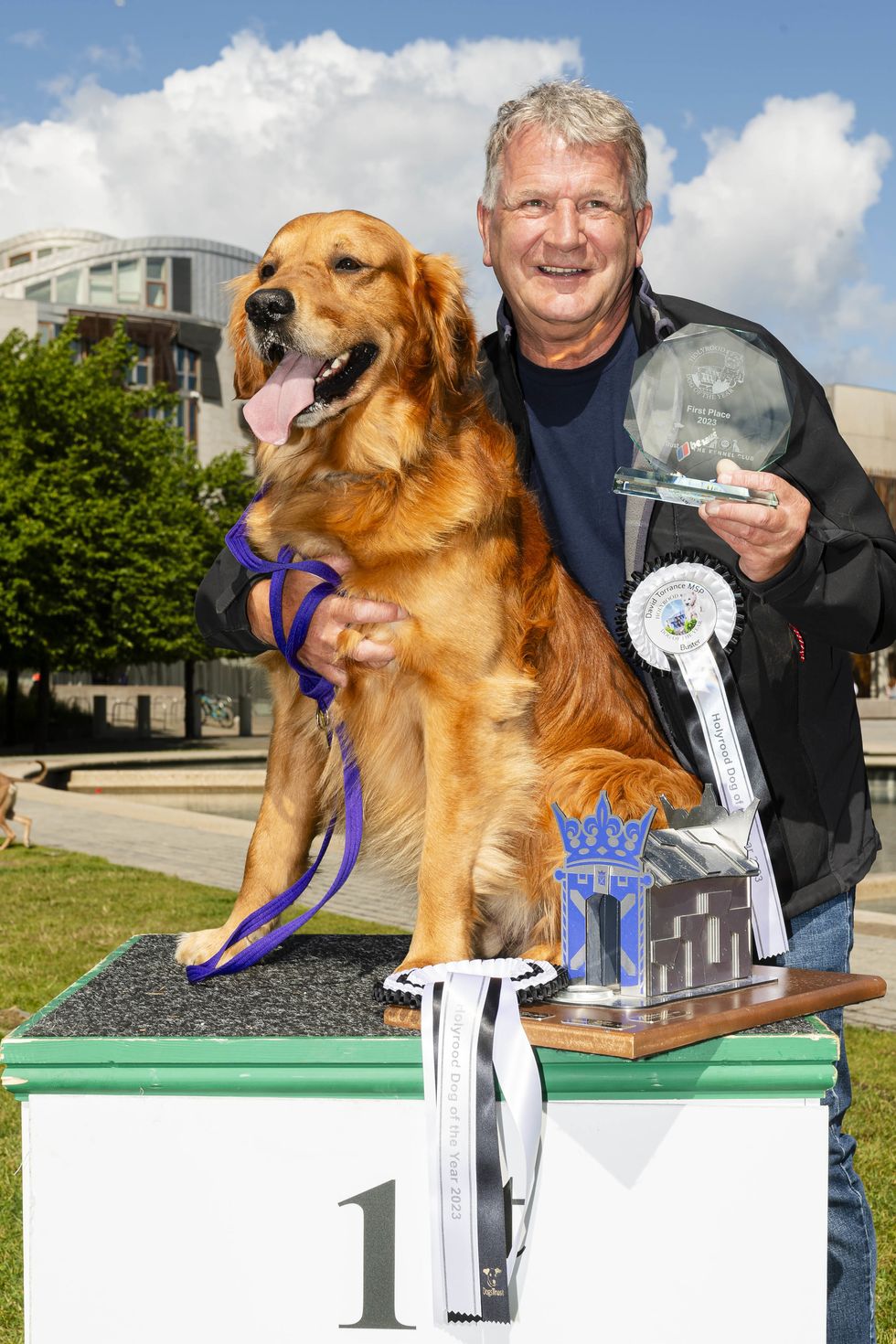 PA Wire/PA Images - Euan Cherry
MSP David Torrance's "best friend" has been crowned Holyrood's dog of the year in the annual competition at the Scottish Parliament.
Golden retriever Buster placed first in the contest, with Tess White's flat-coated retriever Kura coming in second and a rescue dog called Oakley which was paired with Alison Johnstone finishing third.
A greyhound called Joy, which was brought by Mark Ruskell, won the public vote.
A total of 13 MSPs entered the dog of the year competition, being held for the fifth time, with some bringing their own pets and others being given a rescue dog.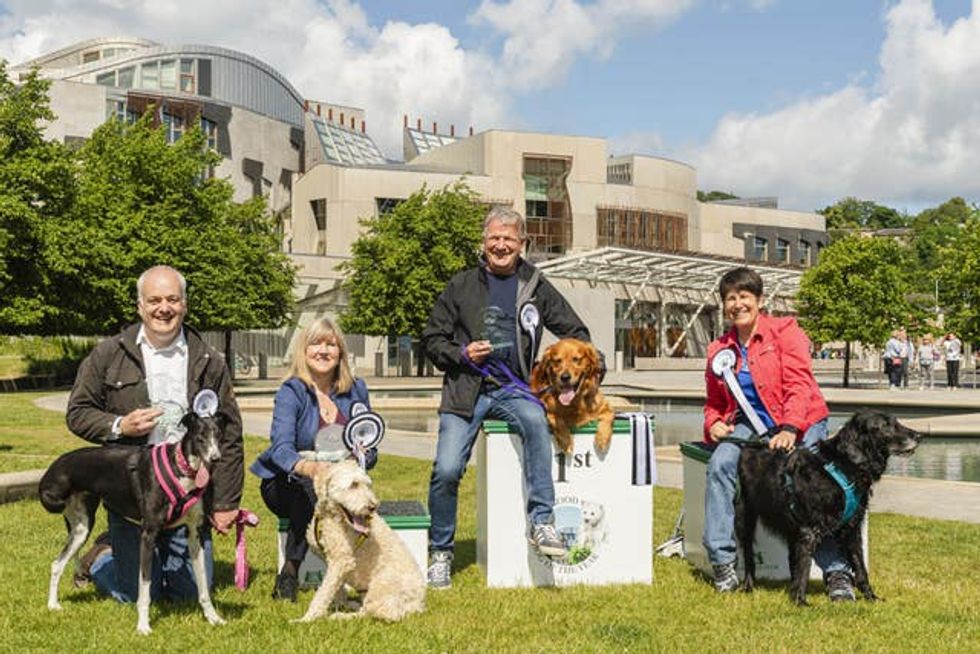 From left to right, Joy, the greyhound, with Mark Ruskell; Oakley the Labradoodle, with Alison Johnstone; Buster, the golden retriever with David Torrance; and Kura, the flat-coated retriever, with Tess White (Euan Cherry/PA Wire)PA Wire/PA Images - Euan Cherry
The MSPs and dogs gathered outside Holyrood on Monday morning, where a panel made up of the Dogs Trust's Owen Sharp and Mark Beazley of the Kennel Club and last year's winner Christine Grahame quizzed the owners on dog welfare issues.
The MSPs also attempted to navigate a "paw-sault" course set up in the Holyrood gardens with their dogs.
Mr Torrance, a constituency MSP for Kirkcaldy, said: "Buster's an absolutely fantastic dog – Buster's the first dog I ever had.
"When I come home, he's loving, we go for a walk, we de-stress.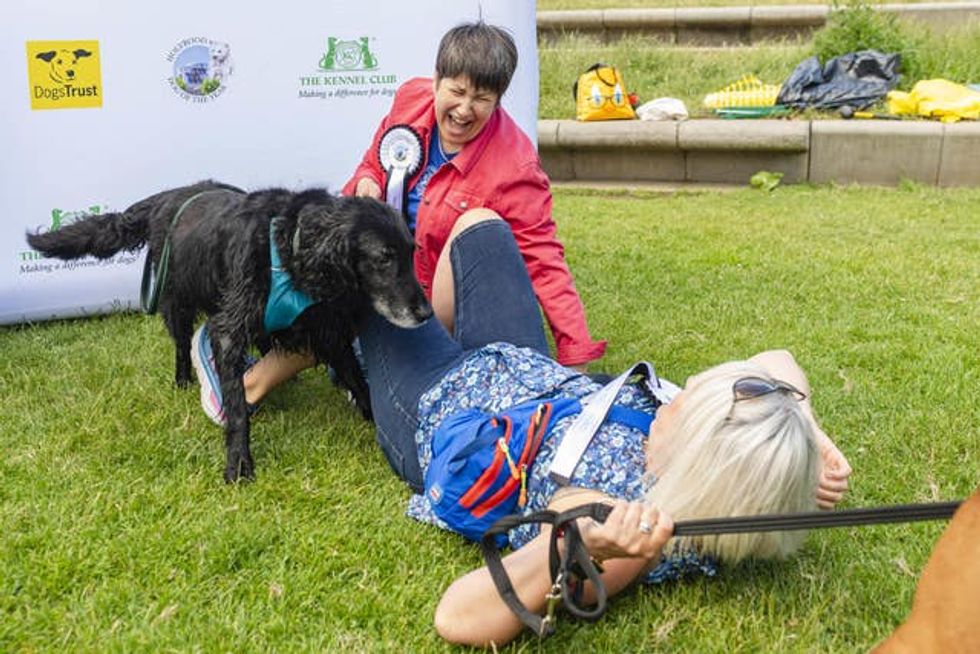 Kura, the flat-coated retriever, with Tess White and Sue Webber attends at the Holyrood Dog of the Year competition (Euan Cherry/PA Wire)PA Wire/PA Images - Euan Cherry
"He's absolutely fantastic for my mental health."
The SNP MSP added: "He's definitely a man's best friend."
He said the UK Government should consider taking VAT off dog food to help pet owners struggling with the cost of living.
He is also supporting SNP colleague Christine Grahame's Bill to stamp out puppy farms.
Maya, the Border terrier, with Emma Harper (Euan Cherry/PA Wire)PA Wire/PA Images - Euan Cherry
Mr Ruskell is campaigning for greyhound racing to be brought to an end in Scotland.
He was accompanied by Joy, one of his constituent's greyhounds, which lost a leg after being used for racing.
The Green MSP told the PA news agency: "There's a lot of inherent risk in racing dogs at 40mph around curved tracks.
"That's where a lot of injuries can take place, that's how Joy's injury took place a number of years ago.
"I think it's time for a phase-out really. I think greyhound racing has had its day in Scotland."
The annual contest is organised by the Dogs Trust and the Kennel Club to raise awareness of the issues affecting dogs today.