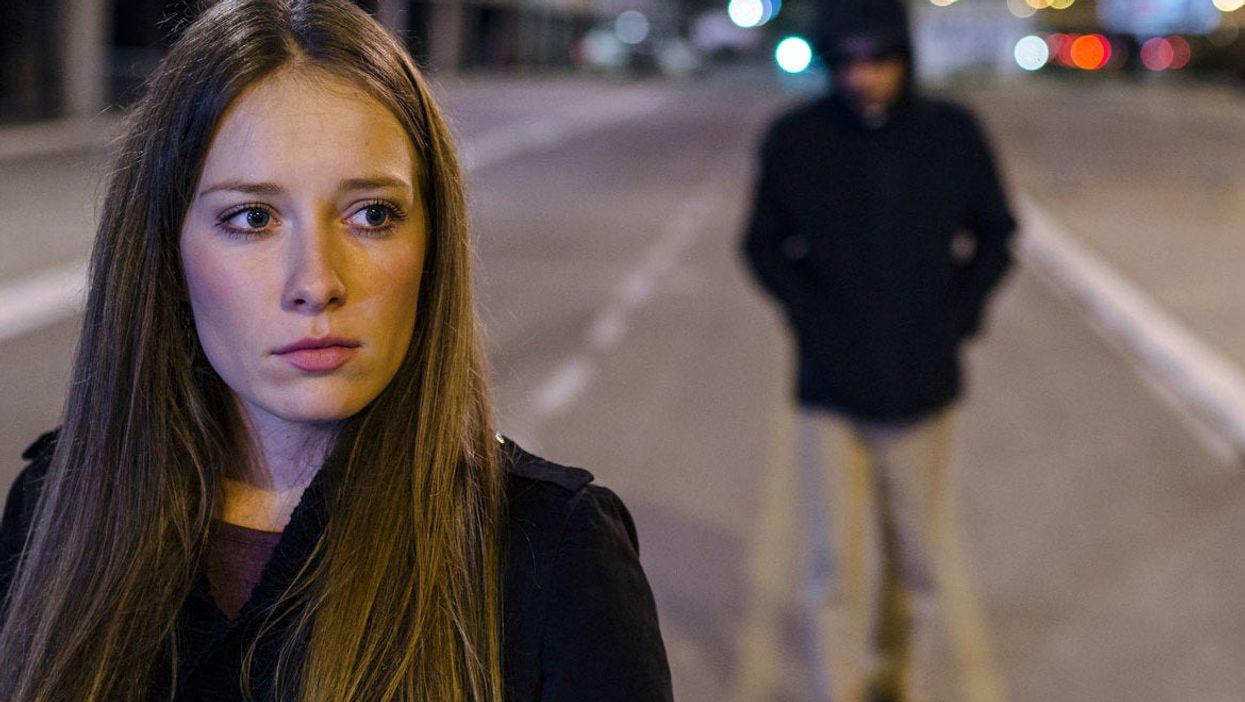 iStock / ljubaphoto
The horrific scale of stalking in the UK has been revealed by new research with around one in ten people (9 per cent) found to be a victim.
Such an alarming frequency of stalking - a pattern of repeated, unwanted intrusive behaviour - is particularly disturbing as this insidious, terrifying form of abuse can escalate to rape and murder.
Shockingly, one in five people (21 per cent) know someone who's been a victim of stalking, a YouGov study of 1,550 adults found.
It's a gendered issue: 13 per cent of women, who are twice as likely to be worried about becoming a victim of stalking, told YouGov they had experienced stalking, while 5 per cent of men said it had happened to them.
With half (52 per cent) of Brits believing that stalking is widespread in the UK today, it's unsurprising that only 56 per cent believe the government doesn't take stalking seriously, and 84 per cent think the government isn't doing enough to tackle it.
Yet misinformation about stalking appears to be rife: 31 per cent said they didn't think attempting to contact someone by any means possible counts as stalking, though this is a behaviour commonly associated with stalking offences, and 24 per cent said they didn't know stalking was a crime.
It appears that young people are particularly vulnerable.
In a separate survey conducted by Broadly, over a third of the 12,000 respondents from VICE UK's Snapchat followers said they have been stalked and the majority of followers (56 per cent) know a victim of stalking.
This suggests that young people are particularly vulnerable to stalking behaviour - and they want something done about it, with 85 per cent of followers surveyed saying they would support the police actively informing people if their partner has a history of abuse or stalking.
The Domestic Violence Disclosure Scheme currently allows police to disclose information about a partner's history of violence or abuse, but it requires an individual to make this request.
Anti-stalking charity Paladin proposes that the police should be obliged to reach out and inform individuals if their partner has exhibited abusive behaviour in the past.
Paladin founder Laura Richards said the results were illuminating:
This is the first time we have surveyed young people and the answers really highlight how important it is to engage and work with young people about healthy relationships as well as work with tech companies like Snapchat and Facebook.

Young people live their lives online. Jane Clough, Clare Bernal, Shana Grice, Molly McLaren, Alice Ruggles and many others were stalked online and offline before they were murdered, yet the risks and behaviours were not understood.

The perpetrators had behaved in similar ways to other girls and women. No-one should have to go through what these young women did.
The surveys have been commissioned as part of Broadly and Paladin's major new stalking and domestic abuse awareness campaign, 'Unfollow Me'. You can see the full statistics here.
If you are affected by this issues in the article, you can contact Paldin on 020 3866 4107 or through their website.