Adam Davy/PA Wire/PA Images
The FA has condemned transphobic flyers handed out outside Wembley Stadium at the Women's Fa Cup Final, and the incident has been reported to the police.
Hundreds of leaflets were handed out at the game between Arsenal and Chelsea by activists for radical feminist group MAYDAY 4 WOMEN, which campaigns against transgender rights.
An image of Hannah Mouncey, a transgender Australian rules footballer, was on the leaflet under the heading: "Sportswomen Shouldn't Have to Compete against Male-bodied Athletes."
The leaflet also claimed that "a man can never be a woman" and that gender non-conforming kids need feminism not hormones or surgery", going on to declare "keep men out of our sports!"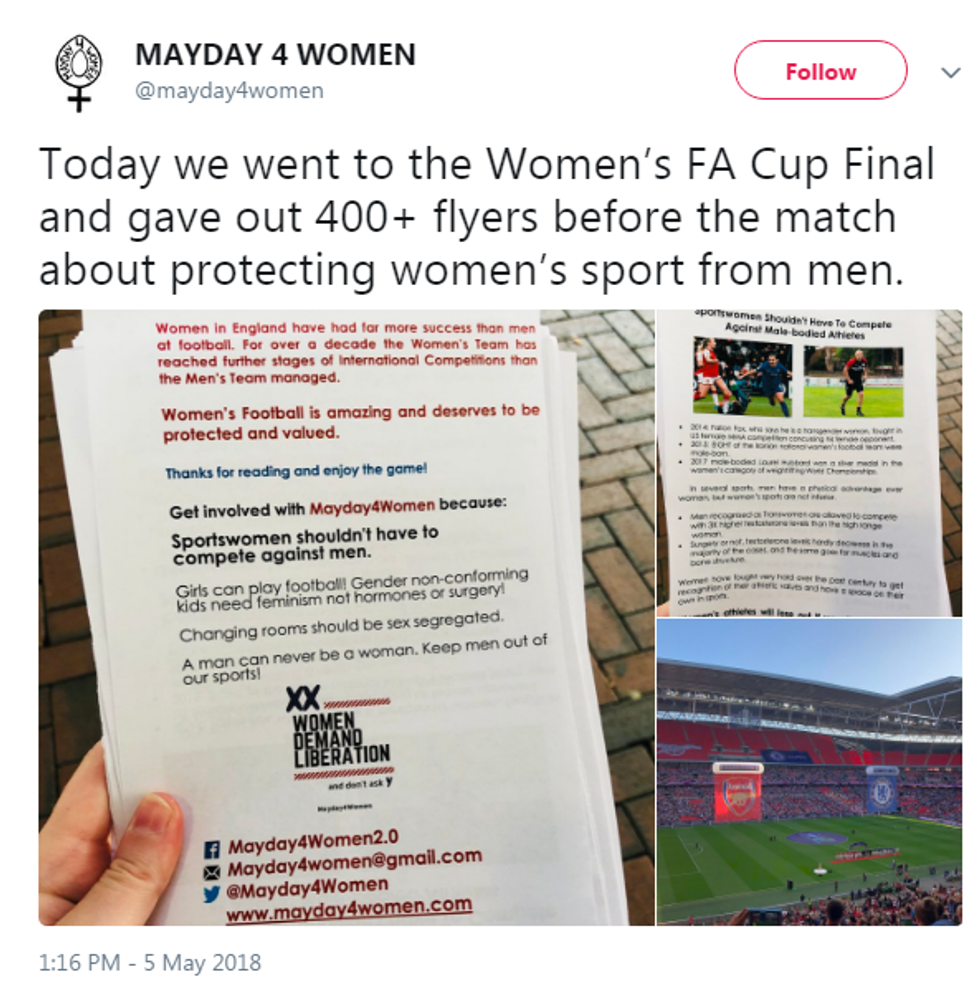 Picture: Flyers handed out by MAYDAY 4 WOMEN before the Women's FA Cup Final
The FA has had a transgender inclusion policy since 2014, where any transgender person wishing to play in their affirmed gender can do so by contacting The FA for clearance.
In a statement to Pink News, a spokesperson for The FA said:
The FA condemns the messaging within these leaflets as it is at odds with our ethos around trans inclusion.

We have a policy in place which allows people who self-identify, and who meet our criteria, to play in affiliated football – this was a first for a football governing body and something we are proud of.

Gender identity should not be a barrier to participation in football and we shall continue to work with the relevant stakeholders around the stadium to ensure similar messaging is reported through the relevant channels if and when it appears.
Chelsea Pride and Arsenal's Gay Gooners released this joint statement:
Arsenal and Chelsea LGBT+ fans groups, Gay Gooners and Chelsea Pride, are horrified and saddened that anti-transgender leaflets were distributed outside the Women's FA Cup final at Wembley on Saturday.

They contain significant inaccuracies and falsehoods about trans people in sport. These include testorerone levels of trans woman competing in sports and wrongly refer to trans women as 'men'.

Arsenal Gay Gooners and Chelsea Pride both see this material as abusive and hateful to trans people. It has no place in football.

The FA is right to condemn publicly this abuse and these harmful claims.
Typically, people who were assigned male at birth have had a greater struggle registering to elite athletic events under their self-identified gender, and may require surgery or medication to lower their testosterone levels.
Perhaps critics concerned about fair competition when trans women run as women should turn their attention to the dehydration, reduced stamina and dizziness caused by treatments such as testosterone blockers.
HT Pink News